Home
»
Blog
»
School Owner
»
Learning Management System helps organise academic schedules, classes & learning resources. Why is it still a luxury rather than a need?
Learning Management System helps organise academic schedules, classes & learning resources. Why is it still a luxury rather than a need?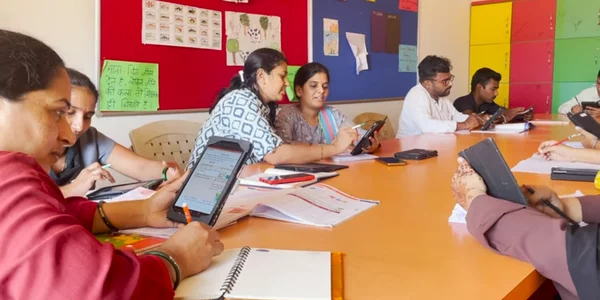 Learning Management System helps organise academic schedules, classes & learning resources. Why is it still a luxury rather than a need?
Last Updated On: 14/11/2022

We need to bring learning to people instead of people to learning. – Elliot Masie.
However, the concept of a learning management system is not new. The first LMS was developed and utilised in 1924 when Sidney Pressey invented the first "teaching machine" that resembled the typewriter with a window to handle multiple-choice questions.
In this article

History of LMS

Features of LMS

LEAD's LMS
History of LMS
Until before the pandemic, an LMS was being used by corporate organisations to train their employees, clients, and business partners, and it was not a common tool used in regular schools. Instead, most educational institutions relied on "physical resources" to manage their learning activities. The LMS software gained traction when the pandemic struck because most schools were forced to shift learning online to ensure students' education did not suffer.
Given the vast benefits that a learning management system offers, more and more schools today are adopting this new way of learning and teaching. However, many educational institutions still view an LMS as a luxury item rather than a necessity. Consequently, the traditional or basic learning management system they might be using has the following drawbacks:
Lack of engaging elements in content delivery
Lack of the right infrastructure and tools for teacher training and support
Lack of parents' active involvement in their child's academic journey

Lack of focus on delivering assured learning outcomes for students

Lack of quality control in the curriculum
A state-of-the-art learning management system is the perfect solution to all these problems. It provides an indispensable set of features that gives your school an edge over your competitors by enhancing the overall learning and teaching experience at your school. 
Never miss a story
Stay updated with the latest news and articles related to school education
SUBSCRIBE TO OUR NEWSLETTER
Features of LMS
Let's look at some features that differentiate an ultra-modern LMS from an ordinary one.
Improved Accessibility
The best learning management system software is highly accessible, both in terms of accessibility on various devices and easy access to learning materials. 
Most leading-edge LMSes are cloud-based, which means each stakeholder can easily access it on any device simply by entering their login id and password.
Moreover, as the learning content is not spread over different drives, students and teachers can access it whenever and wherever they want.
Integration with Apps
The perfect LMS is not a standalone system. It seamlessly integrates with applications that students, teachers, and parents use. All school stakeholders should be able to access the required data through their respective apps. The integration should be smooth to save time, and sync should ensure that each user has the most up-to-date data.
Data Security
Apart from accurately managing and syncing all content and data required for delivering students a smooth learning experience, an ideal learning management system for schools should maintain 100% data security. It must have appropriate mechanisms to keep malicious elements at bay to keep school data safe and secure. This eventually helps build each stakeholder's trust in the system.
Track Progress and Performance
The best learning management system allows you to keep track of students' and teachers' progress and performance. With inbuilt reporting and analytics tools, teachers can identify underperforming students and offer them supplemental resources to improve their performance. Likewise, school owners can identify and reward their top-performing teachers.
Easy Implementation of Teacher Training Programs
Another great benefit of using a well-functional learning management system is that there is no need to print eLearning material while training your teachers. Instead, you can conduct the entire teacher training program online with a central repository of learning materials. Thus, an LMS is a highly environmentally friendly tool that brings efficiency to all administrative activities.
Increased Scalability
A well-designed learning management system allows you to manage your institution's operations seamlessly. It is able to serve a large number of users, as well as handle a large amount of data without breaking down. Thanks to the capabilities of today's servers and cloud technologies, schools can monitor and adjust capacity according to the usage of LMS, ensuring both efficiency and reliability.
Personalisation is the Key
An ideal learning management system allows schools and teachers to personalise the learning material to cater to the specific needs of learners. Giving students control over what appears on their dashboards delivers lessons per their interests. In addition, personalised learning ensures every student plays an active role in what is being taught and takes challenges suitable to their learning level.
Whether it is an online, offline, or hybrid mode, an avant-garde learning management system has something for each stakeholder. It is an integral tool for teaching and is no more a luxury but a necessity for schools. The best thing about an LMS is that it helps keep the learning going, even in adverse situations.
School Transformation, the LEAD way
A walk-through of a LEAD School
LEAD LMS - An All-in-one Platform for Schools
LEAD, India's fastest-growing school EdTech company, offers a next-generation integrated learning management system that perfectly combines curriculum, pedagogy, and technology to help schools keep costs down while delivering quality education to their learners. Some of the prime USPs of LEAD's LMS are:
Highly organised and world-class curriculum
Audio-visual content
Practice books and kits
Level-based programs
Experiential learning
Attention to every student's requirement
Seamless online assessment
Well trained teachers
Ability to manage all digital learning content in one place
Teacher and parent engagement
Individualised feedback to each student
All the stakeholders can monitor every student
Seamless management of assignments
A dedicated app for each stakeholder
Industry-standard certification programs for teachers
Conclusion
With a world-class learning management system, LEAD aims to convert thousands of schools across India into institutions of excellent learning. Get in touch with us today to know how LEAD's advanced LMS software can transform your school. Call us at 86828 33333 for a free consultation today!
Never miss a story
Stay updated with the latest news and articles related to school education
SUBSCRIBE TO OUR NEWSLETTER
x
Give Your School The Lead Advantage