Best ERP for schools assures guaranteed learning outcome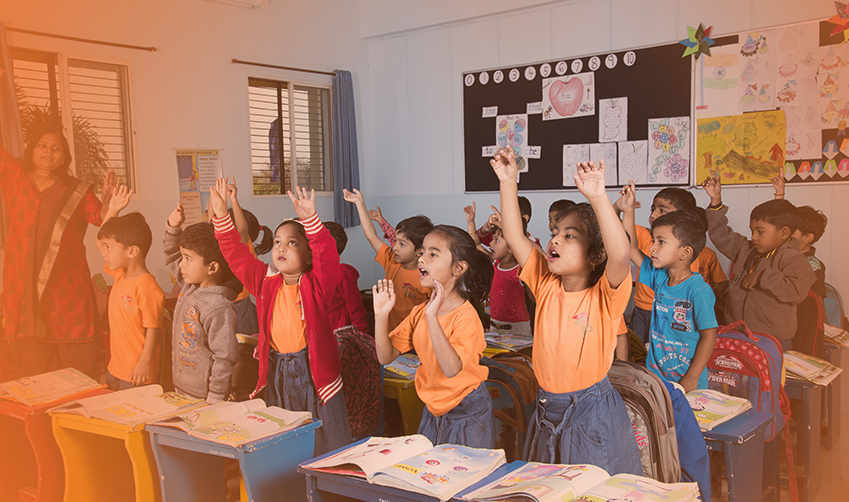 Subscribe to our newsletter
Smooth delivery of knowledge is considered to be the most vital function of a school. However, most schools fail to achieve this in its entirety. This could be due to the lack of access to digital tools. The past few decades have been very dynamic for the Indian Education Sector; it has witnessed immense growth in its functions, giving rise to several intricacies affecting its prime operations. `
Schools heading towards technology and adopting smart tools and techniques have led to the online learning management system's conception. Schools have grown beyond their primary pursuit, founding principles, and operations; they march towards better dawn!
A robust enterprise resource planning system can help the teachers and the academic coordinators deal with the daily tasks, which drains their energy and impacts their productivity.
A report by MarketsandMarkets predicts that the global cloud ERP market size will rise from USD 45.3 billion in 2020 to USD 101.1 billion by 2025 at a CAGR of 17.4%. 
Choosing the best ERP for schools benefits not only the educators but also parents and children.
Education ERP software installs workflow-based processes that streamline school activities, which can be quickly leveraged to enhance children outcomes. The ERP offers a productive and organised environment for students to learn in. Here are the ways that ERP for schools help students to progress-
Ease in making students' reports
Gone are the days when educators spent half of their time finding new ways and methods to increase class engagement. Using the best ERP for schools, the teacher can organise the data and other crucial information, making it easy to personalise the teaching as per the student's performance and requirement.
The dashboard reports in ERP contain everything from grades to activities of the students. The records are also in a statistical format. The data is reflected in the form of pie charts, tables, and graphs. As humans are visually oriented, these reports are easy to grasp and analyse. They can then find out the strong and weak areas of the child easily for improvement.
Parents can actively participate
As parents log in to ERP, they can check their child's attendance, performance, and grades. They also get to know the weak areas of their child and work on them. They can also track the attendance and ensure their child does not miss out on anything important.
Helps children learn better
With the aid of an ERP for schools, hybrid learning classrooms that offer a blend of technology with traditional teaching tools have become highly popular. Besides, the introduction of teaching tools such as digital whiteboards, gameplays, the micro-learning module makes learning a lot more engaging for the student.
Through various audio-visual tools like podcasts and learning virtual trips, digital learning has been easier with the school ERP software.
Role of ERP in schools
School owners must involve new techniques and tools to improvise the methods of providing education. Choosing the best ERP for schools eliminates a lot of tedious tasks. Here are the roles of ERP in schools-
It stores, monitors, and offers real-time access to data such as registration, finance, and human resources.
Facilitate the information flow within a school.
It tracks every institutional activity helping in bringing improvements in the current system.
It helps in maintaining good relationships with both parents and stakeholders.
Organises and streamlines every school communication.
How does LEAD's ERP module assure guaranteed results?
With the LEAD ERP, students' performance is monitored quickly and efficiently. The LEAD School Academic System allows switching between the various school modes (online, offline, or both). The administration can also connect the school's YouTube channel to upload the learning material directly and decide what days they want to teach the students, add new subjects, and assign teachers.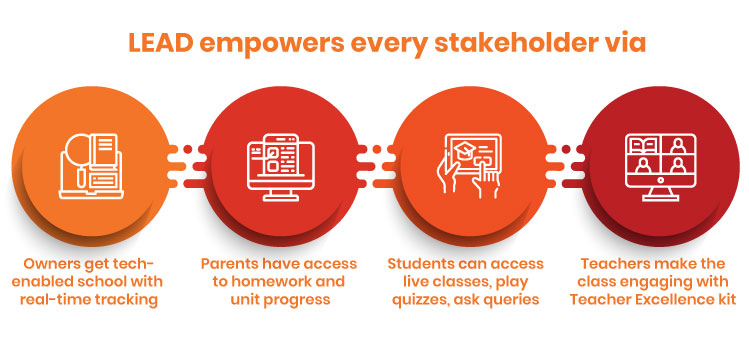 LEAD offers immense feasibility to every school stakeholder, making it one of the most trustworthy domestic ERP options.
School owners have an app that allows them to get a whole tech-enabled school; real-time tracking of operations etc.
Principals can access performance reports, teacher training workshops, and professional network through ERP for schools.
Parents can get information on homework and unit progress. They remain updated on Unit Progress, Attendance, and Assessments.
The Student and Parent App motivate students to become accomplished adults. Sitting at home, a child can access live classes, play quizzes, ask queries in real-time.
Teachers can make the curriculum engaging with the help of the Teacher Excellence kit, which has every possible resource to empower teachers for effective learning.
LEAD is transforming schools by making children future-ready. To make yours a LEAD Partner School: Partner with us today