Can online learning replace the school classroom?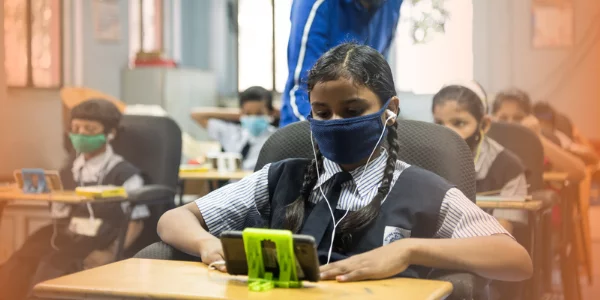 Subscribe to our newsletter
During the pandemic, school classes had come to a halt completely. To ensure that students do not miss out on learning, online school classes were introduced. Since then two years have passed and everything is getting back to normal. But now the question arises whether online learning will replace school classes.
Traditional schooling and online school learning both have unique advantages. Ideally, people should learn to make the best use of both systems. But school classes should not be replaced by online learning.
Here are 3 reasons why online learning will never replace school classes.
Teacher to student interaction
Teaching is not just about delivering lessons. The skills of a teacher are much more than that; it encompasses guiding students, filtering through materials that are not understood by students, and answering doubts. This can happen only in a school classroom where the face-to-face interaction between teacher and students takes place.
Student to student interaction
Virtual classrooms consist more of an instructional model of teaching. Teachers explain a lesson, give assignments to the students and conduct assessments. And then they move to the next session. Apart from this, the students don't get any chance to interact with each other.
Peer learning plays an important part in school learning. In school classes, students can interact with each other face to face without disturbing the whole class. They can share their learnings with their friends and learn from each other. Also, some students may not feel comfortable asking doubts directly to the teacher but they can freely ask doubts to their friends. And if their doubts still persist then the teacher can jump into discussions and lead or direct the class. Students can also cross-check their homework with each other before classes.
Engaging classroom environment
Arguably what enhances the experience of learning is the physical environment of a real classroom where students and teachers interact with one another. Adult learners may prefer to take professional courses online since they are busy and would prefer to learn from the comfort of their homes after working all day at work. However, school students require social interaction with their peers through face-to-face conversations rather than seeing them on screen. What makes the classroom environment fun for students is talking to their friends and playing with them during break time which is not possible in online learning. Since it takes away the fun part, students are unlikely to enjoy their school life.
Online school learning is also likely to create an impersonal environment between teachers and students due to the physical distance which can hamper the learning outcomes of students. Some students might lack the courage to speak in front of the entire class of students online and thereby keep struggling on their own. They also might not be able to open up quickly in front of their friends.
Therefore we can say that it is not practical to replace school classes entirely with online learning. The strengths of online and school classes need to complement each other to derive the best learning outcomes for students.
At LEAD, we provide an integrated learning system to our partner schools. The interconnected apps and physical classroom elements ensure that schools can continue to operate in any mode, whether online, offline, or hybrid. At LEAD Powered Schools we enable you to deliver the best learning outcomes through 5 signs of excellent education:
1) International Standard Curriculum
2) Smart Classrooms
3) Super Teachers
4) World-class Learning @Home
5) Unlimited Exposure
Thus LEAD's school system is a one-stop solution to everything that a school needs to function well and efficiently. Technology for schools strengthens the entire ecosystem and makes it ready to withstand any future crisis.
3000+ schools across India trust India to provide excellent education to their students Tell Me More