Home
»
Blog
»
School Owner
»
Ensuring Students' Creative Potential – One of the Biggest Highlights of the New Education Policy
Ensuring Students' Creative Potential – One of the Biggest Highlights of the New Education Policy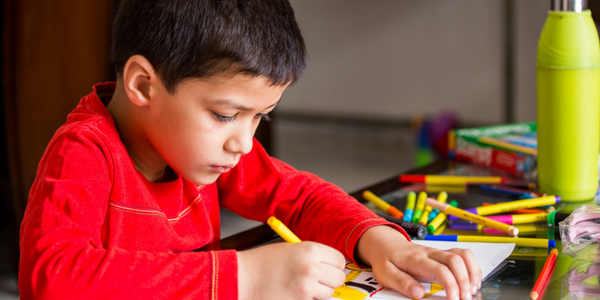 Ensuring Students' Creative Potential – One of the Biggest Highlights of the New Education Policy
Last Updated On: 11/11/2022

"There is no doubt that creativity is the most important human resource of all. Without creativity, there would be no progress, and we would be forever repeating the same patterns." – Edward De Bono.
The New Education Policy puts a significant thrust on developing the "creative potential" of each child. It is based on the principle that education must develop not only cognitive skills — both the "foundational capabilities" of numeracy and literacy and "higher-order cognitive capacities," such as problem-solving and critical thinking — but also ethical, social, and emotional capacities and dispositions. It aims to cultivate innovation and out-of-the-box thinking in learners through good governance, autonomy, and empowerment.
In this article

Vision of NEP 2020

How does NEP focus on creativity & innovation

How LEAD is helping schools nurture creativity & innovation
Vision of NEP 2020
The vision of the New Education Policy is to improve the quality of education by giving equal importance to innovation and creativity and transform India into a "vibrant knowledge society" over the next decade. Therefore, the revised policy recommends nurturing creativity and innovation at all levels of education.
Never miss a story
Stay updated with the latest news and articles related to school education
SUBSCRIBE TO OUR NEWSLETTER
Let's take a look at a few ways the New Education Policy focuses on innovation and creativity
1. To improve the quality of education, the New Education Policy mandates the development of enjoyable and inspirational books for students at all levels by using high-quality translation (through technology, if required) in all local and Indian languages. These books are to be made available extensively in local public and school libraries.
2. Classroom processes will shift towards competency-based learning and education to fill the gaps in learning outcomes. Competency-based learning is an approach to education that focuses on a student's demonstration of the knowledge, skills, values and attitudes to achieve predetermined "competencies." In this approach, learners move from one learning level to a higher one based on their learned knowledge and skills instead of time spent on a specific course. 
3. According to the New Education Policy, schools should embrace innovative and experiential methods to promote multilingualism and facilitate the learning of all languages. For instance, they can use apps and gamification to highlight the cultural aspects of languages, such as poetry, music, storytelling, theatre, and films.
4. A particular emphasis will be given to mathematics and computational thinking throughout the school years, right from the foundational stage, through various innovative methods to help students become well-versed in cutting-edge technologies like Artificial Intelligence. Computational Thinking involves formulating and solving complex problems by breaking them into a series of small, more manageable sub-problems.
5. To promote creativity and innovation, academic institutions and their teachers will have the autonomy to innovate on pedagogy, curriculum, and assessment within a broad education framework.
6. The New Education Policy recommends creating a national repository of high-quality resources on foundational numeracy and literacy and making it available on DIKSHA (Digital Infrastructure for Knowledge Sharing). For this, it suggests schools leverage technological innovations to aid teachers and transcend language barriers between students and teachers.
7. Any country's identity, creativity, spiritual/intellectual satisfaction, and upliftment are obtained mainly through its culture, history, art, and language. Therefore, the New Education Policy recommends that educational institutions conduct research in arts and humanities and innovations in sciences and social sciences.
8. With the help of innovation and technology, Open and Distance Learning (ODL) programmes offered by NIOS (National Institute of Open Schooling) and SOSs (State Open Schools) will be strengthened and expanded to meet the learning needs of students who are unable to attend school physically.
9. The New Education Policy proposes creating the National Educational Technology Forum (NETF) to provide a platform for students to exchange ideas on the use of technology to enhance learning, assessment, administration, and so on, both at school and higher education levels.
10. The New Education Policy emphasises that higher education must form the basis for innovation, creativity, and knowledge creation to build a more progressive, prosperous, productive, and innovative nation.
11. The recent COVID-19 pandemic has highlighted the need for online learning, and the revised policy recognises the benefits of using technology for learning. However, as per the New Education Policy, the benefits of online/digital education cannot be leveraged until schools address and eliminate the digital divide. For this, the policy recommends certain key initiatives, such as Digital Infrastructure, Learning Management Systems, Virtual Labs, Online Assessment and Examinations, Content Creation, Digital Repository, and Dissemination.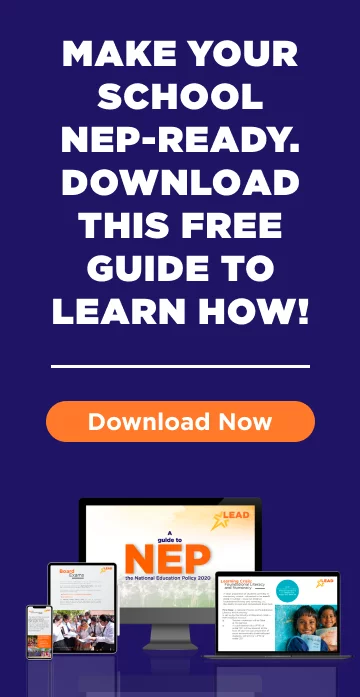 Creativity is an essential part of a child's development
A student of Camford English High School shares her learning experience
How LEAD is Helping Schools Nurture Creativity and Innovation in Children
LEAD, India's largest School EdTech company, offers a broad spectrum of solutions to help schools unleash students' true creative potential. These include but are not limited to the following:
LEAD Championships: Give children a wide range of opportunities to showcase their talent and skills and shine on a national platform. Children get world-class exposure and win exciting rewards.
LEAD Summer Camp: A 6-week-long program with 12 engaging activities for relaxing and engaging summer vacations. Students learn not only important skills but also win exciting prizes, vouchers, certificates, and a lot more.
Student Led Conferences (SLCs): Conducted in LEAD-powered Schools, Student Led Conferences boost students' confidence, improve their subject knowledge, and uplift their communication skills.
LEAD Masterclass: LEAD Masterclass is an exclusive platform for students of LEAD-powered schools, where successful celebrities like R. Madhavan, Chetan Bhagat, and Sania Mirza teach important life skills.
100%  Smart Classrooms: LEAD's digitally-enabled smart classrooms make learning fun for students. They are equipped with smart TVs with audio-visual content.

International Standard Curriculum: LEAD Powered schools get International Standard Curriculum benchmarked with Canada, US, and Singapore education systems that children can access anytime, anywhere.
Coding & Computational Skills (CCS): LEAD's CCS program is an innovative approach that enables students to think logically, visualise computation, and use ultra-modern software.
LEAD's Innovative programmes, like Sampoorna Hindi and ELGA (English Language and General Awareness), help students develop language skills, general awareness and values.
Conclusion
With over 400+ locations across the country, LEAD is one of India's most trusted brands in the education sector, powering 3000+ schools to deliver international standard education. If you want to turn your students into the creative geniuses of tomorrow, do contact us for a FREE NEP Consultation.
Article Summary
New Education Policy 2020 aims to promote creativity and critical thinking in children
New Education Policy mandates the development of enjoyable and inspirational books in all local languages
Classroom processes will shift towards competency-based learning
Schools should embrace innovative and experiential methods to promote multilingualism
Emphasis on mathematics and computational thinking throughout the school years
Teachers will have certain autonomy to innovate
A national repository of high-quality resources on foundational numeracy and literacy that will be available on DIKSHA
Educational institutions conduct research in arts and humanities and innovations in sciences and social sciences
Strengthening of Open and Distance Learning to meet the learning needs of students who are unable to attend school physically
National Educational Technology Forum (NETF) to provide a platform for students to exchange ideas on the use of technology
NEP recommends to eliminate the digital divide to leverage benefits of online/digital education
Never miss a story
Stay updated with the latest news and articles related to school education
SUBSCRIBE TO OUR NEWSLETTER
x
Give Your School The Lead Advantage