ERP in education industry ensures 100% complete school. How?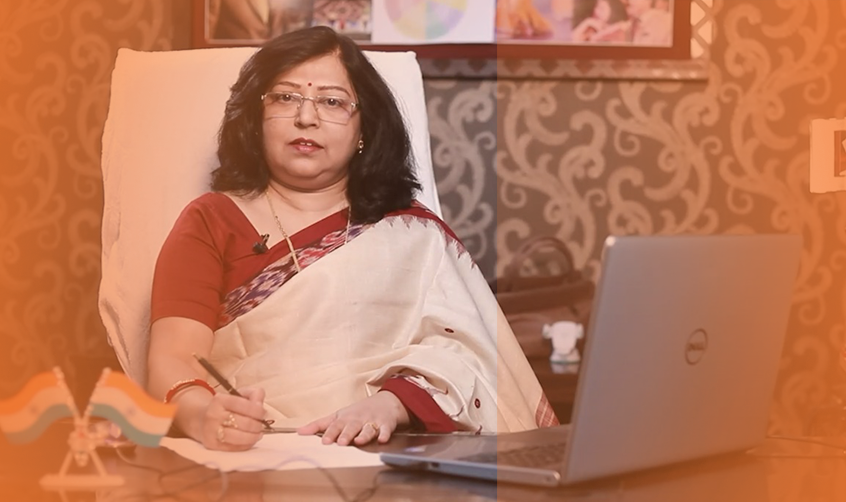 Subscribe to our newsletter
The education sector plays a crucial part in enhancing the talent of a child. Schools are responsible for cognitive and academic development. This is why educational institutions need to contribute to robust and enterprise-ready software to ensure 100% complete schooling to children, even during frequent interruptions. 
Schools must keep themselves up-to-date with the latest and advanced tools simplifying the complete education process. The way schools manage administration and juggle various responsibilities is witnessing a significant change.
Unlike previous years, today's schools are inundated with data and much more. Every department is interlinked, so there needs to be increased collaboration to foster healthy relationships and increase productivity. This advocates the requirement for a modern online tool rather than a traditional approach to papers.
ERP or enterprise resource planning empowers schools efficiently. It manages the end-to-end needs and helps schools achieve a single version of the truth, thereby allowing informed decision-making. Today, there is a rise in the need for ERP that manages all school-related activities, making them more accessible and productive. ERP in education industry helps schools to achieve quick access to information, unlike the pen and paper approach, ensuring 100% complete school. ERP also ensures that all stakeholders have access to information 24X7 and are on the same page.
Management software is not only for a small clerical task; it is beyond that as it provides a three-way interactive platform for teachers, students, and parents, like social networking sites where anyone, whether the teacher or students, interacts with each other. A benefit of this interactive platform is that the kids can be in touch with their friends and with their teachers, making the relationship last forever. Moreover, with ERP in education, parents can interact with the educators to know about their child's performance.
In one of its reports, Purdue University explains that opportunities for communication and collaboration have been expanded by technology. "Traditionally, classrooms have been relatively isolated, and collaboration has been limited to other students in the same classroom or building. Today, technology enables forms of communication and collaboration undreamt of in the past."
The online platforms and ERP have helped schools to run efficiently. Imagine when school administrative staff spent their time in the fee management, issuing various certificates, etc? With the advent of ERP in education industry, the administrative staff is left with ample time to look after other vital aspects.
Let us see how ERP in education assures 100% complete school for parents and students.
ERP solutions enhance the organisation of lessons, lectures etc. which makes life easier for teachers.
It makes student management easy. Schools don't have to record every detail of the children manually.
The acceptance of ERP in education industry helps reduce expenses, saving energy and time, which earlier went in handling tasks manually.
ERP system supports the efficacy of the foundation. It reduces time to keep the track records and enhance sureness in sorting out the information.
Teachers can examine kids from their homes. This reduces the need for the educators to round out evaluation cards physically and hand them over to the kids– a procedure that can be tedious.
ERP allows parents to access their child's information and can actively participate in their learning journey.
Students can easily view the lessons or recordings for preparation.
How are LEAD's ERP solutions a relief for school owners?
LEAD strongly advocates that a few amendments are needed in the sector to prevent it from plummeting. With every aspect devised carefully, the online integrated management solution of LEAD facilities not just what a parent or teacher wants but is also a blessing for school owners and principals. Learning at home has become fun with LEAD School@ home feature that allows children to study seamlessly even during the pandemic. The hassle-free technology connects teachers with students and teachers with parents.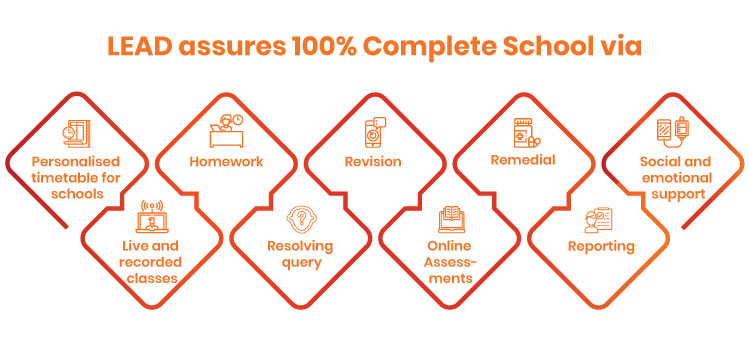 With the help of LEAD, school owners assure that the kids get a world-class curriculum to study from, educators get access to the best techniques to provide knowledge, parents get regular progress reports of their kids, principals get timely analysis of each class. In fact, owners get the option of switching between online and offline mode of education quickly with the help of LEAD's Nucleus. LEAD assures 100% complete school and provides uninterrupted learning to kids by providing-
Personalised timetable for schools
Every LEAD app has a timetable made for the kids to learn and avail maximum benefits. The schedule specifically customised for every school helps children navigate via classes.
Live and recorded classes
During the pandemic, having access to online recorded classes and live ones is a significant aspect of online school. If a kid misses a crucial detail, this online learning feature allows you to retake a look at the session.
The everyday homework on the app keeps parents in the loop with their kid's development.
Like regular school, the 'Ask-A-Doubt' feature on the LEAD app motivates children to ask a query and get them resolved quickly.
To understand a concept, students need to revise their notes regularly. With proper attention, quizzes, and frequent revision, LEAD ensures that the child is well prepared before their exam.
The revisions and doubt-solving sessions on the app simplify the process of taking tests. Moreover, they can appear for these assessments from the comfort of their house.
Sometimes, it can be challenging for students to grasp a concept even after several revisions. On these occasions, LEAD believes in scheduling remedial, which logically breaks down every complex concept, making it easy to comprehend.
After all the hard work which children put in, knowing their performance can bring parents joy. The LEAD app allows a parent to check the child's progress in the respective subject and keep a tab.
Social and emotional support
LEAD conducts Social and Emotional Learning sessions (SEL) once every week. This helps children handle their emotions, show empathy and set and achieve targets.
LEAD is transforming schools by making children future-ready. To make yours a LEAD powered school: Partner with us today