Essential smart classroom tools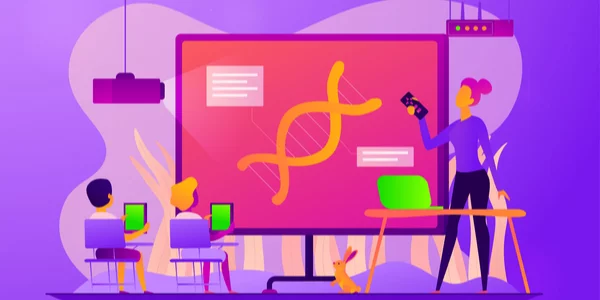 Subscribe to our newsletter
A smart classroom is a classroom well equipped with the latest technologies and digital tools. It is a modernized method of rendering education. It provides quality education by formatting and elaborating the concepts. It also improves the academic performance of the students. In a smart classroom, the learning takes place through new integrated learning technologies or the smart class app.
Smart Classroom Tools: Smart classroom tools are the equipment used by the teachers in a smart classroom to deliver education. These include projectors, smart tables, interactive whiteboards, etc.
Essential Smart Classroom Tools
Interactive Whiteboard: The traditional whiteboards with markers are replaced with these interactive whiteboards also known as smart boards. It has a touch-sensitive display. It comes with a range of features and a built-in smart class app.
Interactive Display Panels (IDPs): IDPs are LEDs with big interactive screens. These panels are used to represent the 2D and 3D animations, pictures, videos, etc. Visual learning is more effective than traditional learning.
Speakers: Speakers ensure that the teacher and his teachings are audible to the whole class. So, no one misses anything important.
Student Response System: Student Response System saves time and cost of paper. It is a system where the responses of the students are recorded. It provides an accurate aptitude evaluation within a few seconds.
Educational Software: The software supports the academic curriculum. In simple words, it is a smart class app. It helps the teacher to supervise the attendance and academics of the students. It helps in the making of the exam schedules.
OMR (Optical Mark Reader) Scanner: Nowadays, exams and tests are being conducted in OMR sheets. These scanners save the images on the computer. Afterward, these saved images are processed by the OMR software for marking.
Digital Podium: These are the podiums that come well equipped with digital tools like lecture recorder, mic, speakers, etc, for uninterrupted education.
Wireless Microphone: Microphones are complimentary with the speakers. Speakers help to hear and microphones help us to speak with a larger audience. With wireless microphones, students get rid of coils of wires, enhancing the mobility of a student in the classroom.
Graphic Tablets: Graphics tablets and e-readers are quite popular among youngsters. It promotes reading, making diagrams, and notetaking. With this, students can refresh their lessons at any time. This also reduces the cost of buying books for every subject
How to ensure proper maintenance of these tools
Cleaning of this equipment regularly.
Conducting regular performance checks.
Regular virus checks to avoid data loss.
Ensure classroom safety to avoid loss of this equipment in a mischievous activity.
At the end of the day, ensure all of this equipment is switched off.
Updating the software and the smart class app regularly.
The structure of traditional classrooms can no longer endure for long with the current changing education scenario. The adoption of new technologies must be encouraged. These digital smart class tools provide learning in a much more interesting manner and this allows the freedom of adopting a variety of learning approaches.
How does LEAD enable smart classrooms in its partner schools
LEAD is trusted by 3,000+ private schools in India. LEAD empowers our partnering schools with the best of technologies, including smart classroom software. Our teachers get the best digital smart class solutions, which ensures their convenience and higher teaching impact. They get smart TVs in class and fully-loaded tabs, among other facilities. Our students learn in an immersive environment, which boosts their interest and knowledge retention. We take the students beyond academic success. We believe in developing the five essential skills for achieving success in life: conceptual understanding, thinking skills, confidence, communication and exposure.