How integrated learning systems benefit teachers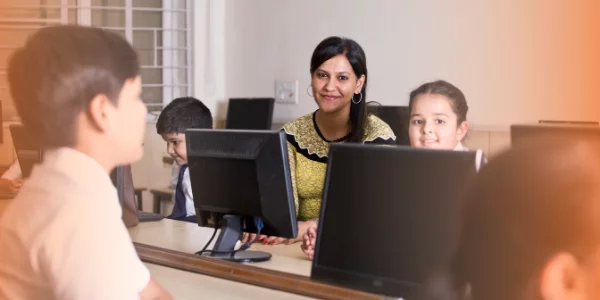 Subscribe to our newsletter
Integrated Learning Systems (ILS) are solutions that deliver instructional content. They may be offline or online, or they may be hardware or software solutions. What matters primarily is that an ILS helps you to perform multiple tasks with the greatest ease in the least amount of time. Typical tools in an Integrated Learning System allow to deliver instructional content, track student progress, manage course timelines, etc. Typically adoption of an integrated learning system for schools leads to enhanced productivity, effective data security, and a host of management features.
In this blog, we discuss how adopting an Integrated Learning System can help teachers maximize their own productivity as well as that of their students.
Monitoring student progress
Most integrated learning systems contain a host of features to track student and class progress. This includes comprehensive reports about completed assignments, homework, etc., as well as a detailed analysis of the examination performance of students. The teacher gets feedback about which questions were most attempted by students, which questions most students got wrong, etc. This helps teachers and school management to get an overall picture of what the real state of students is. Also, this provides critical feedback to teachers about how well students are performing in the concepts taught by them. If teachers find that most students are going wrong in a particular concept, they can arrange for remedial classes for such concepts and help students gain proficiency in the same. Extraction of this data manually is nearly impossible. To be most effective, such data analysis can only be done by some software. In general, using an integrated learning system increases transparency and boosts efficiency & productivity.
Pre-decided lesson plans and syllabus completion plans
Any good integrated learning system allows the school management to set out lesson plans and decide syllabus completion deadlines at the beginning of the academic year. Once these are pre-decided, teachers can then focus completely on teaching and the betterment of their students. Once the lesson plans and deadlines are decided, teachers get a roadmap of what to do throughout the year. This helps eliminate vagueness in action plans.
Automation of attendance and assignment correction
Usually, teachers spend a lot of time preparing homework and assignments and after that, they have to follow up with students for submissions. An integrated learning system gives teachers a host of homework/assignment settings, submission, and correction options. Teachers get an option of setting the questions in various formats like multiple-choice questions (MCQs), match the following, crosswords, etc, each of which can be easily evaluated by the integrated learning system. In addition, teachers get the grades of their students in every assignment immediately and can focus on identifying children who need extra help.
In a similar manner, attendance via a biometric system integrated with the integrated learning system is a hassle-free process in which teachers immediately get to know their class attendance with the click of a button.
In conclusion, a well-designed integrated learning system is a boon for teachers. If you are a school owner who is looking to improve the productivity and teaching effectiveness of your teachers, you should consider exploring various options for an integrated learning system for schools at the earliest.
We at LEAD, use robust integrated learning systems to deliver the highest quality international standard curriculum benchmarked with Singapore, US, and Canada education systems to your child irrespective of their location. LEAD's digital system integrates audio-visual content and grade-wise activity kits. LEAD Powered Schools provide 100% smart classrooms, smart TV with audio-video lessons, grade-wise activity kit, etc., which are all powered by the LEAD Integrated Learning System.
3000+ schools across India, trust LEAD to provide excellent education to their students. Want to know how you can transform the learning experience at your school? Tell Me More