How technology can improve student-teacher relationship at your school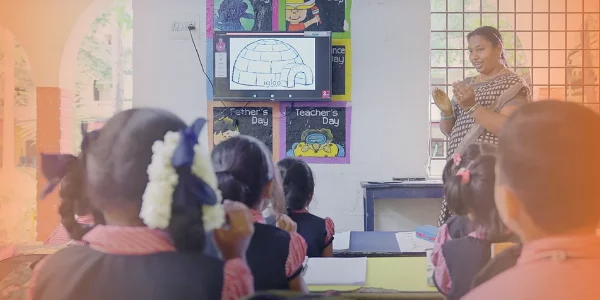 Subscribe to our newsletter
The student-teacher relationship is an important aspect of the learning experience of students. Gone are the days when teachers were the only source of knowledge for students. The relationship is evolving with more sources of knowledge and increasing awareness about child psychology.
Today, teachers are important facilitators of gaining knowledge, but parents are not happy with the conventional passive form of learning. Parents are increasingly seeking schools where they have a better teacher-student ratio in order to ensure personalized and interactive learning.
In this situation, it is important for schools to enable an improved relationship between students and teachers. Let's take a look at how using technology for schools can enable this:
1. Technology for schools enables teachers to be more aware of their students' needs:
In some private schools in India, the teacher-student ratio is improving. This allows teachers to have more interaction with their students. However, in many affordable private schools and public schools, the ratio is still very high. This implies that not every child gets enough attention from their teachers. When teachers do not know the progress and weaknesses of their students, they cannot help them improve.
With the introduction of technology for schools, teachers can see the progress of their students directly on apps. This way they can understand which child is lagging behind and which child is already at the top.
LEAD's Teacher App allows teachers to enter and check exam marks as well as get remedial analysis. This way they can easily organize remedial classes for the students in need before moving on to the next concept.
2. Technology for schools ensures the feedback loop is complete:
In the conventional passive form of learning, where teachers deliver lectures and students take notes, it is very difficult for teachers to gauge the understanding of each and every student. In every class, there are only a few students that ask doubts and communicate with teachers. Most of the children are either too shy to interact with their teachers or feel peer pressure and hesitate to ask questions. Technology can help fill this gap with features that allow students to ask doubts outside the classroom.
The 'Ask-A-Doubt' feature on the LEAD Student App encourages children to ask doubts without any hesitation. This way, they need not wait for the next opportunity to interact with the teacher and need not pile up their queries. Coupled with revision sessions, this feature ensures that every student gets conceptual clarity.
3. Technology for schools implies continued engagement:
Learning should not be limited to the classroom. The same goes for interaction between students and teachers. Even in classrooms, most of the students rarely communicate with their teachers. Also, in the conventional lectures, there is hardly any scope of engagement. With school ed-tech solutions like LEAD, it is possible for teachers to use interactive forms of learning to increase engagement with their students.
At LEAD, with online submission and tracking of assignments, it is possible for teachers to ensure students are learning even outside the classroom. Even if a student misses a class or in the case of lockdown situations, a student can watch recorded classes.
As per an article by the World  Bank, the pandemic has altered how teachers instruct and how they connect with their students. In a developing country like India, where the future of millions of children is at stake, now is the time to overhaul the skills of teachers using technology for schools.
At LEAD, we partner with schools to transform them into centers of excellence by implementing LEAD's technology integrated learning systems. Our only primary requirement from a school is for it to have a building, transport, furniture, teachers and students. We take care of everything else and empower all stakeholders of the school ecosystem. Equipped with our solutions, we aim to propel learning for 15 million students in India by 2025.
LEAD is transforming schools by making children future-ready. To make yours a LEAD Powered School: Partner with us today