Let's learn from experts with LEAD MasterClass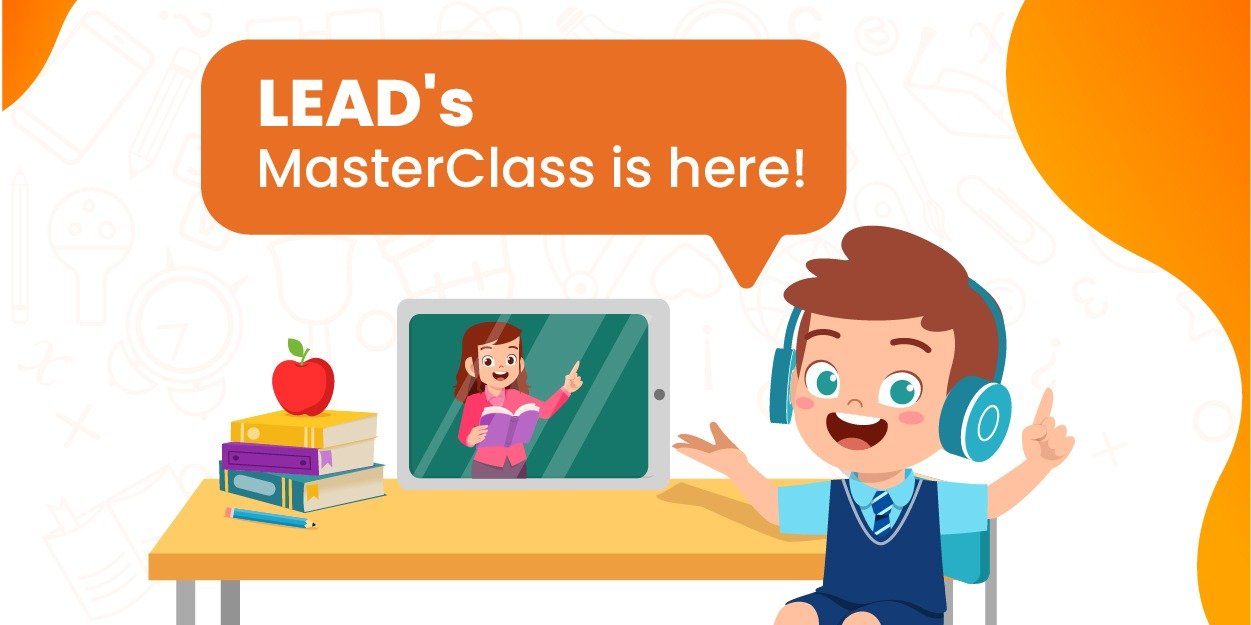 At the beginning of last year's lockdown, netizens immersed themselves in unique experiences and social media trends. Most of them enjoyed making and posting pictures of dalogna coffee and banana cake. However, as this lockdown has persisted for over a year, even the best creative minds have run out of ideas. The same applies to our children who are learning from home. Last year, the new prospect of online learning seemed exciting. Now, with a lack of unique experiences, our kids are looking for new opportunities to engage.
It isn't long before we realise, being at home has also given children time to harbour interests and brush up old crafts. We, at LEAD, aim to celebrate this moment by thrusting each child's holistic development. While initiatives like Summer Camp and LEAD Premier League are already doing this job, we decided to spice things up a step further.
We are introducing LEAD MasterClass, an exclusive initiative to ensure that your students build skills that prepare them not just for exams but for a thriving life.
With regular classes, kids are battling deadlines, assessments and homework required for their academic growth. Since barely any time is left in their tight schedule, it is crucial to nourish and understand their interests beyond textbooks. The masterclass provides this brilliant opportunity to kids.
What is a LEAD MasterClass?
MasterClass, as the name suggests, will have India's renowned personalities and sometimes even successful celebrities sharing their journey via the LEAD Student App with students from all LEAD Powered Schools.
These one-of-the-kind sessions will have renowned experts and celebrities from various walks of life discuss their journey and share their success mantra. As the geniuses' deep-dive, it will inspire students to follow their passions while showing them the reality of that field.
Benefits of attending a MasterClass
LEAD MasterClass endows your child with an amazing opportunity to transform themselves. They will get to learn from the celebrities who are celebrated for their craft. These special sessions will give your child a perspective like never before. During and post the LEAD MasterClass, a child perceives the depth of the art, and foundations required to master it.
Here's what your child will gain from these exclusive sessions:
Drive inspiration
In your childhood, do you remember idolising someone whom you sought to become? Watching your idol immediately rejuvenated and pushed you harder, even during the darkest hours. Our children are much like us.
At this age, having good role models is integral. It not only encourages them to dream bigger but also shows the potential of hard work and diligence.
Diverse offering
The MasterClasses have experts from diverse fields whose phenomenal work and Immersive sessions will provide a chance like never before to understand their journey.
Knowing about their personal journeys will help your child imbibe and be accepting of different opinions.
Tips and tricks
There aren't many things in life that can top the practical knowledge and emotional intelligence of a genius who knows from experience. Their approach to overcoming impediments and their success mantra is invaluable.
Along with their regular academic lessons, your child will assimilate powerful information from our country's geniuses. As you hear their words of advice, ensure your child notes it down and implements them regularly.
Preparation for the future
Harnessing interests from a young age is crucial. The acclaimed author, John Kaufman, believes 20 hours of practice is required to learn a skill. Wouldn't it be excellent if these sessions help your child realise their passion? It will encourage them to shape their ability by understanding reality.
Encourage your child to attend LEAD MasterClass
The first-ever LEAD MasterClass will explore children's creative writing skills with India's best-selling author. Your child can learn and strengthen their grasp of language with, the one and only, Chetan Bhagat. It's time to turn their imagination into words with this one of a lifetime FREE experience! You only need to download and log into the LEAD Student App to catch these sessions live.
LEAD is providing students excellent masterclass sessions via the LEAD Student App. To download the app: Click Here