No more learning interruptions with virtual classroom setup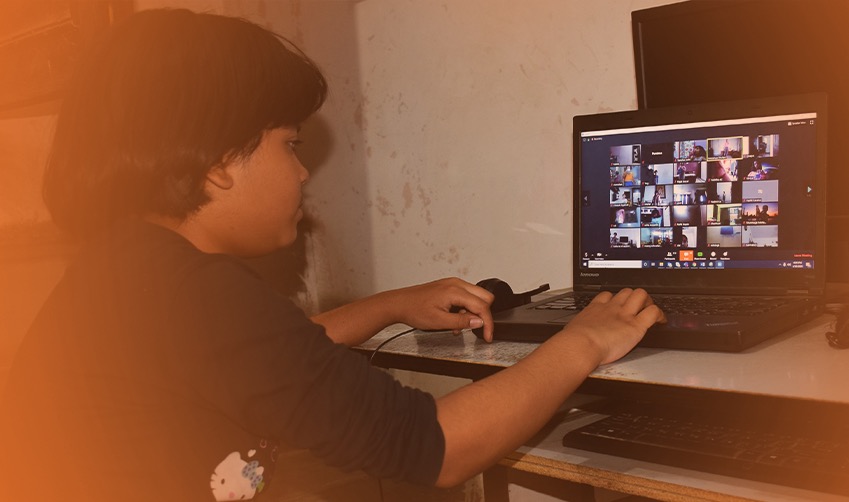 In 2020 the whole world realised the potential of collaborative software. Despite the pandemic, the learning process in smart schools stayed uninterrupted. Why? Educational institutions across the globe started to leverage learning management systems and virtual classroom set up quickly. Now, parents don't need to worry about their child's education and can help them continue learning right from the comfort of their home.
Initially, the school closures frightened parents as they dreaded learning loss. However, with schools moving to online platforms and conducting digital class, children could access quality learning at home. PwC, in its report, elucidates the same and how leveraging technology in education is helping children perform. The report explains, "In recent years, a vision to transform, revamp and retool education through technology has emerged and several classrooms around the country are ushering in this new and necessary phase in education."
Virtual classroom setup enables schools to use online tools and software such as ERP to offer 100% complete school to children at home. Unlike traditional board methods, digital classrooms have been proven effective and visually attractive. While attracting the audio-visual senses of students, digital classrooms have a great appeal among students. Most interruptions in learning are caused due to a lack of interest among children. With attractive displays and images, and animation to explain lessons, you don't need to force your child to study.
According to a survey conducted by Deloitte, education technology connects in-classroom curriculum to enhanced learning outside the four walls. The high-scale availability and adoption of electronic devices increase the interest of children. As per the survey result, 79% of students found learning much interesting in the virtual classroom set up than in a traditional setting. The students, with the aid of digital class, can learn and collaborate better. They can continue their studies and do not have to suffer due to school closures.
Some pertinent questions answered
Why should parents choose schools with a virtual classroom setup for their child? How does it help children to continue learning? Let's address these step by step.
Parents play a crucial role in the education of their child. From paying fees to helping your child study, you need to participate with them actively. In a traditional classroom, the only information they got about their child's education was during the PTM. By choosing smart schools, they can get constant updates and feedback from the educator.
Learning that was initially stopped due to sudden school closures was continued in a digital class. With technology, smart schools with digital setup can make the lessons engaging for your child and help them achieve holistic development. It was never too easy for parents to make their child study, especially with their attraction towards the mobile phone. Virtual classroom eliminates this barrier coming in the way of their learning and provides them access to the technology-friendly learning environment.
Virtual classroom setup offers a perfect amalgamation of audio, visual, and textual interaction, offering comprehensive online tutorials. Without actually being physically present, your children have the chance to interact with the educators, enjoy an array of online presentations, webinars, and live streaming, assuring the best learning experience.
Schools digital infrastructure is speeding up the learning process
In an old classroom setting, children did not learn much due to redundant learning ways and models. The use of digital technology in education is steadily transforming the complete concept of education delivery, making the concept of 'show me and I understand' a reality.
After providing access to the digital class, you don't need to explain the concept repeatedly to your child, as they learn better online. Access to audio-visual aid allows educators to use multiple interactive ways to explain topics.
Ensure uninterrupted learning with LEAD's virtual classroom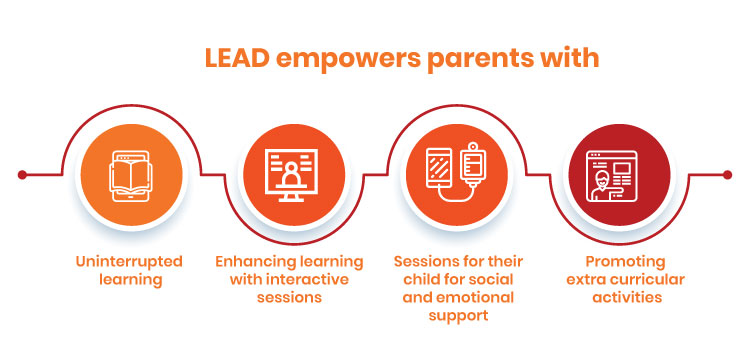 With the LEAD School @home feature, your child can continue their studies in times of pandemic disruption. Parents get access to 100% complete school from the comfort of their home. The world-class teachers impart lessons through audio and visuals aid. LEAD provides an interactive and fun learning environment through collaboration increasing student engagement. The digital presence of data allows parents to track the performance of their child and communicate with teachers. LEAD is a one-stop solution to your child's academic needs. Not just this, in the ongoing times, LEAD also gives Social and Emotional Support sessions to children to help them cope with the lockdown anxiety better.
In these unprecedented times, virtual classrooms have also assisted teachers in maximising resources. LEAD is a change that new India wants where digital and high-tech education is being made available. It delivers measurable results through an integrated and data-based system. With the aid of technology, LEAD aims to offer an excellent learning experience with quality education to 10 million students by 2025.