Online classes & NEP together replace old learning methods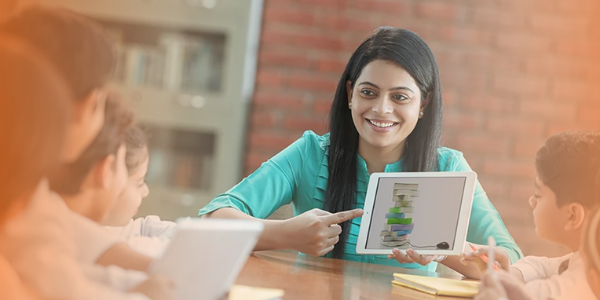 Subscribe to our newsletter
Why the Indian Education system needed a revamp
We are right in the middle of a global crisis. Earlier this year when the pandemic broke out, little could the global populace fathom that the world they know of would never be the same. As the coronavirus pandemic altered the world immeasurably, businesses around the world started facing unprecedented losses and the global education system screeched to a grinding halt. However, for some sectors, this crisis turned into a 'blessing in disguise' where they got a chance to get rid of redundant ways and made way for a more viable approach. As the crisis turned online services into a necessity, the education sector also took a digital leap where a major deviation from the information-focused education was unraveled. Classes were shifted online and teaching methodology flexed. Funnily, it took a pandemic for authorities to see how being 'old school' perhaps is not going to work anymore.
The Indian education system for ages has been following a redundant approach where no heed to student's involvement in studies or his extra-curricular activities/vocational training was given. Standardisation of education remained a problem across all schools where making a curriculum interesting, devising new ways to keep 'teaching' stimulating such as videos, audios, etc. remained a 'not-so-familiar' concept. Standard textbooks in most schools do not meet academic standards where the syllabus is rarely updated. Children for all these years have completely relied on their textbooks where little or no freedom is given to them to think creatively. Indian education since time immemorial has encouraged memorising chapters rather than being analytical about them.
Keeping in mind the need for a drastic flip in the Indian Education System, the in-charge of the country's education sector declared new dawn in July 2020 with the release of a new National Education Policy which subsequently will upend how students, parents, and teachers function.
This policy remains momentous for the country as the Indian Education System overhauled after 34 years. National Education Policy 2020 that aims at making "India a global knowledge superpower", has made significant changes according to the requirements of the times.
Some of the key elements that the Indian Education System has brought are:
A substantial push to digital and online learning
Emphasis on vocational studies and experiential learning
crisp and modern curriculum
The new model is also:
Holistic
Flexible
Multidisciplinary
All these elements are well-suited for the new-age students where this paradigm shift from the decades-old education system is aimed at enabling students to become more engaged and productive citizens.
New Education Policy propelled the need to relinquish the excessive dependence on inflexible structures that were considered essential.
LEAD is transforming schools by making children future-ready. To make yours a LEAD Partner School: Partner with us today

How online learning is replacing old learning methods?
Earlier where technology is considered to be a 'not-so-essential' tool in learning, suddenly went through a consequential metamorphosis. Parents, teachers, school principals, became heavily reliant on technology for undisrupted schooling as they all realised the only way to survive is to adapt. Online classes took over traditional learning where new ways to sharpen children's intellect were devised.
In the face of a crippling pandemic, technology emerged as a major lifesaver, especially in the education sector. Frankly, the online shift of school education is going to be more than just an 'interim' arrangement. Till traditional classroom learning makes its comeback, technology is going to be every child's best friend. When we talk about smart ways to disseminate education we have to think of solutions that are feasible both during and post the pandemic; where the standard protocol remains uniform irrespective of any natural calamity or crisis.
How is the LEAD School facilitating online learning and goes well with the new education policy?
The new education policy has flipped the old ways of this sector and gave it a much-needed revamp. To combat this problem and to support the government's decision, LEAD School's online integrated management solution aims to make India a global knowledge hub with its one-stop solutions. Since the government's outlook changed towards the redundant education system of the country, parents are also gradually waking up to the need for a crisp curriculum where equal attention to extracurricular activities is given.
The novel online integrated management solution has taken the education sector by storm where students can access the contemporary curriculum without having to leave the safe boundaries of their homes. This platform has also empowered teachers through its e-learning platform as they now have access to the large pool of resources and knowledge material from where they can make their teaching methodologies better and their understanding on the subject sharp. It's time to adopt a smart way that pierces through the challenges that befall parents, students, teachers, principals, or even school owners.
Parents also get a parent app that helps them engage with their children's learning and progress. In-Time monitoring after every unit helps to identify the problems faced by every child.
The easy-to-use school platform allows school principals and academic coordinators to monitor student's performance in their respective schools.
LEAD School's Comprehensive Curriculum; Integrated System based teaching; In-Time Performance Monitoring and Guaranteed Result is the hope of new India. Online classes are going to play a pivotal role in making "India a global knowledge superpower."
Any worthy online education platform that aims to make a difference to a child's learning experience lets them move at their own pace and only jump ahead once they've mastered a skill. In the future, when this pandemic is behind us, integrated academic systems like LEAD School will prevail. The fear of poor-quality online teaching and the hesitation on the part of teachers to use online portals is a thing of the past. Designed to navigate your child towards a better future, LEAD School got your back! Let's witness the rise of a better India together.
LEAD is transforming schools by making children future-ready. To make yours a LEAD Partner School: Partner with us today