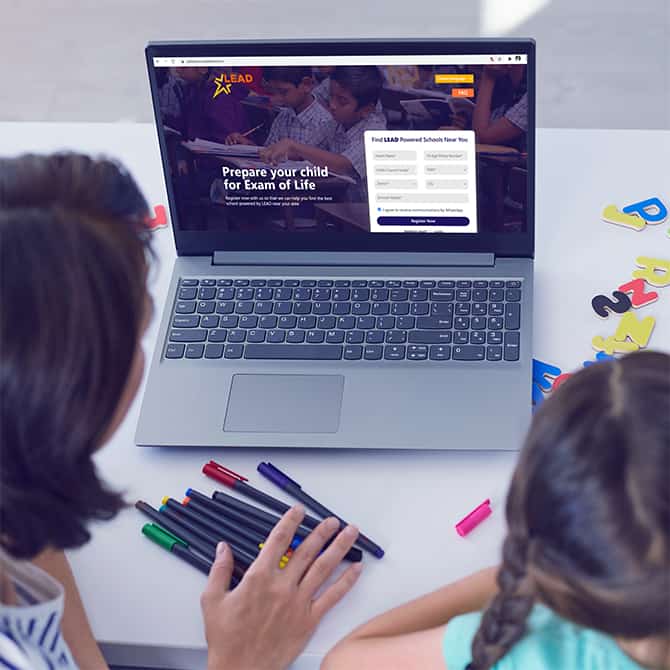 PAN India online brand marketing of LEAD-powered schools
LEAD offers complete digital services to help your school enhance its credibility, reach, and admissions. From classroom snippets to testimonials from principals, teachers, and students, we highlight your school's story to our PAN India audience. With our modern advertising techniques, we help parents recognize your school's unique attributes.
Our digital support includes a dedicated microsite, aptly managed social media pages, an admissions portal, and an opportunity to get featured on LEAD's blog and social media channels. We also allocate a specific budget to support our partner schools with online advertising during their admission cycle.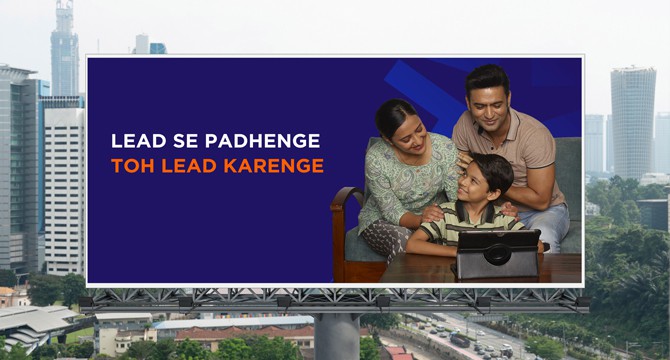 Localised offline school marketing solutions
Using the latest tools and resources, our team at LEAD helps spread the word in local communities via various offline methods. We provide on-ground support by conducting door-to-door and centre-based marketing campaigns. We also create pamphlets and other collateral for your school, both in English and the local language.
Our solutions include hoardings in prime areas and advertisements in local newspapers, magazines, and TV channels. The objective of these campaigns is to build better credibility and awareness among the parents in the region. Our unique approach and the school's best offerings are highlighted to nudge prospective parents towards making enquiries and switching to your LEAD-powered school. The LEAD logo on the school's board also helps our partner schools stand out in the locality.
Parent-school orientation at LEAD's experience hub
LEAD's Experience Hub is a parent-school session that we set up on school premises for a day. This session highlights your school's smart classrooms, fully-loaded teacher tab, books, and other new-age resources that make learning engaging.
By providing this first-of-its-kind experience to parents, we help them make an informed decision. A LEAD representative moderates all sessions and answers related queries, helping build credibility and trust among parents in the local community.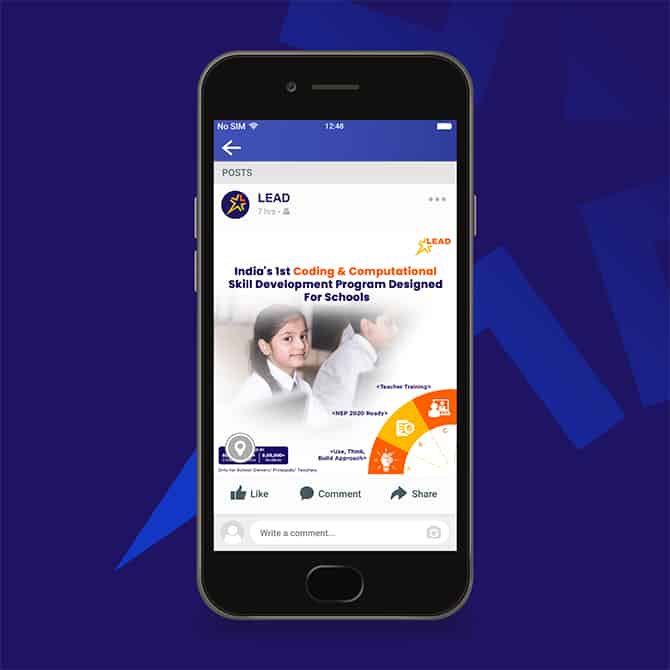 Bespoke digital marketing services
Growing a school is a difficult process. At LEAD, we help your school by creating an admissions portal and school discovery page designed to help you increase admissions. Using social media, YouTube, and Google advertising, we help your school stand out in the local region. Our advertisements are carefully crafted to reach the right audience, highlighting your institution's salient features.
Our marketing team engages with interested parents, procuring leads and passing them to your school team, to simplify the process for you. With our large network, accomplished team members, and industry knowledge, we wish to be a partner in your journey, helping you untangle yourselves from the resource-consuming process of school growth.
School Owner, Divine International School
The best part about LEAD's unique curriculum is the ELGA classes. ELGA is English Language and General Awareness. For the first time ever, English is being taught to children based on their skill rather than as a mere subject. This has helped our students become confident English learners and are able to apply this strong foundation across other subjects too! I find this method very revolutionary and extremely effective.

Principal, LEAD School, Mangaon
I have worked in academics for over 20 years. I have always seen only traditional and rote learning. But after LEAD came in, students have started learning using a multimodal approach. There are so many interesting resources and tools that teachers can use to teach both online and offline. The online learning App is doing wonders and parents have become more involved in their child's learning process.
School Owner and Principal, Shemrock School
All the training for our teachers and staff happened very smoothly. The online sessions could have never happend without LEAD. Live classes and Ask doubts are excellent features on the learning App. 2020 was a very challenging year and thanks to LEAD we have been able to minimise learning loss. Attendance is always a problem and thanks to hybrid learning we have been able to provide high-quality, seamless education both online and offline.
What's new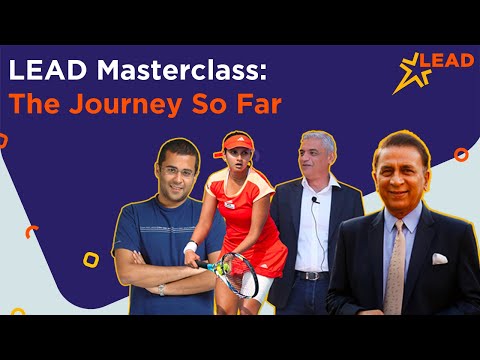 LEAD MasterClass is designed to unleash our students' inner genius. The journey so far has been terrific!
Read our blog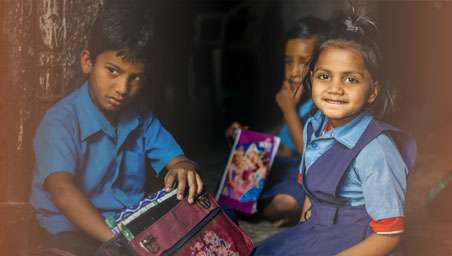 Vikas Verma

Audience : schools

Online Learning
"It has been a strange year", a sentiment that has echoed world over since the dawn of 2020.
View All
LEAD for you
Want to know more about us? Connect with our LEAD experts