Online educators replace traditional teachers as pandemic upends sector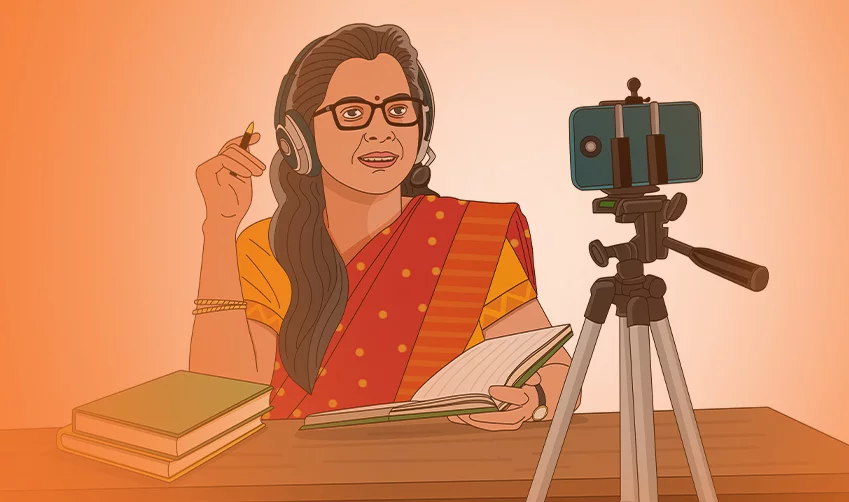 Subscribe to our newsletter
Traditional teaching inherently prioritises curriculum and passing tests, shirks away from experimenting and focuses on redundant approaches like the stand and teach, which may not be relevant in the present day scenario. The ongoing pandemic became a loud cry for help for the education sector, where everything came to a standstill. The traditional education framework didn't fit the online learning scenario, and students faced irreversible learning losses.
Current time demands a path-breaking teaching approach
As traditional teaching took a backseat and online educators came to the forefront, the need for upskilling and training also came to the fore. For years, a successful teacher needed a degree to excel; however,  with the changing dynamics of the education industry, a degree will not suffice anymore. A teacher could be a decorated star, but as long as he/she is not aware of the latest teaching trends, especially the online ones, they will not be able to make a long-lasting impact on the kids. The generation which is learning online needs an enhanced version to stay relevant in the future, and to make this possible, intervention of proficient and highly-skilled teachers is required.
What are schools doing?
 The sad state of affairs states that schools at large have not yet normalised teacher training. They still are letting their teachers teach based on their old degrees leading to poor performance of students. Schools do not realise this now, but it may have devastating effects on children's future in the long term.
On the contrary, some schools have adopted smart technology that lets them have apps for online classes, especially teachers. With the help of these specialised apps, teachers can streamline their teaching, have ample resources to teach from, and make their lectures interesting by using various audio-visual resources and keeping students engaged—something which became a task during online classes. Online educators have to be smart, agile and swift to respond to any challenges during online classes. In addition, they must know how to engage students; they should be trained in taking highly effective classes even in the absence of in-class teaching to guarantee brilliant results to every student. Traditional teaching is not enough to prepare the future generation of leaders.
As Microsoft says, "Learning has shifted from a focus of knowing to a focus of doing. Students are required to engage in more analytical thinking and innovation while expressing creativity, initiative, and emotional intelligence."
Smart schooling is the way forward to immerse in this novel culture of learning and inculcating values in students that they hone beyond textbooks.
How does LEAD empower teachers to conduct meaningful classes?
LEAD provides complete ed-tech based solutions to enhance teaching techniques. With a dedicated LEAD Teacher App, daily teaching tasks are made simple, and ready-made teaching tools and resources are available to refer to any point.  LEAD also helps teachers with the world-class training material, attendance and progress trackers, class schedules, and important notifications.

LEAD helps teachers innovate their teaching techniques to suit the fast-paced evolving world with ready-made teaching tools, observational feedback sessions, and continuous training.
LEAD provides exemplary lesson plans and resources and student performance data to make teaching uncomplicated.
LEAD helps with continuous training, feedback sessions, and dedicated workshops to help teachers improve their teaching techniques.
Teachers can connect, learn, and share best teaching practices with LEAD's massive network of over 20,000 teachers and expert faculty.
Apps for online classes are speculated to be the 'new hope of new India' for their unique features that assist teachers to simplify learning modules.