Smart school ERP assists owners to achieve 100% complete school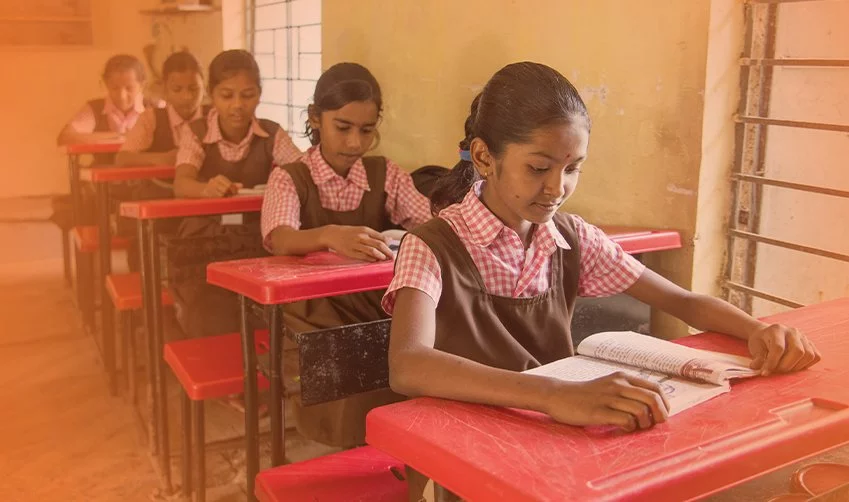 Subscribe to our newsletter
What happens when the model you have trusted for decades crumbles with a global calamity? It causes chaos, and panic persists. Unfortunately, that's what happened when the education system around the world crashed with the pandemic.  The harm caused to children's education during the COVID-19 crisis remains unprecedented, and the swiftness of ministries around the world is needed to redress the damage.
In 2020, 1.5 billion students in 188 countries/economies were locked out of their schools, causing irreversible damage to their learning, and with the pandemic still raging, education systems keep struggling. The plight says that even the students who have returned, or who will return, to their classrooms will continue to feel the consequences of lost learning in the face of the pandemic. The education sector has been slowly progressing, but that ended abruptly in 2020. The pandemic is an opportunity for the sector to build back better and stronger.
In most countries, education moved online or was delivered otherwise remotely during school closures, but with vast variations in success and quality. To combat the problems of uneven education, smart school ERP surfaced to save the sector from a sharp plunge. With its help, schools can access technology and quality education in bigger cities and smaller cities. Moreover, schools in smaller cities do not have to suffer. Smart school ERP has penetrated the corners of the country, empowering every school.
School ERP streamlines harrowing tasks
School ERP systems have been a saviour for the education sector and take care of multiple tasks at the same time, such as:
Admission process
The ERP system can simplify the admission process. The user-friendly management platform performs all the complex stages involved with admissions with zero error. Handling various documents gets easier. The entire admission process gets streamlined and stores the digitised student information for future retrieval.
Tracking fee payment
Payment of the fee, which is one of the most strenuous tasks to keep track of, gets simplified with ERP, especially during frequent interruptions. With ERP solutions, receiving fees and keeping track of payment history get easier. ERP software automates the operations related to fee payment, etc., and makes sure it gets executed. Schools give due reminders too.
Better productivity of teachers
With the help of ERP solutions, the teachers can navigate through various tasks seamlessly. Teachers don't have to waste their time in manual processes like taking attendance and assessments- all of which gets automated with ERP.
Exam management
ERP system also helps in preparing report cards for every student productively. Analysing students' performance and generating automated report cards have become relatively easier. It also helps in the management of term-wise examinations. Teachers don't have to get involved in unnecessary labour like before.
Organises the record
Earlier, managing records of the staff and students used to encompass a chunk of paperwork and were also prone to errors. With ERP, records can be accessed with a single click, and everything is managed professionally. Also, maintaining records of children taking admission or those passing out of school was harrowing. Now the easy access helps to keep a record of every school member in an organised way.
Better management
With ERP, the course structure can be planned for the entire year well in advance. Teachers can follow a seamless plan during their lectures to finish the syllabus on time so that students have enough time for revision.
A report by MarketsandMarkets says, "The global education ERP market size is projected to grow from USD 12.7 billion in 2021 to USD 25.2 billion by 2026, at a Compound Annual Growth Rate (CAGR) of 14.7% during the forecast period." The need for enhanced performance of administrative modules, the need to manage academic processes, and rising enrollments in the education sector calls for the need of smart school ERP.
The education sector is finally drifting away from the notion of students sitting in rows listening to their teacher to more interactive technology-based modules where learning gets enhanced and student retention rate increases.
How is LEAD addressing challenges caused by the pandemic?
LEAD empowers schools with resources that ensure visible improvements in students' learning outcomes, teacher performance and overall growth graph of the school. LEAD Nucleus, the academic ERP, is one of India's 1st Hybrid Mode Integrated Platforms that help schools run seamlessly in just a few clicks.

With LEAD's advanced Enterprise Resource Planning systems, schools can now toggle between online, offline and hybrid schooling without any delays. Constant updating of information also ensures that no inputs, grades, or data get missed. The ERP uses data inputted by teachers to generate easy-to-analyse reports and trackers that can be used for academic planning, including remedial.
A unique App has also been designed for school owners and management. In just a few clicks, they can:
– Track key metrics for their school(s)
– Deep-dive into student, parent and teacher reports
– Receive news, announcements, updates and other important information from LEAD
– Contact LEAD in case of any feedback, queries or issues
LEAD is changing the education space in its entirety.