School ERP app, a prime solution to prevent learning loss
Subscribe to our newsletter
On March 11 WHO's Director-General, Dr. Tedros Adhanom Ghebreyesus, declared the coronavirus (COVID-19) outbreak a global pandemic. Within days, the robust economies of the world came to the brink of collapsing while the education sector gasped for breath.
Experimentation, unknown to the human race, was conducted to keep the sector running. "Distance learning" a concept not so familiar with the school fraternity, was practised. Jolting the sector from its very core, the stakeholders were ready for an overhaul.
To combat the crisis, technology made inroads in the education sector to serve everyone. However, within a few months, it was deduced that mere technology and conducting classes online would not be enough to equip 21st-century children for a fiercely competitive future.  The prime concerns of parents such as interactive learning, streamlining of the process, conducting of exams, assessments remain unaddressed.
School ERP, saving the sector from plummeting 
While many are worried about the disruption caused by the pandemic, only a few care about quality education. Creating an interdisciplinary environment to hone multiple skills and see beyond textbooks is needed to prepare tomorrow's achievers.
WeForum asserts, "The current education system is built on the Industrial Revolution model and focuses on IQ, in particular, memorization and standardization. We must update education with job readiness, the ability to compete against smart machines and the creation of long-term economic value in mind."
This is where School ERP steps in. School ERP not only prevents learning loss but also makes quality learning possible. It provides a set of tools that enables you to run the school efficiently with minimal cost. With children learning from home, installing ERP software will help you manage and ensure learning during the pandemic or any future interruptions.
The Organisation for Economic Co-operation and Development says, "Developing strong attitudes towards learning can help students overcome some of the potential challenges posed by online learning such as, for instance, remaining focused during online classes or maintaining sufficient motivation." 
You can upload all the information related to students performance, attendance etc., on the school ERP app for the parents to check. This builds the trust of parents and helps them to participate in their child's education. With advanced features of ERP, teachers can make the learning interactive, and students are seldom out to lunch.
School ERP ensures continuous learning and better management.   

                                               
No one knows when schools will reopen. Hence, schools need to be equipped with technology and smart class solutions to prevent learning loss. Proper management will help schools to run classes effectively at home. School ERP comes as a comprehensive suite of applications that can automate every activity right from conducting student admission, managing their attendance, fees and examination, employee payroll and recruitment, etc. An ERP provides an ample number of choices to streamline the educational institute.
With online management, you can provide your teachers with the time they require to enhance students' learning. You can easily set up virtual classes and make the learning interactive for children. Parents play an essential role in a child's education, and by giving them access to the school ERP app, you allow them to check the performance and reports of their child, ensuring better learning at home.
ERP helps teachers to remain in touch with parents and students. Children can submit their homework, assignments and documents efficiently on ERP. Teachers can also upload syllabus, notice and other information on the app for the parents.
Future of School ERP- What can school owners expect?
Students and teachers are more comfortable today reading and messaging on small screens. Future-ready ERPs are accessible when required, with a good blend of font size and orientation for optimal information presentation.
AI-supported ERP helps teachers in curriculum design and the conception and implementation of creative teaching strategies essential for students' learning.
Personalisation will not be an outlier in teaching strategy; it will be at its core. With a large amount of data available today on each student, in terms of preferences, convictions, choices, and more, an intelligent ERP can bring focused and specific solutions to suit every child's requirement on the table.
ERP is of great use to schools, and with its advanced feature, you can make learning possible at home. Schools can reach out to students and maintain every record easily with this software.
How LEAD's ERP helps schools in providing uninterrupted learning?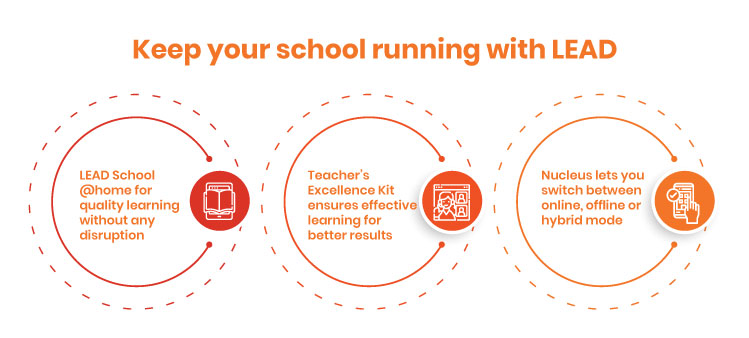 With LEAD's Integrated System, the school owners can now deliver excellent uninterrupted learning online and offline while using world-class teaching pedagogies to achieve high learning results for every child.
The easy-to-use school ERP app allows principals and academic coordinators to monitor student learning levels in their respective schools.
With the LEAD School @home feature, schools can easily connect with students at home and ensure 100% complete school. LEAD endow schools with apt technology and resources. Teachers can explain concepts better with on-screen visuals. They also have access to tablets with pre-downloaded lessons. Parents can quickly check their child's performance and attendance using the ERP.
LEAD is transforming schools by making children future-ready. To make yours a LEAD powered school: Partner with us today