Parent teacher conference amidst school closures? It's possible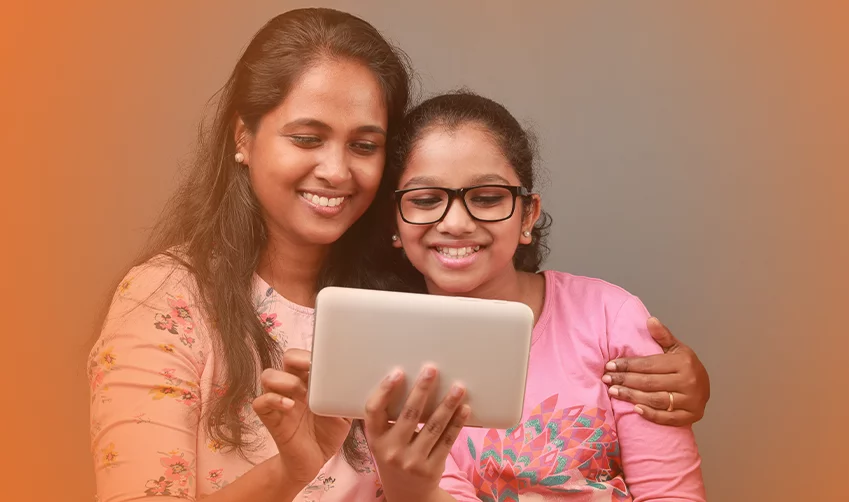 Now that the schools are shut, parents wonder if interaction with teachers can continue like the good old days.
An era before the pandemic gave a few "unasked for" privileges to parents and teachers, but as soon as schools closed their doors, it led to experimentation unseen in decades, especially in the education sector. School closures worldwide not only made way for innovative learning but gave schools an option to build a sustainable model that can withstand crisis of any magnitude. Technology facilitates a hybrid model of learning for schools and makes online PTM possible.
We must adopt forward-looking systems that deliver quality education for all as a springboard for long-term goals during ongoing times. Investment in digital literacy and infrastructure is not a luxury anymore. Flexible delivery methods, digital technologies and a world-class curriculum are some of the best technology offerings and 'need to the hour' too.
Creating an inclusive, resilient, quality education system that fits the future needs is required more than ever.  The in-person parent-teacher meetings have now made a shift to a virtual platform. Reliable ERP systems help parents access their child's performance and make constant communication with the teachers possible via digital tools.
Technology innovation is altering and improving the parent-teacher dynamics. While the thought of a virtual parent-teacher meeting may have existed for long, technology brings this to reality. Parent-teacher conference with the help of technology offers both teachers and parents a chance to discuss a student's academic performance and stay connected even in the times of disruption. 
Parents are a vital link between children and schools. The significance of a healthy and strong partnership between parents and other caregivers with teachers is a well-recognised and researched topic in education. Several studies have proved that collaboration between parents and teachers and online PTM enhances children's academic achievement, social skills and emotional well-being.
The ball is now firmly in the educational institutions' court to become more innovative in technology for their parent-teacher conference and overall educational benefits. They can install management software to let parents access their ward's attendance or progress reports.
Making parent-teacher interaction possible even during a pandemic
Proactive school owners who are taking all the requisite steps to make their school tech-enabled will make their schools thrive in the coming times.
For instance, in the health sector, AI-enabled frontier technologies have helped save lives, detect diseases, and in some cases, extend life expectancy. In education, remote learning has opened up avenues that otherwise were not possible.
Online systems and digital tools can create a setup with unfathomable benefits. ERP software has enabled parents and teachers to track the children's progress and conduct regular meets.
Online platforms such as ERP allow the educators to create a meeting link and send it to parents to join the call. Advanced features such as screen sharing enable teachers to share the child's work and discuss their performance. Unlike the traditional method, the online parent-teacher conference gives teachers enough time to provide feedback to parents, which they can further use to enhance the child's academic performance.
Importance of parent-teacher meeting
Active participation of a parent brings a substantial change in a child's academic performance. It is significant to share responsibility and accountability with parents for the holistic development of children. A parent is directly responsible for their child's progress at home and in school. Tech-led ERP makes that possible effortlessly.
Parent-teacher conference is an opportunity to exchange the progress of a child with each other. Sharing daily experience and observation provide a broader prospect for parents and teachers to plan, prepare, and execute planning for better learning outcomes of kids.
Amid the closure of schools, online PTM is a junction to meet the needs of the child.
PTA creates an opportunity for parents and teachers to create a healthy and strong relationship for the child's overall development.
Online PTM enables two-way communication for the child's welfare even in the time of the pandemic.
Educators can provide feedback to parents and help them know the kid's weak and strong areas.
Online PTM helps to track and close learning gaps swiftly.
How LEAD helps in building a relationship between parents and teachers?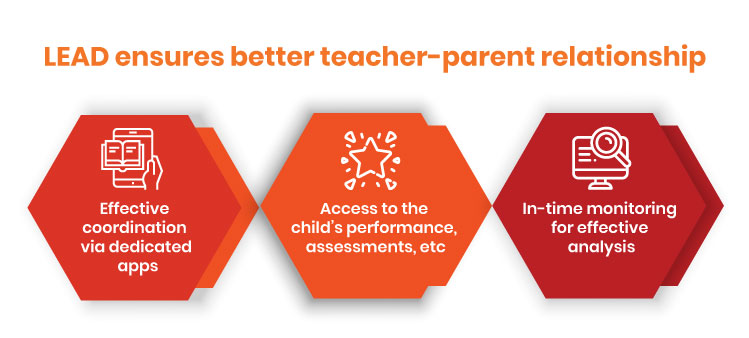 LEAD aims to revolutionise every kid's learning experience. With LEAD's Integrated System, schools can deliver uninterrupted quality learning online and in hybrid mode while using world-class teaching pedagogies to achieve an excellent outcome for every child.
LEAD School @home ensures that students practice regularly with quizzes, flashcards and daily challenges. It also ensures that parents and teachers are regularly connected. LEAD School @Home, along with the Parent & Student App, enables parents to participate in their child's learning growth actively.
Kids can continue learning without interruption, and parents can access 100% complete school at home.  LEAD's progress tracker and open communication channels have facilitated student learning journey in this 21st-century educational landscape. The online platform enables parents to access their kid's performance reports, videos for further learning, plan for home study and monitor the pictures from classwork.