Smart class school helps in better admission rates even during the lockdown. How?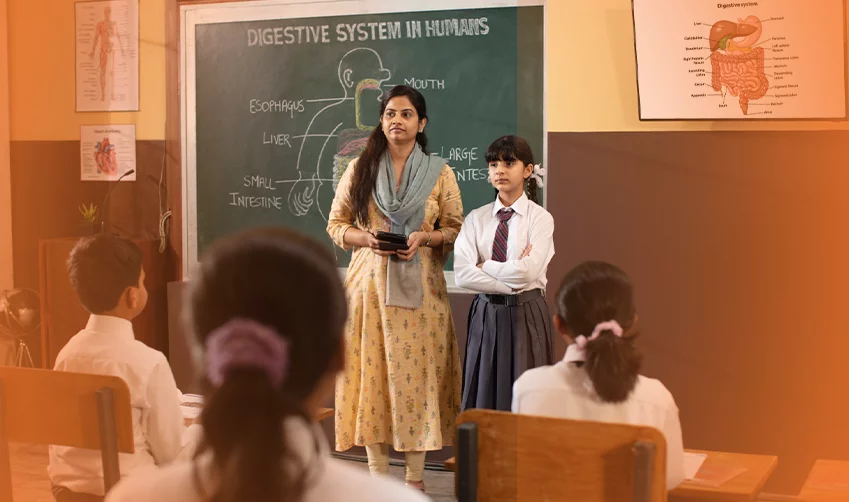 Subscribe to our newsletter
"Education alone cannot hope to solve all development challenges, but a humanistic and holistic approach to education can and should contribute to achieving a new development model."
The smart class school has revolutionised the way the Indian education system has operated for all these years. The 'cram' based approach left a little room for experimentation. Students studied to pass one more grade, and teachers kept too busy in getting the syllabus done. Students rarely learnt anything out of their curriculum, and nothing much was done to make their academic learning curve engaging. Besides their games period or a session in the laboratory, hands-on learning was minimal. The world is changing, and education too must change. Societies worldwide are going through a massive transformation and calls for a change to keep up with the fast pace of developments.  Moving beyond literacy and numeracy and adopting learning environments that prepare students for a future where 85% of the jobs don't even exist yet is required.
In light of the ongoing crisis, school authorities need to rethink the normative principles and work towards a crisis-proof system that stays resilient even in times of disruption.
Smart school to the rescue when the school bell went off!
Smart schools, though not a novel concept, gained momentum after the pandemic. The requirement of an educational system that's not traditional or revolves around 'chalk' or 'blackboard' was felt for the first time. Since the education sector was one of the worst industries to get impacted by the crisis, a system that doesn't crumble quickly was needed. smart class school kept students connected with teachers and facilitated quality learning in the wake of the crisis.
A few of the advantages of smart class school are:
Effective learning experience
In a traditional setup, where students are often distracted, the smart class school makes learning an exciting experience where aspects like collaborative approach, extracurricular activities, and hands-on learning make education invigorating.
One of the main benefits of a smart school is that it allows students to have a customised learning experience. Students can learn at their own pace, which is beneficial for slow learners. The smart setup allows students to revisit the lessons and re-watch the teacher's recordings whenever required. Students can also get in touch with the teachers in case of any clarification via email or student-teacher portals.
Expanded learning opportunities
The smart class concept goes beyond 4-wall learning and gives a plethora of opportunities to students to learn from the web to gain more than one perspective on any subject. Students tend to sharpen their competence via non-traditional means.
This innovative learning approach offers flexibility that takes care of students with various needs and brings the best out of them. Assessments help them get continuous feedback, which helps them track their progress and motivate them to do better.
How is LEAD's smart class changing the education space of the country?
When a school becomes LEAD-enabled, it converts all the classes into visually enabled classes with world-class teaching and learning. LEAD understands that every child is unique, and that's why it offers remedial sessions to students with learning gaps.  Students can now benefit from LEAD's bridge course specially designed to provide a thorough recap of essential concepts from the previous grades with ample practice to mitigate learning loss.
Digital Learning Content, Physical Reader & Workbooks, Learning activities, E-books, Regular assessments & Practices quizzes, Personalised revisions, Home practice, live classes from a LEAD expert teacher, Doubt clarification, and National competitions are unique features of LEAD.

Traditional classrooms get transformed into smart classrooms through a smart TV and a teacher excellence kit with LEAD. So instead of just a few smart classrooms, every class gets empowered for visual learning. In LEAD-powered schools, the teacher app is the main anchor for teaching. The app comes installed in the teacher excellence kit and contains high-quality lesson plans. Each lesson has videos, slides, images and digital copies of books and workbooks. This enables excellent teaching than using a printed teacher manual.
LEAD is transforming schools by making children future-ready. To make yours a LEAD Powered School: Partner with us today