Teacher Training – Preparing Teachers for Inclusive Education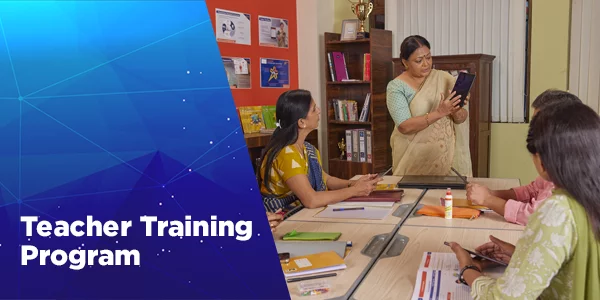 Teacher Training – Preparing Teachers for Inclusive Education
Last Updated On: 24/04/2023

"Technology is just a tool. In terms of getting the kids working together and motivating them, the teacher is most important." – Bill Gates
Why is Teacher Training Necessary for Inclusive Education?
Training programs for teachers are necessary for the 21st century as today's generation of students comprehend better and learn faster with innovative methods rather than just traditional teaching methods. Students today need personalisation in education. The Indian education system has been seeing the classroom as a whole & not as individual students, which is unfair to many students.
Each student is unique in different ways, including in the way they think, understand, analyse, and go about academics. It is, therefore, significant for our existing education system to bring in this change. Training teachers to view their students as unique individuals with varied learning styles is a game changer. Once teachers comprehend this and know how to cater to the several learning styles, they will positively impact hundreds and thousands of students.
Teacher training is also more crucial now than ever as teachers today are struggling with identifying and padding the learning gaps in students to bring them up to grade level. Without the right knowledge, skills and tools, teachers cannot be reasonably expected to tackle these challenges on their own.
In this article
How is LEAD Upskilling Teachers with Teacher Training?

How Are Teacher Training Programs Helping Teachers Grow?
How Are Teacher Training Programs Helping Teachers Grow?
Teachers are an influential and vital part of the educational system. And the outcome depends on how a teacher teaches. Also, teachers play a significant role in shaping the future of any country. So it's vital to do justice to their profession. With the help of sound training programs, teachers' capabilities can be further enhanced for the better. 
Here are some major benefits of training programs for teachers:
Professional growth



When teachers attend training programs, it provides them with the opportunity for continuous professional development- to learn new ways, strategies, methods, skills and tools. When teachers get upskilled, they feel confident, motivated and happy to achieve greater things with their students. 
Better student management



As a teacher, it is vital to know, understand and analyse students effectively. Teaching twelve-year-olds cannot and should not be the same as teaching five-year-olds. Therefore,

teacher training materials

help teachers to better understand and, therefore, better manage their students.
Equips teachers with modern pedagogy strategies

Through a holistic training program, educators, especially those who have been teaching for several years and therefore not likely to be aware of advanced technology, practices and methodologies, acquire modern methods and techniques which they can use in the schools to educate their students better.
Never miss a story
Stay updated with the latest news and articles related to school education
SUBSCRIBE TO OUR NEWSLETTER
How is LEAD Upskilling Teachers with Teacher Training?
LEAD assists teachers in realising their potential, students succeed in the classroom, and schools grow through comprehensive teacher training programs. These programs include teacher development workshops & our dedicated teacher training portal: LEAD Academy.
LEAD Academy – 24×7 Learning Platform

LEAD Academy brings opportunities for teachers at LEAD Partner Schools to upskill and excel. LEAD offers them a library of resources and exclusive access to training programs that ensures they constantly enhance, grow and perform better in their careers.
Teacher Training Materials In Teacher App



The LEAD's Teacher App is loaded with videos which assist teachers in visualising how to teach a particular concept in the class. 
Connect, Learn and Grow with Other Teachers



The strong community of 25,000+ teachers at LEAD Partners Schools thrives in a collaborative environment. Teachers can attend webinars and live panel discussions to connect with other teachers from across the country. In the program, teachers also get an opportunity to share ideas and exchange knowledge to arm themselves with the finest and proven teaching practices and techniques.

Accelerate Career Growth

Teachers at LEAD Partner Schools enjoy unmatched networking capabilities, which empower their careers and bring them desired opportunities.
Conclusion
Experimenting with practical teaching methods in a real classroom can be risky without proper teacher training as students will not be able to grasp the concepts that well. A different approach may impart a better learning experience as compared to one being used by the teacher at present. Such different approaches to teaching must be clearly understood by the teacher so that they can make students understand better. Through the adoption of India's leading teacher training program by LEAD, teachers can gain students' confidence and assist them in learning more effectively. Enquire today to get more details.
Article Summary
Article Summary
The objective of

teacher training

programs is to develop a command of the subject matter of the assignment given to them in the classrooms.

The main objective of these programs is to develop a skill to stimulate experience under an artificially created environment, less with material resources & more by the creation of an emotional atmosphere. 

Training helps the teachers to develop the ability to be a child with children, an adult with adults and a responsible citizen in the community.

The broad objective of training programs is to empower and embolden prospective teachers for effective teaching.
Never miss a story
Stay updated with the latest news and articles related to school education
SUBSCRIBE TO OUR NEWSLETTER
x
Give Your School The Lead Advantage