Professional training is essential for the continuous development of teachers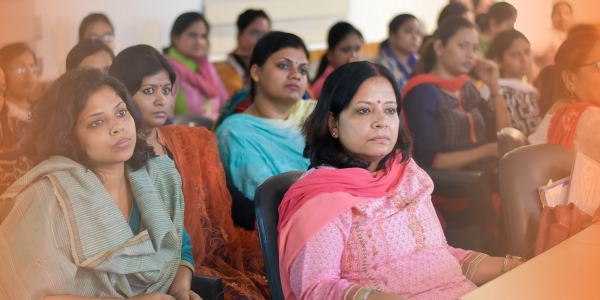 Subscribe to our newsletter
Teachers are at the frontline in preparing kids to excel in their careers. However, future careers and corresponding educational needs are changing very rapidly. For example, a decade earlier, nobody could have predicted the response that "coding for kids" has gotten in the past two years.
Such rapid changes have created a severe need for continuous upskilling of teachers so that they are better prepared to guide their students. Thus, professional teacher training schools have become a necessity today.
Unfortunately, in developing countries like India, there are very few resources available to teachers and schools to make such training possible. Moreover, the COVID-19 pandemic has brought the teacher skill gap to the forefront. Teachers were forced to go online with very little training and help. Now, as India is opening up, it is time to take a hard look at the need for upskilling teachers, especially in the form of online teaching platforms for teachers.
To help teachers cope with the needs of present-day learning, LEAD offers its LEAD Academy Teacher Training Strategy which is a multi-pronged approach to train teachers in LEAD Partner Schools. LEAD Academy offers a 360° approach to teacher training, starting from motivating teachers to teach better by getting trained from multiple angles which conventional training approaches can't address. The central tool of the teacher training strategy is LEAD's Teacher Mobile App (TMA). The cutting-edge Teacher Mobile App (TMA) is a one-stop solution for teachers that assists them in getting professional training.
This is how the Teacher Mobile App (TMA) assists in various facets of the teacher training process:
1. Simplifies the teaching process
One of the important roles of any teacher training school is streamlining the academic content that teachers deliver in the classroom. The LEAD TMA has ready-made lesson plans, assessments, and reports, all of which can be accessed from the teacher tab. LEAD TMA also gives teachers cutting-edge educational resources that they can incorporate in their regular teaching. Teachers also have access to various teaching webinars and events that are held at a national level.
2. Enables teacher assessment
Assessing the performance of teachers on the material they want to deliver is a key testing point in any teacher training school's program. LEAD TMA offers teachers the opportunity to learn from industry experts and earn certificates for themselves. Teachers can learn, test themselves, and earn certificates that help standardize their performance at the national level. Online training modules are available on the TMA app that allows working teachers the flexibility of learning at their ease.
3. Network with teachers at a national level
The strong community of 25,000+ teachers at LEAD Partner Schools provides a vibrant collaborative environment. Teachers can attend live panel discussions and webinars to connect with other teachers from across the country. This sharing of ideas and exchange of knowledge allows the development of the best teaching practices that can be implemented in classrooms.
In addition to the above benefits, LEAD TMA allows teachers to get notifications directly in their messaging apps. These notifications include updates on course content, new course material added, upcoming events like webinars, and other important reminders. Also, the LEAD TMA is powered by LEAD's robust learning management system (LMS) which is linked with apps like WhatsApp making the TMA very user-friendly. This ensures that teachers are always in sync with the school's activities.
LEAD opens up a whole world of better teaching opportunities for India's educators. Teacher training schools like the LEAD Academy equip teachers with training tools that can help teachers easily instill high-quality education and the love of learning in their students. LEAD Powered Schools are reaping the benefits of TMA and their teachers have started noticing significant gains in teaching quality and student satisfaction.
Getting professional training for teachers at your school is made easy by LEAD. Give your teachers the edge they need. Partner with LEAD today