Which app is best for making educational videos for teachers? | LEAD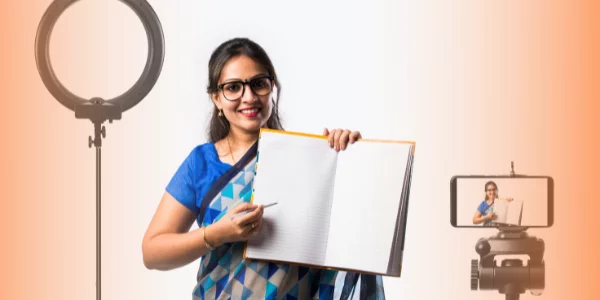 Subscribe to our newsletter
Kids nowadays are fond of learning through audio-visual content. Gone are the days when students were okay with reading those text-heavy black and white books that hardly had any attractive images. Conventional books and writing notebooks full of notes is a thing of the past. More and more kids understand better when they learn by doing and watching. Besides, the lockdown left no option but to switch to an online mode for all schools. Teachers keep wondering how to make the best online classes. Many teachers also want to make their own videos that students can watch.
Those online educators who are not tech-savvy may have a tough time shooting and editing videos. Don't worry, technology is so advanced these days that anyone can make and post videos. Plus, your content is more important than how fancy your video is.
So in this blog, we have listed some easy to use video shooting and editing software that you can use to make your educational videos:
1. Powerpoint
This is one of the most basic and free tools online educators can use to record videos, especially when you want to use a PPT as the base of your video. You can record both audio and video in it. Plus since most of us already use MS Office for our day-to-day work you don't even need to download any other software. It also offers a lot of highlighting features and it's very easy to record and export videos. Additionally, simple animations are also easy to learn and use in PowerPoint slides that can give a good effect to your video.
Watch this video to know more.
2. Windows video editor
Recording videos is relatively easy for most online educators. Most people simply record their lectures on zoom or using their phone camera but wonder how to edit some parts. Windows video editor is a good tool for the same, though it is not a commonly known editing tool. Though the conventional windows movie maker was pretty famous, it is no longer available if you have the latest Windows OS. However, windows now provide its inbuilt video editor that is not very easy to find if you don't know that it does exist on your system and is free to use.
All you need to do is type in 'video editor' in the search menu and select the app that shows up. Once you open up the app, select the video you want to edit or the clips and images that you want to add to your video. All the files will show on your timeline, and you simply need to add the effects, trim, add text and do whatever operation you want to do. Though it's a relatively basic tool it is more than sufficient if your purpose is to simply post or share your lectures.
Watch this video to know more
3. Loom
This intuitive tool is excellent for online educators who want to do simple screen recordings. The free version allows you to record up to 5 minutes. You can also easily do a few basic edits. If you install the app on your desktop, it doesn't use the internet bandwidth while recording, and hence poor internet connection does not hamper the quality of your video recording as well. You also don't need to download the video. Simply copy and paste the video link anywhere and anyone with the link can watch your recording. If you want to edit the video further, you can use the inbuilt features on the Loom website or use any other editor you want. Even the camera quality is so great that you don't need to worry about your appearance too much. The camera will be at a corner or any position you want, and you can change it during the video as per the content on your screen. It also gives options of highlighting content while recording.
Visit this website to know more
There are many more softwares and online recorders and editors that online educators can find on the internet. What's more important is getting rid of the fear of using technology. A lot of startups have made all such functions very simple and intuitive. Just be fearless, improve your content and delivery and you will make amazing videos. Put your videos on YouTube for a wider audience or share it with your current students as per your requirement. We hope this blog motivated you to simply get started in this.
At LEAD, along with providing the best apps for educators, we also conduct regular training sessions for all our teachers to help them be at the top of their game. We do this via our dedicated LEAD Academy, which provides teachers the latest tools and resources along with training.
25000+ teachers across India trust LEAD to make them Super Teachers Tell me more