Home
»
Blog
»
School Owner
»
5 Ways a Student Information System can help in decision-making and collaboration at your school
5 Ways a Student Information System can help in decision-making and collaboration at your school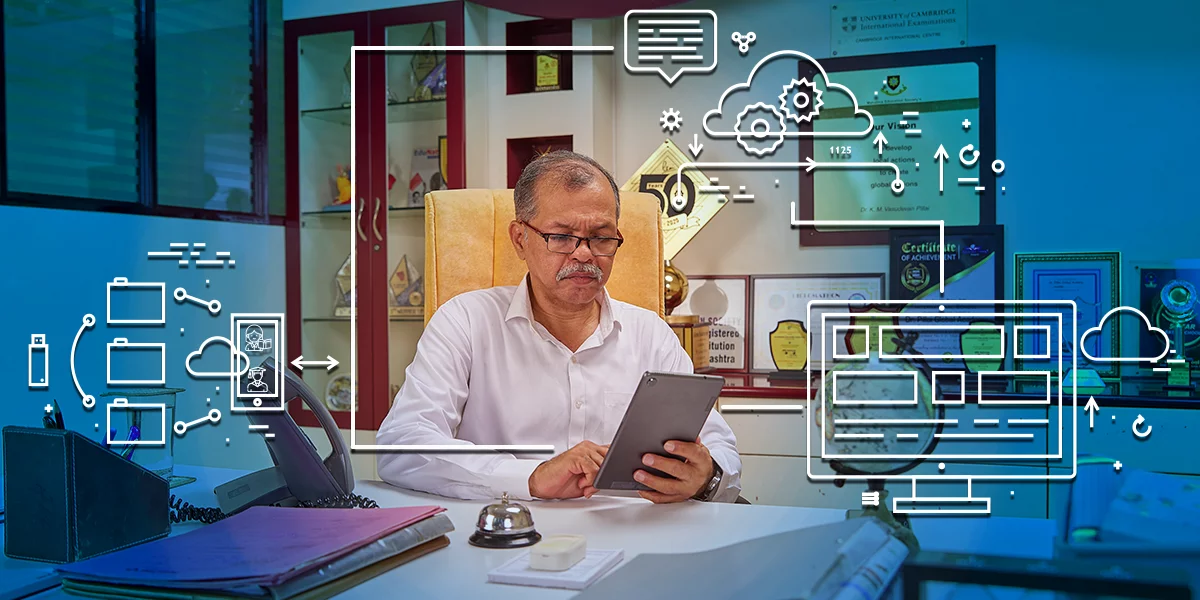 5 Ways a Student Information System can help in decision-making and collaboration at your school
Last Updated On: 09/02/2023

"Education is not the learning of facts, but the training of the mind to think." – Albert Einstein.
In this article

Effective Administration with Student Information System

5 Outstanding Benefits of Student Information System

LEAD Student Information System - Helping Schools Become More Efficient
Effective Administration with Student Information System
The key to successfully managing a school is overall effectiveness in upholding high administrative and educational standards. Long gone are the days of teachers spending hours manually entering logs and immersed in time-consuming paperwork.
Schools can now automate repetitive procedures and streamline most administrative processes with an SIS software programme backed by cutting-edge technology. The software enables the teachers and other staff to concentrate on more crucial tasks, like providing good education to the students.
Never miss a story
Stay updated with the latest news and articles related to school education
SUBSCRIBE TO OUR NEWSLETTER
5 Outstanding Benefits of Student Information System
According to a recent survey by Markets and Markets, the global SIS market is set to grow to 2,583 million by 2024. The contributing factors of this massive growth are the benefits it brings to the school owners:
Increases teachers' productivity
Unlike the offline student management method, where teachers must handwrite student details each time they fill out a form, SIS allows teaching and non-teaching personnel to enter all student-related information simultaneously on a cloud-based platform.
With SIS, all the information is available to the teachers with just one click. This lessens the amount of paperwork for the teachers, allowing them to devote more time to teaching.
Improves student performance analysis
The SIS serves as a fantastic platform to store all student performance information. It enables teachers to monitor, organise, and analyse students' performance based on their exam grades, assignment completion rates, attendance, and other factors.
Based on the information submitted, the SIS's integrated dashboard analytics function creates automated reports for each student. These reports, which can be read as text or graphs, are effective tools for teachers to monitor a student's progress. With more knowledge about their performance, teachers can make constructive improvements in the areas where students are falling behind.
Promotes a healthy parent-teacher relationship
Parental oversight is just as important as teacher guidance in determining student performance. With SIS, parents and teachers can easily communicate using the platform to analyse and discuss methods to improve the children's performance.
SIS makes it possible for schools to keep data on the cloud safely. For authorised people, it also allows for secure remote access. The cloud-based centralised storage surrounds the sensitive standard data with a high-security layer.
SIS enables student tracking while classes are in session. The parents are informed if there are any schedule changes, such as a student remaining late for extra classes. This protects the student from criminal minds' prying eyes because parents and teachers can easily find their location.
School Transformation, the LEAD way
LEAD Student Information System - Helping Schools Become More Efficient
LEAD is India's leading school ed-tech solutions provider that envisions making the administration of partner schools more effective through its cutting-edge student information system:
Manage admissions: Teachers can easily maintain all students' admission documents using LEAD Management System (CRM). School owners can use this system to maximise admissions from parent enquiries and also get their administrative staff trained to improve their conversions.
Reduce paper usage: LEAD's student information system also contributes to a reduction in paper usage. This wise, environmentally friendly decision will further encourage virtual record keeping.
Keep data safe: The LEAD student information system is a highly secure application built on a cloud platform that provides maximum privacy, protects data, and keeps a backup.
Manage attendance: The LEAD student information system's attendance management feature enables teachers to monitor students' daily attendance. Teachers will save time by using this software to take attendance. Additionally, this allows for increased interaction, knowledge, and idea-sharing between students and teachers in the classroom.
Keep track of students' performance: By utilising the LEAD student information system, teachers can assess students' performance. The same virtual performance card can also be shown to parents so they can see how much their child is improving and whether they need to make any changes.
Moreover, the LEAD student information system examines the data with sheer privacy and plays a major role in changing the education sector's functioning. 

"A good education is a foundation for a better future." – Elizabeth Warren.
Conclusion
SIS integrates various departments to share the data safely and securely and enables open communication across all school stakeholders. Enquire now for the best-in-class student management software and level up your school administration!
Article Summary
SIS is an extension of the penetration of digital technologies in the education sector.
It helps the schools maintain higher educational levels by allowing the teachers to have enough time to teach the students effectively.
Along with increasing students' productivity, SIS also helps analyse students' performances and devise plans for them accordingly. 
SIS also facilitates easy and effective attendance management without fear of data loss or theft.
Never miss a story
Stay updated with the latest news and articles related to school education
SUBSCRIBE TO OUR NEWSLETTER
x
Give Your School The Lead Advantage