Home
»
Blog
»
School Owner
»
5 ways in which teacher training programs help implement smart classrooms in an effective way
5 ways in which teacher training programs help implement smart classrooms in an effective way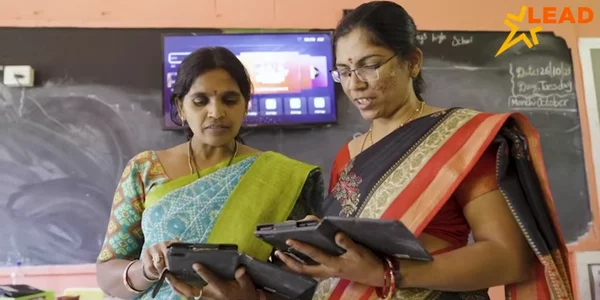 5 ways in which teacher training programs help implement smart classrooms in an effective way
Last Updated On: 09/02/2023

"Education without values, as useful as it is, seems rather to make man a cleverer devil." – C.S. Lewis.
In this article

Enhanced Learning Outcomes with Teacher Training Programs

5 Positive Effects of Teacher Training Programs

LEAD Teacher Training Programs - Transforming Teachers into Super Teachers
Enhanced Learning Outcomes with Teacher Training Programs
With the right training programs and technical know-how, teachers can thrive with cutting-edge online teaching techniques and increase student engagement. They face minimal issues in understanding the reason for using smart classrooms. They will, in fact, use it even more effectively to improve learning outcomes for students, like a better understanding of fundamental concepts, enhanced curiosity, and development of critical thinking. 
Never miss a story
Stay updated with the latest news and articles related to school education
SUBSCRIBE TO OUR NEWSLETTER
5 Positive Effects of Teacher Training Programs
The majority of school owners understand the need for a smart and robust educator training and assessment programme. This need becomes stronger when schools have to implement smart classrooms, as these training programs help in the following ways:
To comprehend the technology and use it effectively


Most of the teacher population in Indian schools are proficient in offline education, but today's students thrive on technology. Therefore, it is important to provide training programs to make your teachers understand the basics of the ed-tech interface and engage in an effective teaching environment.

Continuous professional development
Training programs also keep the teachers up-to-date with new developments in teaching methods, skills, and techniques. In fact, it enables the teachers to explore more advanced smart classroom tools & processes and their smooth and easy integration into the school learning system.
Educating the present generation for a better future


These teacher training programmes must comprise vital topics required for the betterment of students not only from an academic perspective but also from a technological perspective. These programs should add to the existing knowledge, awareness, and techniques of the teachers so that they can put the students on a proper path of learning.

Creating a positive tech-friendly learning environment


Continuous training programs give teachers space to explore innovative methods of teaching and further hone their skills. This creates a positive learning environment where teachers and students move towards productive tech-led learning.
Incorporation of digital tools
Training programs allow teachers to learn how and when to incorporate digital tools and technology in useful and creative ways and make learning more fun, interesting, and engaging.
Training programs improve the overall quality of learning that is being delivered to the students. Hence, school owners should understand the importance of teacher training programs and definitely consider conducting these regularly.
9 reasons every teacher should go through further training
How can LEAD Academy help teachers?
LEAD Teacher Training Programs - Transforming Teachers into Super Teachers
LEAD, India's leading school EdTech company, is dedicated to helping teachers succeed by upskilling them. It conducts teacher training programs on important skills that drive excellent student learning outcomes. Through LEAD's teacher training programs, teachers learn how to:
Teach effectively in class using LEAD's internationally benchmarked content
Implement effective classroom management strategies
Prepare for and conduct a class effectively
The following is the LEAD advantage that you can also get if you join hands with LEAD, the leading ed-tech solutions provider in India:
Extensive teacher training programs and workshops
Training by experts
Regular training and feedback
Online certification courses
Dedicated platform for all-time access
LEAD understands the importance of teacher training programs. It conducts teacher training programs twice a year in every partner school, giving expert guidance on how to use its products effectively and derive maximum student benefits through its internationally benchmarked curriculum.

"Knowledge is power. Information is liberating. Education is the premise of progress, in every society, in every family." – Kofi Annan"
Conclusion
LEAD's teacher training programs are conducted by expert Academic Excellence Managers (AEMs) who regularly work with the teachers to improve their teaching effectiveness. So, shake hands with LEAD and provide the best training to your teachers.
Article Summary
Training programs enable teachers to experiment and innovate with digital technologies to develop effective study practices.
School owners will greatly benefit from these programs as their teachers will be better able to comprehend the technology and integrate it into teaching methods.
It will create a tech-friendly environment that will help teachers and students grow.
These programs will also build teachers' innovative ability to bring in new smart classroom tools and enhance learning outcomes.
Never miss a story
Stay updated with the latest news and articles related to school education
SUBSCRIBE TO OUR NEWSLETTER
x
Give Your School The Lead Advantage