How Digital Smart Classrooms Enhance Conceptual Clarity Among Students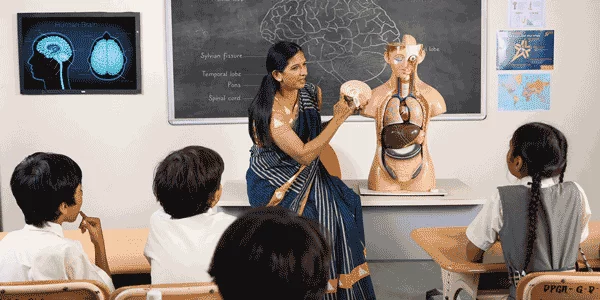 How Digital Smart Classrooms Enhance Conceptual Clarity Among Students
Last Updated On: 21/11/2022

"The illiterate of the 21st century will not be those who cannot read and write, but those who cannot learn, unlearn, and relearn." – Alvin Toffler.
Digital Smart Classrooms - Transforming Education
Digital smart classrooms are the symbols of new-age learning or new-age schooling. A digital classroom, or "smart classroom," is a modernised version of a school that uses various teaching methods to increase effectiveness. It prioritises a healthy classroom where the children are engaged in learning and tries to create a better learning environment.
Such a classroom engages its pupils using digital teaching tools such as audio and video. They can also offer some cutting-edge technology approaches, such as conducting experiments in virtual reality. With the aid of these strategies, students are able to fully comprehend the concepts being taught and discover practical applications for them. The advantages of a digital smart classroom are numerous, which is why it has become so well-known in recent years. The goal of the educational system is to replace the informal and authentic teaching style with this improved version of smart classes.
In this article

Enhancing Student's Conceptual Clarity with Modern-Age Teaching

Teach Efficiently and Smartly with LEAD
Enhancing Student's Conceptual Clarity with Modern-Age Teaching
The mere presence of students in the classroom doesn't ensure proper learning. Only when the students are present there mentally will they be able to gain actual learning. According to a report by ACER, using Information and Communication Technology (ICT) enables richer, more engaging learning environments to be developed. Therefore, digital smart classrooms are an effective way to ensure interactive learning, as elaborated below:
Simulated learning: The use of videos and virtual reality leads to experiential learning in students and makes their concepts crystal clear—for example, a 3-D tour of the human body.

Engagement over participation:

A student's participation in the classroom is good, but her engagement can only be ensured when the content is engaging. Audio-visual tools help in this engagement which makes students learn faster.

Gamification of learning:

Students learn faster and better when studies look and feel like a play. Digital smart classrooms do exactly that and make subjects like Maths and Science extremely easy to understand.

Active and interactive learning:

Students' cognitive skills become sharper when interacting with the teacher and study tools. This interactive learning allows them to understand the concepts in depth and helps them retain the same long-term.

Builds interest, enhances curiosity:

Digital smart classrooms make learning very interesting. This interest generates curiosity in the minds of students, which augments students' ability to learn, understand, retain and reproduce.

Flipped classroom model:

Digital tools have pushed learning beyond the four walls of the classroom. Students can watch the recorded lectures at home. This enables personalised learning, making every student master all the concepts at her pace.
Never miss a story
Stay updated with the latest news and articles related to school education
SUBSCRIBE TO OUR NEWSLETTER
Teach Efficiently and Smartly with LEAD
More than 3000 schools in India are collaborating with LEAD, India's largest School EdTech company, to embrace the digital revolution and make their classrooms smart. The following are the digital solutions provided by LEAD:
Technology for education:

LEAD provides cutting-edge technology, such as digital smart classroom software, to its partner schools.

Ready-to-use teacher training resources and tools:

Our teachers receive the top digital smart classroom solutions, enhancing their teaching skills

and bringing greater educational impact.

In addition, they receive amenities like fully-loaded tablets and smart TVs in the classroom.

Immersive learning experience:

Our students learn in a fully immersive setting, which increases their attention and memory of the material. 

A strong emphasis on conceptual understanding:

We go beyond academic achievement for the pupils. Conceptual clarity, critical thinking, self-awareness, and exposure are five life success-enhancing qualities that we think should be developed.

Access to a broad spectrum of learning options:

A wide range of learning options is available in the digital smart classroom, including multimedia, activity kits, online assignments and homework submission, tests, competitions, and more.
Additionally, LEAD provides quantifiable outcomes in all subjects  thanks to an integrated data-based approach.
Smart Classrooms are enhancing the learning experience of children
What does a LEAD Powered School's classroom look like?

"Technology will never replace great teachers, but technology in the hands of great teachers is transformational." – George Couros.
Conclusion
A technology-enabled learning environment is not ensured by the mere availability of devices. Understanding the right teaching mechanism is required to ensure the optimum use of resources to enhance students' grasp of the concepts.
LEAD is leading from the front to do the same and bridge the gap between digitisation and digital transformation in school education. Become a part of the revolution by joining hands with LEAD!
Article Summary
Digitalization started in the 20th century as part of the 3rd Industrial Revolution and has been embraced by different industries, including the education sector.
Digital smart classrooms are the flag bearers of New-age learning and aim to integrate technology with education to provide students with new and effective learning methods.
Active and interactive learning in digital smart classrooms enhances students' conceptual clarity, builds their interest in the subject and makes them fast learners.
The use of digital tools ensures the mental presence of students in the classrooms and plays a huge role in shaping the leaders of tomorrow.
Never miss a story
Stay updated with the latest news and articles related to school education
SUBSCRIBE TO OUR NEWSLETTER
x
Give Your School The Lead Advantage