Home
»
Blog
»
School Owner
»
Effective Classroom Management: Making Learning More Inclusive and Interactive
Effective Classroom Management: Making Learning More Inclusive and Interactive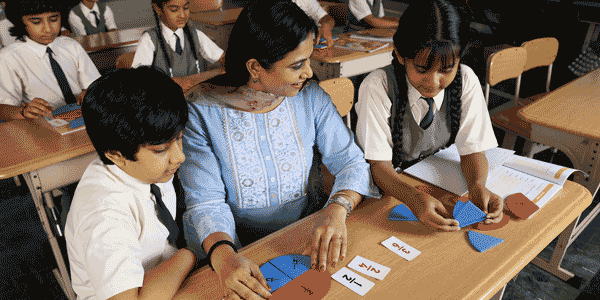 Effective Classroom Management: Making Learning More Inclusive and Interactive
Last Updated On: 13/08/2023

"Teaching is not simply telling people what to believe and do." ― Donovan L. Graham.
Effective Classroom Management - A Panacea for Enhancing Students Learning Experience
Effective classroom management is when teachers can seamlessly control their classroom through strategies and techniques that boost positive student learning and behaviour. The practice of classroom management makes a classroom an excellent learning environment where students can engage with their studies to the best of their ability.
Effectively managing a classroom takes time and varies with the teachers' personalities and preferred teaching styles. It is also influenced by the subject and age group being taught. In fact, there are several classroom management strategies, just as there are many different approaches to pedagogy.
In this article

What is Effective Classroom Management?

Why is Effective Classroom Management Important?

How to Get Classroom Management Right?

How are LEAD-powered Schools Enabling Effective Classroom Management?
What is Effective Classroom Management?
Classroom management is one of the biggest challenges many teachers confront, especially at the beginning of their careers. After all, it is just not easy to keep so many kids engaged, interested, and focused.
Classroom management refers to a broad array of skills and techniques implemented by teachers to facilitate optimal conditions for learning. It involves preventing and intervening in disruptive behaviours. However, it is also about building the appropriate environment, setting clear expectations, and thoughtfully choosing learning materials and activities.
An effectively managed classroom is one that runs evenly and where both students and teacher can be their best selves. It is a structured space for learning with minimal confusion. There are clear classroom norms and consequences that maintain a positive learning environment. Students are more organised, attentive, focused, on-task, and productive in an effectively managed classroom.
Never miss a story
Stay updated with the latest news and articles related to school education
SUBSCRIBE TO OUR NEWSLETTER
Why is Effective Classroom Management Important?
Classroom management is an essential skill every teacher should possess, as a student's achievement greatly relies on the knowledge acquired in the classroom. With the right approach, teachers can positively impact student behaviour, thus facilitating their learning process and personal development.
By implementing smart classroom management strategies, it is possible to bring the best out of students that contributes to their success because classroom management:
Establishes and sustains a well-ordered environment in the classroom

Escalates meaningful academic learning and promotes social and emotional growth and

Decreases negative behaviours and increases the academic engagement of students.
What does a LEAD Powered School's classroom look like?
School Transformation, the LEAD way
How to Get Classroom Management Right?
Have a clear plan and expectations: Before anything else, have a rigid lesson plan and clear expectations in place. Also, think about ways you can incorporate it into your teaching to create a safe, productive, and reliable space for students to learn.
Build relationships with students: get to know them, their interests and dreams for the future, and their strengths and challenges. A good relationship between a teacher and a student builds trust, which is the key to successful classroom management.
Find ways to make the classroom interesting: Jokes and kindness can help to go a long way.
Stay cool and focused: Begin every day with ease and keep your students on task with coolness. 
How Are LEAD-powered Schools Enabling Effective Classroom Management?
LEAD, India's largest school EdTech company, supports teachers and students in making learning effective and engaging. It helps teachers manage the classroom effectively in various ways:
Developing Excellent Working Relations with Students
Educators may find it challenging to interact with students in a classroom. Hence, teachers must find a way to maintain a connection and establish proper communication to build a relationship. LEAD helps teachers communicate about the difficulties students may be facing in learning.
Encouraging Student-led Activities
LEAD-powered schools organise various activities to grab the students' attention where teachers support and guide them.
Acknowledging Good Behaviour
Teachers must appreciate students for their excellent behaviour to keep them motivated to act the same way in the future. LEAD helps teachers achieve it.
Anticipating Student Behaviour in Well-written Plans
LEAD helps teachers focus on how students can express their understanding and achieve the learning objective so they can accordingly prepare a good lesson plan.
Conclusion
A good classroom is about building strong relationships with students, encouraging them to participate actively in their learning, and sharing a little about each other. A positive classroom culture for students is good for teachers, too. LEAD is transforming schools in India through proven classroom management strategies. Join LEAD to deliver excellent education and a positive learning environment to your students.
Article Summary
Effective classroom management helps create a positive environment that enables students to learn without distractions.
Classroom management decreases poor behaviour and distractions to allow students to focus on learning.
It encourages social and emotional development in students.
It promotes positive interactions between peers and lessens bullying.
Classroom management keeps students and teachers interested and allows them to focus on teaching and learning for longer.
Never miss a story
Stay updated with the latest news and articles related to school education
SUBSCRIBE TO OUR NEWSLETTER
x
Give Your School The Lead Advantage