Home
»
Blog
»
School Owner
»
How to effectively integrate smart classroom technology into daily lessons?
How to effectively integrate smart classroom technology into daily lessons?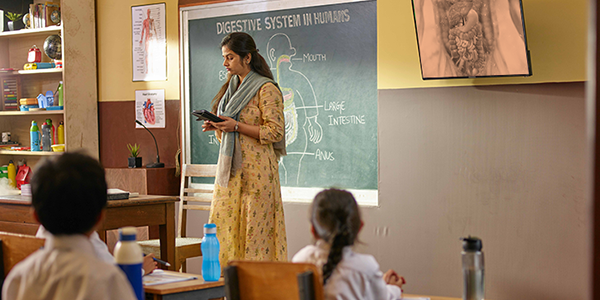 How to effectively integrate smart classroom technology into daily lessons?
Last Updated On: 09/02/2023

"Education is not the learning of facts, but the training of the mind to think." – Albert Einstein.
In this article

Smart Students with Smart Classrooms

Pathway for Effective Integration of Smart Classroom Technology

LEAD's Way of Integrating Smart Classroom Technology
Smart Students with Smart Classrooms
Different forms of technology, such as smart classrooms, are used in the classroom for active learners who are interested in the learning objectives. Technology integration also opens doors for differentiated instruction to fulfil each student's specific needs as an individual learner within a larger classroom environment. There are quite a few types of smart classrooms, as the following:
Standard smart classrooms
Intermediate smart classrooms
Student-led smart classrooms
School owners can pick any type of smart classroom that suits their teachers & students the best and integrates easily into daily lessons.
Never miss a story
Stay updated with the latest news and articles related to school education
SUBSCRIBE TO OUR NEWSLETTER
Pathway for Effective Integration of Smart Classroom Technology
Just the mere presence and possession of technology in the school is not enough. There is also a need for effectively integrating digital classroom technology into daily lessons. The schools can achieve this in the following ways:
Smart Interactive Whiteboards (IWBs)



One option that can be frequently used in the classroom is interactive whiteboards or SMART boards. Presentations are strengthened and given greater depth with this tool. Teachers can use an Internet-connected stylus to annotate images or documents that are shown on the whiteboard, adding a wealth of extra information to the class.





Definitions, additional pictures, citations, or supplemental audio and video could all be included in this content. Any lesson that has used the whiteboard can also be archived and shared by the teacher, and past sessions can be quickly reviewed to reinforce newly introduced concepts.

High-definition document cameras



Document cameras are a handy tool that can assist teachers in displaying worksheets on a screen or individual devices, much as laminating projectors from the past. Instead of using separate pieces of paper, group exercises, quizzes, and annotations can be displayed using the camera. Additionally, this reduces paper waste in schools and makes students more technologically and environmentally aware.

Cloud-based communication systems



The potential to increase the range of daily experiences that kids can expose themselves to is one of the most beneficial features of integrating technology into a classroom setting. Thanks to Internet communication technologies like voice-over-IP, IP-telephony, and cloud video conferencing, teachers can plan virtual field trips to locations they otherwise wouldn't be able to take their classes.

Tablets and ebooks



Tablets and e-readers are becoming more and more common among students outside the classroom, much like laptops and smartphones. Using familiar technology in the classroom can help to engage students and make them feel more at ease with it as this is the format they are accustomed to.





Giving students access to electronic textbooks also enables them to go deeper into the course because the texts contain links to more resources. At the conclusion of a segment, key concept summaries and lesson plan-related digital flashcards are also offered.
All of these digital classroom tools can significantly enhance the educational opportunities for students in schools and classrooms. So make your classroom future connected and a sophisticated smart classroom where technology becomes an increasingly important component of teaching.
What does a LEAD Powered School's classroom look like
School Transformation, the LEAD way
LEAD's Way of Integrating Smart Classroom Technology
If there is one ed-tech solution provider in the Indian education sector that perfectly integrates smart classroom technology in schools, it is LEAD. Following are the smart classroom solutions offered by LEAD:
LEAD School Owner App: It enables school owners to deep-dive into the student, parent, and teacher reports, track key metrics for their school and receive news, updates, announcements, and other important information.
LEAD Teacher App: It helps teachers deliver a great classroom experience through ready-made lesson plans, audio-visual content, assessments, and practice tests.

Dedicated Teacher Tablet: Every teacher is given a dedicated tablet enabled for Smart TV casting in every classroom at a LEAD-powered school. The tablet is loaded with ready-made teaching resources to make learning fun and engaging for students.
LEAD Student App: It allows students to watch live and recorded digital classes, attend celebrity masterclasses, attempt quizzes, submit assessments and clarify doubts. It comes with a dedicated section for parents.
Student Response System: It is a system where the responses of the students are recorded. It provides an accurate aptitude evaluation within a few seconds.
So, if you are looking for the best smart classroom technology, make LEAD your partner and get the desired outcomes!


"The foundation of every state is the education of its youth." – Diogenes.
Conclusion
These days, if it's not showing up on a screen, kids may not be interested in it. Therefore, schools need to provide technology-integrated education to students with smart classrooms. Partner with LEAD for this and improve your students' learning outcomes. 
Article Summary
Smart classrooms increase students' learning opportunities as they make classroom engagement more fun and interesting.
They also allow the teachers to devise learning strategies according to the needs of the student.
There are certain tools that can allow school owners to integrate smart classroom technology effectively in daily lessons.
Smart classrooms will make students more curious and future-ready
Never miss a story
Stay updated with the latest news and articles related to school education
SUBSCRIBE TO OUR NEWSLETTER
x
Give Your School The Lead Advantage