Learning management systems give schools an edge over their competitors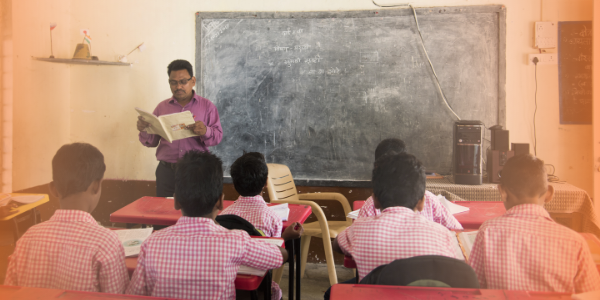 Subscribe to our newsletter
So how do you assess whether your school needs an LMS? You might argue that your school already has some kind of management system and it gets most of the jobs done. A basic school management system gives you basic lesson plans and timelines in which to implement them. However, most traditional learning management systems have the following drawbacks:
Lack of quality control
Lack of focus on delivering assured learning outcomes for students
Lack of engaging elements in content delivery
Lack of right tools and infrastructure for teacher training and support
Lack of

parents' active involvement in their child's academic journey
The perfect LMS takes care of the above problems and offers a whole plethora of solutions over and above these problems. 
In this article, we will try to understand the three most important ways in which an LMS can give a school an edge over its competitors:
LMS provides improved accessibility
Most LMS are now cloud-based. This is a huge advantage for students and teachers as the learning content is not spread over different hard drives and devices. All the e-learning materials can be stored in one secure location which reduces the risk of losing information significantly. What's more, every member of your learning management team (which can be the teachers, principal, and the parents of the child) can easily access them. Hence LMS is a perfect fit for online collaboration amongst multiple stakeholders who are involved in designing and implementing learning at your school.
LEAD LMS for school allows such flexibility of access to learning materials and makes the learning process seamless whether it be in an online, offline, or hybrid mode. 
LMS provides the best tool to track learner and teacher progress and performance
An LMS gives schools and parents the ability to track learner progress and ensure that the learners are meeting their performance milestones. For instance, if a student is not able to successfully grasp a particular module, you can offer them supplemental resources to improve their performance or learning behaviors. 
Most LMS have inbuilt reporting and analytics tools that can be used to pinpoint areas of strengths and weaknesses of students. This allows the stakeholders to understand where to divert their focus.
LEAD learning management system assists teachers in imparting effective lesson plans with the help of Digital Learning Content, Physical Reader & Workbooks, Learning activities, E-books, Regular Assessments, Practices Quizzes, Personalised Revisions, Home Practice, Live Classes from a LEAD Expert Teacher, and National Competitions.
LMS  makes teacher training programs easy to implement
A great advantage of using a well-designed LMS is that you can avoid instructor travel, as well as completely forgo the printing of e-learning materials while training your teachers. The whole teacher training program can be conducted online with a centralized repository of e-learning materials. 
For example, if your school partners with LEAD, your teachers will be trained via LEAD's '3C' approach:
Connect by building a community and providing a safe learning environment
Coach on latest pedagogy, digital, and communication skills
Create career opportunities for the community across partner schools & in LEAD
In summary, LMS for school is the next big thing in the education industry and it is here to stay. From cost-effectiveness to better learning outcomes, there is just no beating a well-designed LMS.
LEAD has been one of the frontrunners in providing partner schools with an excellent and comprehensive learning experience. LEAD converts Afford Private Schools (APS) across India into institutions for excellent learning for every child, via its integrated systems solutions. LEAD's integrated LMS is the perfect marriage of curriculum, pedagogy, and technology that helps schools keep their costs down while focusing on their learners. 
In addition, LEAD enables school owners via the School Owner app which gives a fully tech-enabled school. LEAD provides all the learning materials & devices required for the complete transformation of schools. This allows real-time tracking of operations with year-long support from LEAD.
LEAD is the ultimate solution to modern-day educational challenges. Unlike traditional schooling, the LMS platform of LEAD makes students independent and self-reliant.
LEAD is transforming schools in India by helping children become future-ready. To make yours a LEAD Partner School: Partner with us today