Indian schools are adapting to the new way of learning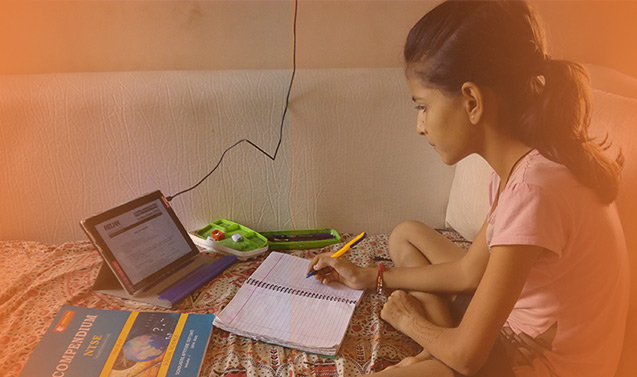 Subscribe to our newsletter
Ten years ago, online schools in India were considered a luxury. However, the pandemic forced the entire world to rethink online schooling. Having no choice but to choose between having an online school and completely putting a halt to teaching, many schools in India slowly started embracing the new change and adopting online teaching methods.
Today, most schools in India are using some form of online education. Also, unlike older times, online schooling has extended much beyond providing digital content. More and more schools in India are using technology solutions for activities apart from teaching. For example, to allocate homework and assignments, manage teacher and student attendance, and allow parents to keep a track of the progress of their children. 
LEAD is one of the pioneers in enabling schools to integrate technology in conventional schooling, while also making it affordable and accessible.
How does LEAD help in enabling a hybrid model?
School learning is no longer limited to classroom learning. With the ever-increasing competition faced by today's generation, it is essential for students to learn in an active manner. This is possible only when they learn things in a holistic manner. In order to do this, apart from attending classes, students should revise, practice, and get their doubts solved on a regular basis. With the help of the LEAD Student App, students can easily access live and recorded classes, submit assessments and clarify doubts in just a few clicks. The app ensures students remain connected to their school even from their homes. 
To ensure the overall development of your child, it is important to teach them various skills beyond academics. Encourage them to explore their talents, so they can find something they're passionate about. LEAD's LIVE Masterclass is our way of helping you achieve the same. These online classes endow your child with an amazing opportunity to develop their talents, build soft skills and transform themselves. There aren't many things in life that can top the practical knowledge and emotional intelligence of a genius who knows from experience. LEAD's LIVE Masterclasses have experts from diverse fields whose phenomenal work and immersive sessions will provide a chance like never before to understand their journey. Their approach to overcoming impediments and their success mantra is invaluable.
Along with regular online schooling, your child will assimilate powerful information from our country's geniuses. As you hear their words of advice, ensure your child notes it down and implements them regularly.
3. Practice with Friends feature on the app
In regular schools, the students get access to a lot of information but rarely do they get a chance to apply their learning. Conceptual clarity of a topic is possible only when your child can apply and practice what they learn. Practice makes a man perfect.
Practice with friends feature on the LEAD app is a very helpful feature that encourages students to practice every day. They can either practice independently or even practice with their peers to clear their concepts.
4. Championships for national exposure
Peer learning is one of the most important components of your child's learning. One of the best ways to do this is to participate in competitions. Healthy competitions will enable your child to gain qualities such as the spirit of sportsmanship, stress management, and others.
LEAD regularly conducts championships such as the National English Championship and the National Science Championship to provide your children a national platform to display their talents.
Regular schools have started reopening, but online schooling is here to stay. At the cusp of evolution in schooling, make sure your child is receiving the best that is out there. Does your school provide excellent and affordable education?
LEAD is transforming schools by making children future-ready. To make yours a LEAD Partner School: Partner with us today