Smart classroom solutions for an undisrupted school
Subscribe to our newsletter
The global Ed-tech and smart classroom market today is experiencing unprecedented growth. The market is expected to reach USD 181.3 billion by 2025 at a CAGR of 16.1% during the forecast period.
The primary reason for this surge is the shifting of educational institutes to digital platforms. The ongoing pandemic has hit the education sector severely, and school stakeholders are looking for reliable ways to mitigate the impact caused by the crisis. Parents are on a constant lookout to provide effective learning to children at home. The surge in the COVID-19 infections has led to the demand for technology-friendly schools to operate during any crisis.
Smart classroom solution, making life easier to a T?
Smart classroom solutions have made multiple tasks easier for schools. By adopting smart technology, school owners can build parents' trust and offer children access to 100% complete school at home. With technology's aid, the strength of the education sector cannot be deterred. Parents and children have high expectations from schools, and that's why it's school owners' prerogative to serve them efficiently under all circumstances.
Solutions for smart classrooms transform the traditional classroom into a boundaryless virtual space where students and teachers can interact in a real-life face-to-face session. For making your school complete, you need to look for effective online tools and smart technology. Switching to a digital platform will allow school owners to provide better services to parents and an excellent learning environment for children.
Harvard University study elucidates how technology in the classroom complements a range of uses, from interactive classes to video conferences. Smart classroom solutions expand the reach of school owners as students get to learn at home. The interactive board, projectors, images, and animations possible in a digital setup provides engaging sessions to children.
Embracing the digital age
The ongoing disruption is not going to make a halt anytime soon. That's why school owners must look for smart classroom solutions that will provide unhindered learning to students at all times. Embracing technology will help schools to function efficiently.
With solutions for smart classrooms and interactive whiteboards, teachers can teach with the help of photos, maps, graphs, flowcharts and animated videos. This makes learning exciting and easy to understand. Also, the aid of an online platform allows you to make school at home possible, without any hassle.
Apart from learning, management is also an essential part of school operation. To make school complete in every sense, educational institutions must make the best use of technology. The installation of school management software allows online admission, fee payment and other services with a single click. Another advantage of it is the cut down of administrative tasks. Teachers can focus more on imparting lessons rather than working manually on administrative tasks.
Solutions for smart classrooms allow schools to provide constant feedback to parents. Most of the parents found it challenging to connect with the institution in a traditional classroom setting. However, the adoption of smart technology brought significant changes in parent-teacher interaction. PTM, which is an essential part of the school, can now be done online. Teachers can connect with parents and discuss their progress easily on digital platforms.
LEAD is transforming schools by making children future-ready. To make yours a LEAD powered school: Partner with us today

Smart classroom-Making fun learning possible for students
Children learn better with audio-visual aids. Online platforms that make learning possible at home give schools the freedom to prepare engaging sessions for children. It may seem impossible to grasp students' attention, especially when they are in the comfort of their home. However, the use of smart classroom solutions eases the task for school owners.
The interactive display, videos, presentation opens up content, predominantly technology-driven content, and inspires a level of interactivity challenging to attain with conventional textbook-based learning. The presence of an interactive display impacts learning in various ways as it serves to raise the level of learner engagement and inspires children to learn better. School owners can use technology for conducting fun learning sessions.
How does LEAD provide 100% complete school to students learning from home?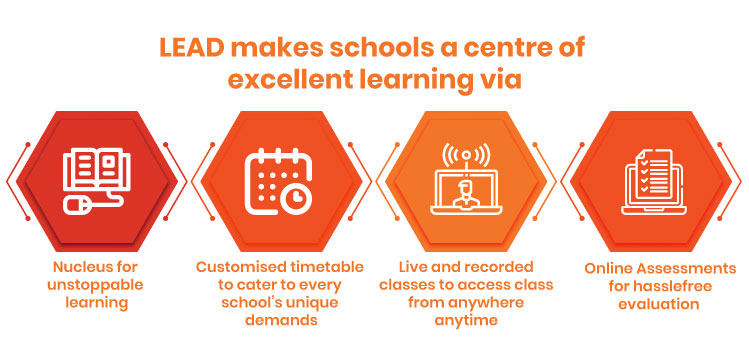 LEAD smart classrooms provide consistency in teaching (online, offline, or hybrid) while maintaining the highest quality of learning and guaranteed results. With all materials and devices for school transformation, the LEAD School @home feature allows schools to impart education to students while being at home. With the help of LEAD's smart classes, teachers are always ready with engaging and effective lesson plans, teaching resources, on-demand training, remedial planning, student progress reports, reports for PTMs, and frequent feedback.
LEAD makes a continuous effort with its education integrated management solutions to solve every grave challenge that school owners face and at the same time help the management to function seamlessly, making a school 100% complete, parents happy, and children a great achiever.
With the 9-point transformation checklist, each school LEAD partners with turns into centres of excellent learning:
Customised timetable for schools
Live and recorded classes
Reporting
Social and emotional support
The world is getting ready for the new normal. The best way to address it is to embrace it.
LEAD is transforming schools by making children future-ready. To make yours a LEAD powered school: Partner with us today