Top 5 Benefits of Educational Technology for Schools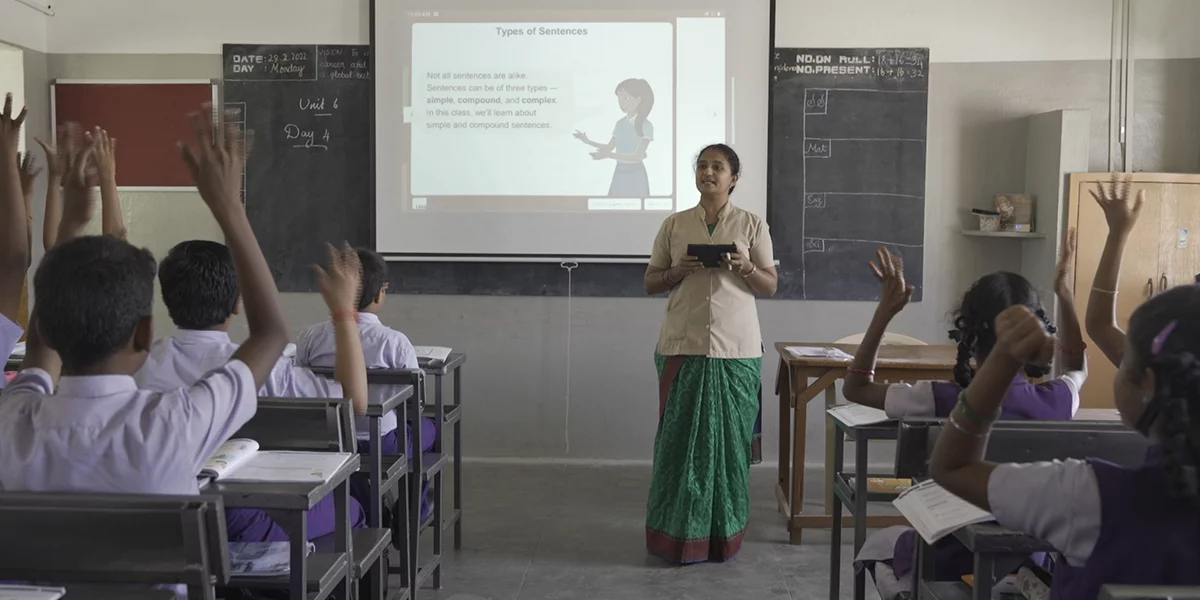 Top 5 Benefits of Educational Technology for Schools
Last Updated On: 14/09/2023

"If we teach today's students as we taught yesterday, we rob them of tomorrow."
— John Dewey.
In this article

How Has Education Technology Improved Classrooms?

Top 5 Amazing Benefits of Education Technology
How Does LEAD EdTech Solutions Provide New-Age Learning to Students
How Has Education Technology Improved Classrooms?
Technology has made education more accessible. The pandemic has changed parents' perception of education, making them more open to the use of technology in education and its benefits. Education technology has made a paradigm change in school education, developing modern ways for teachers and students to connect and collaborate. While some parents favour a hybrid learning model today, others prefer to enhance their children' learning with the use of educational technology.
In addition, the use of interactive learning formats like micro-lessons, videos, games, interactive tests, etc., has transformed education. Computer technology and AI-enabled educational technologies, such as adaptive learning, enable students to learn at their own pace. With the passing of time, advanced technologies are democratising education. They have demonstrated their indestructibility in terms of continuing to impart high-quality education, despite disturbances, even like the pandemic.
Never miss a story
Stay updated with the latest news and articles related to school education
SUBSCRIBE TO OUR NEWSLETTER
Top 5 Amazing Benefits of Education Technology
We live in the era of technology, and a testimony to that is the penetration of technology into every part of our lives and almost all fields. The field of education has also embraced this change and has integrated technology in many ways, giving rise to Educational Technology or EdTech. 
According to a Forbes article by Daniel Newman, a technology innovation specialist, educational technology brought drastic positive changes in learning and has benefited all stakeholders. 
The following are the top 5 benefits of educational technology:
It offers a broader choice of materials that can be accessed easily



The wide array of

educational technology

that is accessible today offers students a range of options to enhance their learning. These technologies  enable students to understand complex concepts clearly, retain information better & for longer, increase curiosity and be an active learner.
It provides a fun & engaging learning experience for students



Today's learners not only want to learn, but they also need to have fun while learning.

Educational technology

provides students with the opportunity to have fun while learning, which keeps them excited and motivated about their studies. Subjects like Maths & Science can be made fun with the use of videos, animations, games and quizzes. 
It allows learners to learn from anywhere at any time



Students today can access the internet from anywhere at any time, which lets them complete their assignments & research without having to travel all over a place or wait for a time when they can do so. Therefore, using

educational technology

helps learners in this regard as it enables them to learn in a classroom, at school, or at home.
Accommodates multiple learning styles



Educational technology enables teachers not to follow a one-size-fits-all approach but cater to the different learners in a classroom. EdTech provides personalised ways of learning for all types of learners: Auditory (recorded lessons), Visual (videos), and Tactile (devices, swipe screens) learners.

It helps learners stay up to date with the latest technological advancements



Students who stay up to date with the latest technological advancements will improve their knowledge of various fields and develop skills that they can utilise in the future. These students will also be more likely to advance in their careers quickly because they acquire an excellent understanding of the latest trends in several fields and be able to help organisations become more efficient.



What does a LEAD Powered School's classroom look like?
School Transformation, the LEAD way
How Does LEAD's School EdTech Solution Help Provide New-Age Learning to Students?
Students need the confidence to succeed in life, and LEAD strongly believes a school has a significant role to play in it. LEAD's carefully planned school system builds five essential skills in its students – Conceptual Understanding, Collaboration Skills, Thinking Skills, Communication Skills and Exposure.
In the 21st century, educational technology is a driving force in schools. Schools are expeditiously adopting technology-based teaching. Educational technology trends are becoming the foremost concern of school administrators. They are coming up with projectors, smart boards in the classroom, smart tables and integrated learning systems. Therefore, LEAD has come up with School EdTech solutions to proffer technological advancements to the schools in order to produce well-rounded students.
Let's understand how LEAD's EdTech solutions are transforming schools:
LEAD offers 360 degree education technology solutions to students, teachers and administrators, enhancing the efficiency of all and imparting quality education. 
Conclusion
The use of educational technology is becoming increasingly popular as educational institutions seek to offer the best possible education for their students. Moreover, educational technology is an integral part of making schools future-ready. By leveraging the right technology for schools, like LEAD's School EdTech solutions, you can transform your school into a world-class learning centre. Partner with LEAD today!
Article Summary
Educational Technology provides education using Information & Communication Technology or ICT.
It encourages higher-level thinking and creativity.
It promotes usage of computer-based educational resources.
It makes students aware of Information Technology.
Never miss a story
Stay updated with the latest news and articles related to school education
SUBSCRIBE TO OUR NEWSLETTER
x
Give Your School The Lead Advantage