What Problems Do Teachers Face in the Classroom (With Solutions)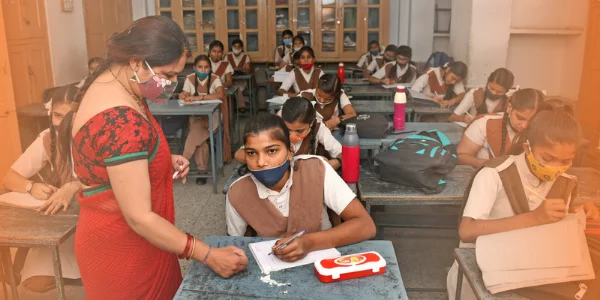 Subscribe to our newsletter
If you are a teacher, you know it takes a lot of courage and patience to manage a classroom. From disrespect to disinterest, teachers experience it all when making their students better people.
Teachers get to make the world a better place through their students, but they cannot do their bit efficiently if they keep facing constant hurdles in the classroom. Fortunately, it doesn't have to be that way. There are a bunch of solutions to most of these classroom issues.
In this article, we bring to your notice some of the most common teacher problems in the classroom and how they can tackle them with grace. Keep reading!
Lack of Parent Involvement 
Parents often think that as soon as their child starts to attend school, their duty as educators finishes. They couldn't be more wrong because education starts at home. When parents step away from their child's education thinking that teachers can handle it all, the quality of learning goes down.
Teachers should find ways to build rapport with the parents of their students. They can send weekly classroom updates, daily conduct reports, or monthly handouts to keep parents in the loop. They can also schedule conferences with parents to discuss and review their child's progress throughout the year.
Overscheduling 
The modern education system requires teachers to do much more than just cover the syllabus and grade tests. They need to constantly innovate on teaching methods and prepare for various club activities and presentations to ensure that each student in the class is learning and engaged. And their planning is often disrupted by school-wide activities that keep taking place throughout the year.
To avoid the burnout it can cause, teachers should remain flexible about rearranging plans. They should also keep some backups ready for when other school happenings might mess with their schedule.
Promoting Harmony 
Whether it's a class of toddlers or young adults, a few students in every class are aggressive and destructive. They annoy other students by starting unnecessary arguments, and it's easy for the teachers to lose patience during such situations.
However, teachers should maintain their cool while speaking to these students. This is an opportunity to help students understand each other, and teachers can do that by allowing them to share their misunderstandings and resentments openly.
Teachers can also speak to them after class and make an effort to understand where the aggression is coming from. Sometimes, students need more support from their teachers to navigate their emotional upheavals.
Low Student Participation 
Usually, there are fewer quiet students than talkative and hyperactive students in a class. This can be a tough thing to deal with for teachers who like to keep their classroom time interactive and high-energy. Such behavior usually stems from low self-esteem or shyness because the students think they are not good enough.
One way to build confidence is to help them find something they are interested in and build upon it. Teachers should not be too hard on the students when correcting them academically.
Excuses 
All teachers have had to deal with students who always have one excuse or another for their reckless behavior in the class. Teachers often become more and more strict with such students, which usually fails as a strategy.
Instead, teachers can offer some flexibility in the form of grace periods for absences and assignments, but only after checking if the student is telling the truth. Teachers should also communicate penalties and let the students know that with some flexibility comes great responsibility.
Modern Teaching Methods 
The teaching and learning approaches have changed quite a bit in the past few years. Schools have embraced technology, and many tasks that were once carried out on paper are now performed digitally.
This has pushed teachers to get accustomed to new ways of planning lessons, scoring assignments, and delivering knowledge. Teachers understand that all this has been for the betterment of the students. But it can get overwhelming for teachers who have been doing the old way for several years.
To help teachers become more efficient at digital tools, the schools must hold training and workshops. Meanwhile, teachers should take it easy when learning a new digital tool to improve their teaching methods.
Balancing Diverse Needs 
It's no secret that every student learns at a different pace. Every batch has some slow learners and some quick learners, but everyone must finish the syllabus simultaneously. This can pose a problem for teachers because resonating with a diverse classroom is difficult when the lessons are rigidly planned for each hour of the school day.
To ensure seamless learning for all students, teachers can plan coursework to stimulate their senses. For instance, they can play videos, have students act out a scene, give them time to create illustrations about the concepts, etc. This might require a little more preparation on the part of teachers, but the effort will be worth it.
Conclusion 
All these challenges sound exhausting and unfair, but the good news is that they are not impossible to deal with. All one needs is a little awareness and a lot of willingness to take the right step. We hope this article helps all the teachers identify their classroom issues and deal with them in the best possible way.
Give your teaching a LEAD transformation
LEAD provides teachers with the latest school ed-tech solutions to improve their teaching. With ready-made teaching tools, observational feedback sessions, and continuous training, LEAD helps you innovate your teaching techniques for the best. Know all about our detailed resource planning and teachers' improvement toolkits by connecting with our LEAD experts.
25000+ schools across India trust LEAD to transform their schools into centres of excellence. You too can transform the learning experience at your school. Enquire Now