5 ways smart schools increase student productivity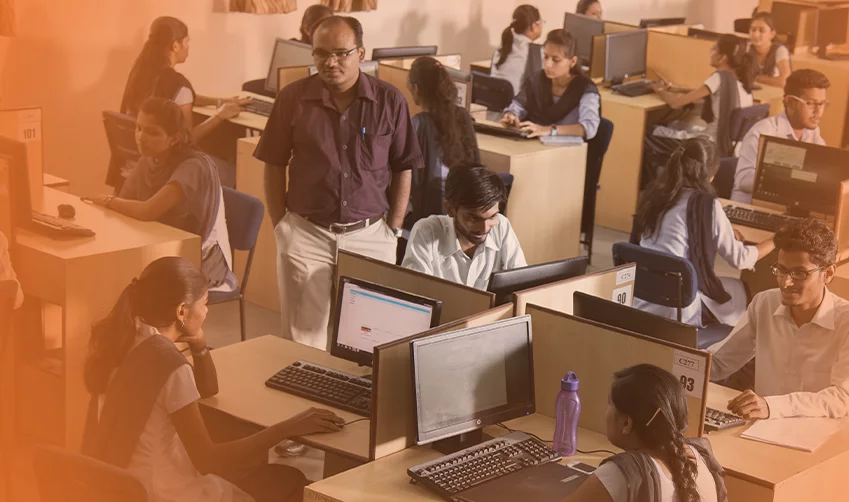 The chalk-and-talk classroom instruction took a back seat, and innovative ways to teach students surfaced as soon as the aftermath of the COVID-19 left the sector in dismay. Technology allows the knowledge to disperse instantly and allows quicker and more effective communication among all the stakeholders—it has allowed students to learn in ways unfathomable in a classroom setting.
Given the state of affairs, technology is here to stay and keeping that in mind, schools must elevate the standard education system to a contemporary one. In a scenario where parents work from home and students learn from home, parents have little to no time to give their children. The traditional model got a structure—the online got none. When the right technology gets deployed in a school structure, it offers meaningful experiences to students rather than just acting as a medium to connect students with the teachers.
Smart schools are the modern-day solution to contemporary problems. With the help of innovative technology, smart schools connect all stakeholders and guarantee brilliant results. In addition, such schools scale up standardised instruction, facilitate differentiated instruction, expand practice opportunities, and increase student engagement. Moreover, when schools use technology, teachers' work gets simplified, and it also eases the mammoth task of parents to make quality learning possible for children who are learning from home.
Let us see how smart schools are making quality education possible across India:
Enhances interaction between students and teachers
Enhances interaction between teachers and parents
Allows parents to keep track of their ward's daily performance
Owing to engaging means, students' attend classes every day
Gives an option for blended  learning to schools
Allows students to retain more and for a longer duration
Hones digital skills among students
Improves students' visualisation and creativity
Improves academic performance of students, thereby enhancing their mental and physical development
Flexibility of learning
Easy-to-use and accessibility
Attendance monitoring systems for classroom
How is LEAD helping facilitate smart quality learning across schools?
Quality learning was not a prevalent concept until the advent of LEAD. LEAD took over the education market by storm and revamped every facet of it, making the sector thrive even in the tough times. LEAD's smart aspects provide every stakeholder with an app to navigate the daily school functions quite conveniently. Since the ongoing times are uncertain, school owners can decide which days they want to run their school on.

In a traditional system, students rely on books for their learning. However, in LEAD system, students get to learn via three modes of teaching.
Through videos and slides from the Teacher App
Through activities from the School Excellence Kit
Through books and workbooks from LEAD
Assessment at LEAD helps students cover their learning gaps before progressing to the next unit. Every unit has a unit-end assessment. These might be written, oral or both.  Every teacher is equipped with a teacher tablet loaded with lesson plans, audiovisual resources, and training resources. The Excellence Managers at LEAD School coach and guide teachers throughout the year to develop their skills and upgrade themselves. To assist teachers to conduct every class with the highest proficiency,
There are about 4 changes in the traditional school system that LEAD School aims for:
Usage of a lesson plan to teach instead of a book
The concentric design of lesson plan vs lecture method
Unique teaching strategies designed for non-English background students
Spiral teaching vs linear teaching
The attendance monitoring system for schools is a part of a smart classroom that helps the stakeholders track students' attendance with just a click. According to a LEAD's survey, the numbers say that students with 80%+ attendance scored 40-45% higher on average than students who did not attend classes as regularly. With LEAD, students fetched 80% by the year's end compared to 55% at its beginning. Students at LEAD learn better with the help of detailed lesson plans, audiovisual resources, soft copies of books, activities, etc. Lessons at LEAD are imparted with the help of trained teachers via an app. They have a unique way to impart every chapter to make every class meaningful, even in the absence of the four walls of the classroom. LEAD School @Home feature in the Student Parent app ensures students practice regularly with quizzes, flashcards and daily challenges.