Curriculum and Technology Innovations at LEAD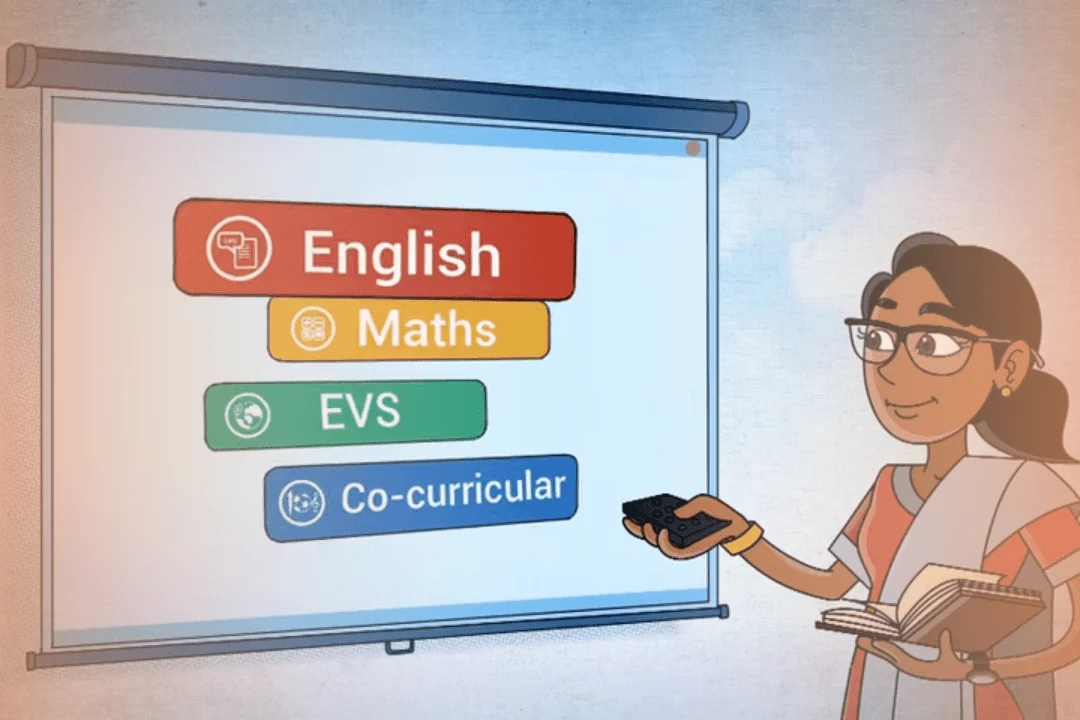 Subscribe to our newsletter
Read Part-1 of this mini-series by our co-founder and COO, Smita Deorah : Early Influences, Shaping Values
Our first school, Shantiniketan English School (SNES) was in Areri village, in Kheda district, 35 kms from Ahmedabad. When we opened SNES, we had 14 children, from Nursery to Class three. The early adopters, the parents who sent the kids to the school had pretty much lost hope for their children. These kids, belonging to low-income families from a village nearby, were lagging behind in class. They came because they trusted us to do something good.
Curriculum innovations – multi-modal learning, lesson plans & ELGA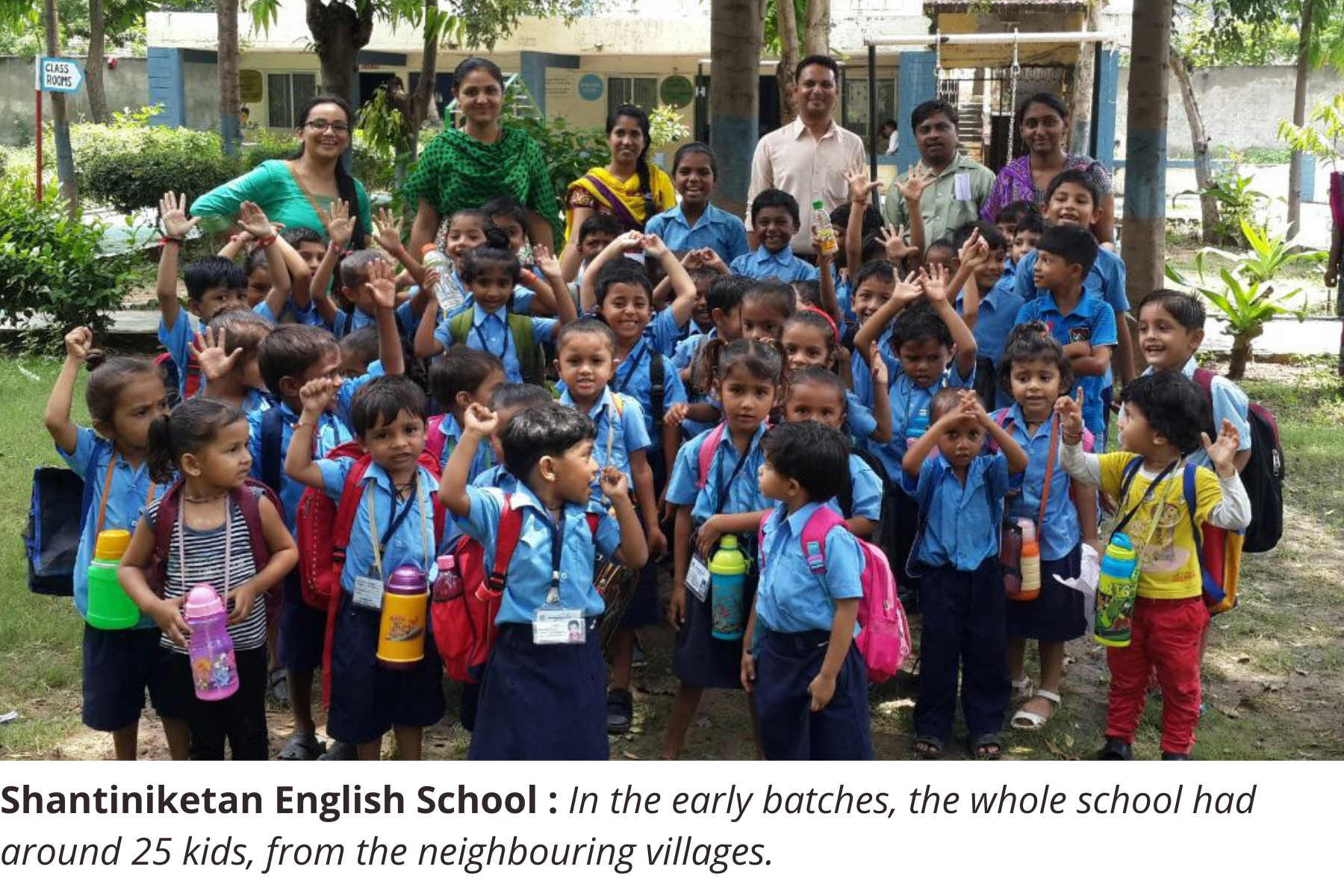 From the beginning at SNES, we incorporated multi-modal learning, i.e. learning that was visual, auditory and kinesthetic.
We knew from our understanding of pedagogy that kids are, predominantly, either visual or kinesthetic learners, whereas traditionally, they are taught in an auditory manner – with them listening to the teacher.
The moment we brought a video or activities in a classroom, learning got better. So, we always had activities and videos embedded into our learning process.
In the first year, we allowed ourselves to listen to the so-called academicians and followed traditional methods. In pre-primary though, we were always innovative – and hence we never faced failure. But for primary, we ran the school like many others would have, where we got textbooks and some video content. Then, we tried explaining to teachers how to teach, by training them. With this method, we noticed that there was almost zero learning improvement. The gap was teacher capability – they kept falling back to traditional rote learning methods. Additionally, in affordable schools, you never have excess staff. So, teachers have to double up for admissions and admin work etc.
Their life is full of chaos and they struggle to meet the demands of the system. We realized that teachers could not do research, had no time to plan lessons and their life needed to be simplified. So then, we hired a couple of ex-TFI (Teach for India) people who came in to make lesson plans along with us. I built the lesson plans more on the pre-primary and the English side, and Sumeet, more on the Math and the Science side. The teachers lapped it up like crazy!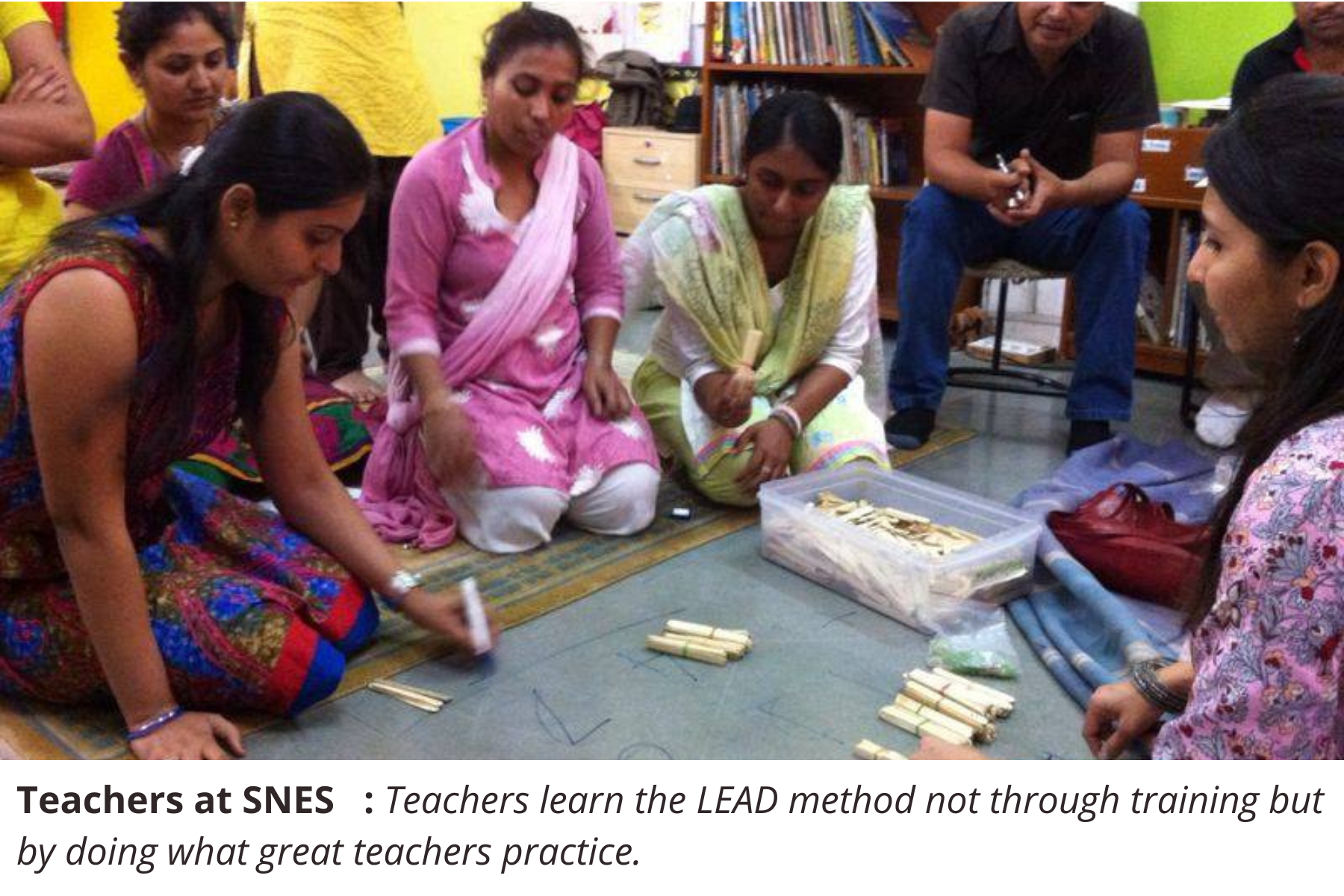 So we started to hire teachers who could speak a little English, were hard working and had a growth mindset. We hired them for zero skill. Then, we built skill not by giving them training but by getting them to execute our lesson plans and practice things that all good teachers practice.
They would execute the lesson plans, we would observe, and tell them what was or wasn't working. We would then tell them how to change their classroom actions. This helped them improve.
We all learn with Learning by doing approach. PWC and P&G for me was the time of learning by doing.
By the 2nd year, we knew that the learning challenge in all the classes was largely rooted in lack of English proficiency. Students were struggling in Math and Science classes because they did not understand the instructions written in English. We started focusing on solving this problem. The ex-TFI teachers in our team brought in a lot of interesting ideas which we started implementing in our school. This is how we kick started our early interventions of teaching English as a skill instead of a language.
For the next 2 years, I immersed myself along with the team into deep research on how to build English skills, and together we developed an accelerated and personalized language development program that we now call ELGA – English Language and General Awareness.
ELGA broke a lot of existing taboos in the school ecosystem :  we made timetable changes, grouped students based on skill vs age, accelerated their learning to bring them to grade level and a lot more. We looked at various global systems including Singapore and contextualized them for our students.
ELGA was Designed for Excellence, and till date delivers exceptionally high learning outcomes. Developing ELGA allowed us to build a strong culture of research and innovation within LEAD.  
Within 5-6 months, we saw a phenomenal shift. The two big qualitative signals of this shift were that the kids were happy and they were confident! When I used to visit the school, these kids would shy away, not responding to a good morning or good afternoon. Now, because they were succeeding in the classroom, they all developed confidence. They would come and try to talk to me in English, even if they were getting it wrong. They were reading independently, whether it was hoardings on the road or menu cards when they went to the restaurant with their parents. So, very soon, it was clear to us that directionally, we had done something which was fundamentally going to help.
Running SNES, we also saw how our life was so different from the lives of the families sending their kids to us. For example, at the beginning at SNES, we had a no-homework policy. Parents kept asking, but we never gave homework. Then one day, we were visiting and Tushar Bhai – our first parent who had four kids from his family enrolled with us– called us home for tea. So Sumeet and I went to his home. When we went there, children were loafing around, wasting time. As we were chatting, we asked him 'Bachche sham ko kaise time spend karte hain?' He said 'Faltu ka kaam karte hai gali mein' – they kept getting themselves into trouble. He said that if we gave them homework, at least they would spend their time usefully. That is when we realized how colored we were by our urban thinking!
Experiences like these brought us down to reality and to a place where now, we find it easier to walk in the parents' shoes. In fact, to date, I am very insistent that our teams spend time with our consumers to observe them, whether it is in school or at home.
Solving for multiples – building the integrated system
From 2013-16, we ran SNES. But alongside, we were meeting a lot of people. We must have visited over a hundred locations and met a large number of school owners. 2016 was when things suddenly materialized. We signed a contract to open a school in Mangaon, on the Mumbai – Goa highway. Around that time, we also took on three schools in Solapur district which were being run by a single-family. We got another partner school in Alephata, and in 2017, we added four government schools. It was when we took on the Solapur schools, that the name LEAD Schools, came into being.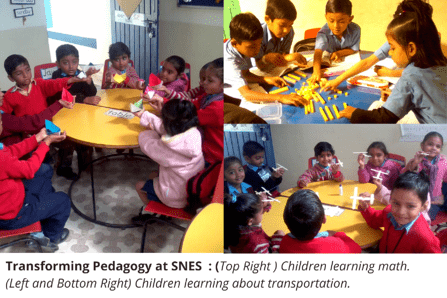 By then, we had a fairly good understanding of pedagogy and curriculum. But as we started to solve for multiples, we started building our early technology. In SNES we had started with two media rooms, with projectors, speakers etc. But each time there was a power cut, it was an issue and the projector would get spoilt quickly.
We wanted audio-visuals in every classroom, so we slowly transitioned SNES to TVs. But the big switch to TVs was made when we built the Mangaon LEAD School and added the three Solapur schools, as they were less expensive and served our purpose better.
2016 was also when we transitioned all teachers to a tablet, built the first teacher app, and the first content management system, which from the beginning were interconnected. By then, we already had a central curriculum team of 3-4 people and we had teachers in the schools. But there was a lot of friction between them – the team used to send the lesson plans, the teachers would print them, sometimes they would forget them or maybe carry the wrong ones. Technology helped remove this friction and made the coordination seamless. Technology for us was not only the teacher app. It was always thought of holistically, what we now call the integrated system.
Schools in India have predominantly inefficient ecosystems because they do not make decisions based on data, however the only thing that held value in our mind was data. That is why we built our technology in a way that every stakeholder has transparent data available with a guidance on what needs to be done based on the data, with everything centered around student learning.
We were the school owners, we were also the principals and often the teachers, and we needed to know what was going on, all the time. So our integrated system has a school ERP, it has assessment data, timetable information, everything that a school owner needs, everything a principal needs to monitor and efficiently run the school.
All these three things, which are now at a much more evolved level, were always part of our early technology. We always imagined a parent app, but it took us two more years to make it.
By 2017, we had a decent amount of data and we knew that our curriculum was working. Our students were showing 1.8 years of growth in English learning and over 75% mastery in others subjects, and we knew how to manage multiple schools, using solid processes and technology. That is when we started thinking about how we could scale our impact, and take our system to more schools.
Stay tuned to learn the next part of Smita's journey and how LEAD came to be as an integrated learning management solution.
To know more about the solutions offered by LEAD to schools across India: Click Here