Curriculum management system for schools, a boon?
Subscribe to our newsletter
Curriculum Management System (CMS) is a systematic, easy-to-use online platform for managing curriculum. The dynamic structure allows schools to apply the suitable curriculum framework as required.
Curriculum Management is an integral part of the LMS that allows educational institutions to create and execute the curriculum. Teachers use the curriculum management system to handle tasks related to growth, integration, and curriculum launch.
It is time for schools to adopt a model that streamlines their functioning to allocate their time and resources to enhance students' performance.
According to the World Economic Forum, "In the context of job disruption and increased polarization, primary and secondary school systems have a critical role to play in preparing the global citizens and workforces of the future. Education models must adapt to equip children with the skills to create a more inclusive, cohesive and productive world."
Why do schools require a Curriculum Management System?
The Curriculum Management System for schools facilitates lesson plans every day for every class. Schools use this management system to create, develop, implement, review, and create a comprehensive curriculum. The management platform allows teachers to access the creation of course catalogues, mapping, task management, job assignment, version control, approval, and other curriculum development features and resources.
Below are a few aspects that have been streamlined owing to the curriculum management system:
Aligned units, lessons and assessments
The curriculum management system builds a framework that allows teachers to define learning outcomes based on every class. It also helps them to customize tasks and lesson plans according to the requirement.
The curriculum management system saves time with a solution that gives fast, easy access to classes, resources and student progress to teachers, curriculum managers and parents, all from one user interface, with one single click.
Effective and visible performance
The curriculum management system drives productivity and ensures that the improvement is automatically reflected in its performance statistics.
Enhance instruction delivery 
The curriculum management system has a unique and distinct way to teach every subject, unlike traditional textbooks. When there is a roadmap for teachers to follow that's interesting, it keeps students engaged.
The curriculum management system is an affordable solution for schools since it saves manual labour for various processes. Schools can now automate and simplify curriculum tasks to make lectures useful and engaging.
LEAD is transforming schools in India by helping children become ready for the exam of life. To make yours a LEAD powered school: Partner with us today

How the curriculum management system for schools a breakthrough 
The curriculum management platform comes with sharing features that make lessons accessible through an online interface for easy access from anywhere. Integration with LMS content sharing tools gives simple options for teachers to share content.
Curriculum management platforms help teachers to assign work to students, including relevant file attachments.
Teachers can plan the course in different levels for the entire year, from the unit sequence to an individual lesson with the school curriculum management system. Curriculums can be organized subject and class-wise too. Teachers can attach relevant files, like a PDF file, an image, or a presentation file with lecture slides and units in these systems for students' reference. 
For making individual lessons effective, several tools guide teachers. These fields include the lesson's topic, relevant standards, unit it belongs to, date, and assessments.
The curriculum management systems can be used as an alternative to textbooks or printed lesson materials; also, these include interactive elements like videos, animations, and digital assessments.
How LEAD helps schools to plan their curriculum better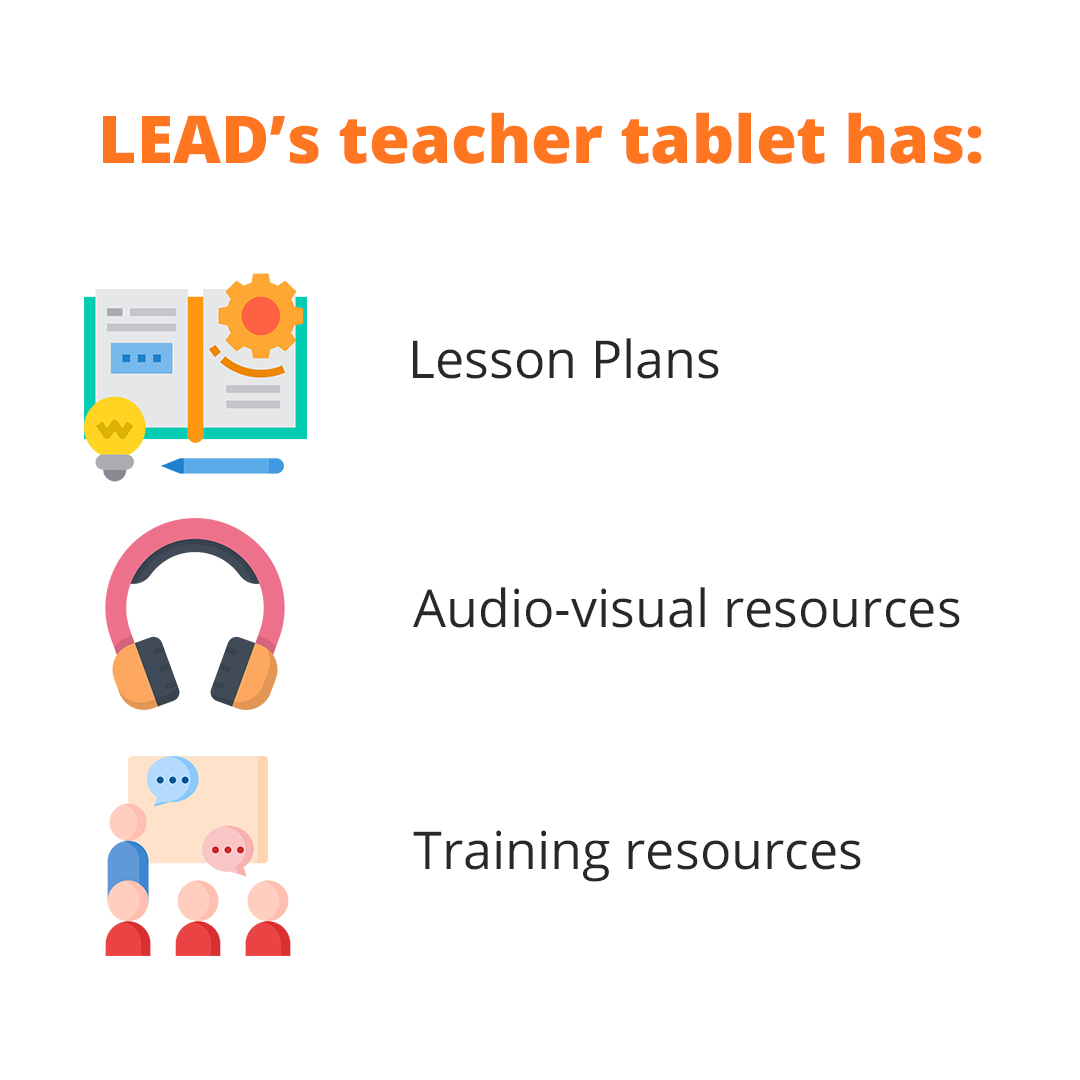 At LEAD, every teacher is equipped with a teacher tablet, that is loaded with lesson plans, audio-visual resources, and training resources.
LEAD further eases teachers' teaching journey by enabling them with the necessary tools that make them excellent teachers and leave students highly engaged.  Here, the English curriculum deals directly with the difficulties of English language skills. When it comes to science, it's all about learning-by-doing, and a concrete-pictorial-abstract approach makes math lemon squeezy.
In the LEAD system, the teacher app is the main anchor for teaching. The app comes installed in the teacher excellence kit and contains high-quality lesson plans. Each lesson has videos, slides, images and digital copies of books and workbooks. This enables excellent teaching vs using a printed teacher manual.
There are about 4 changes in the traditional school system that LEAD aims for:
Usage of a lesson plan to teach instead of a book
The concentric design of lesson plan vs lecture method
Unique teaching strategies designed for non-English background students 
Spiral teaching vs linear teaching
An academic year at LEAD-powered School is divided into units, and units further are divided into a day plan. The number of units and number of day plans is designed, keeping in mind the need for each sub-school- Pre-Primary, Primary, Middle, High, and ELGA.
LEAD is transforming schools in India by helping children become ready for the exam of life. To make yours a LEAD powered school: Partner with us today