How hybrid learning facilitates change in the digital world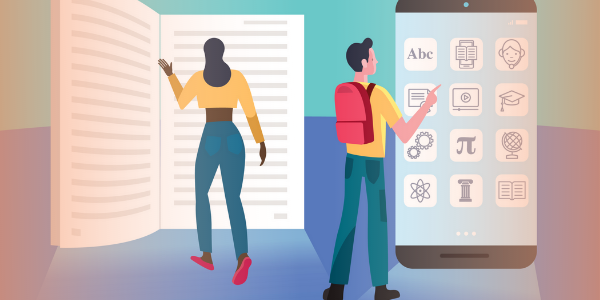 Subscribe to our newsletter
The world is at WAR with the virus. Donald Trump branded himself as a "wartime president," while Emmanuel Macron, the President of France declared that France is "at war" with COVID-19. Usually, events like pandemics, world war, economic crisis alter the world, irretrievably. The ongoing coronavirus has undoubtedly been unprecedented disrupting livelihoods, economies, and education. 
The world we live in right now is going through turmoil, however, confronting the pandemic seems to be the only way out.
How schools tried to cope…
Soon after the lockdown, schools shifted online to facilitate undisrupted classes. The conventional four-walled classroom got replaced by remote learning and students were left to 'fend for themselves'. The education sector was aware of the catastrophe this invisible enemy can cause if precautions are not taken well in time. Distance education has always been a trend for colleges and universities but for schools, it was an overwhelming change. Policymakers and educators soon started realising the gaps in online education. A seamless synthesis between the traditional classroom and online learning was needed.
One of the harsh truths about the education sector, especially in India, is that it needs to catch up with the time more than any other sector. Facilitating mere online education was not enough. Schools who wish to be a pillar of change, have to first accept the change, shed the moribund outlook, and relook at education from a new perspective. They have to move away from rote learning, manual processes and adopt ways that are in line with the times.
LEAD is transforming schools by making children future-ready. To make yours a LEAD Partner school: Partner with us today

Schools simply can't rely on online classes for excellent learning and results. 
UNESCO says, "The unique unplanned experience of sudden and massive home-based distance learning is an opportunity to rethink education. It is an opportunity to revisit learning content, methods, and spaces. While we need greater integration of blended learning, we also need to revisit learning methods with a better balance between individual study/learning and collective social learning. Finally, it is a unique opportunity to redefine the learning community by better networking learning spaces that connect classroom and school-based learning with the home, family, and community at large."
How can schools truly be a pillar of change in the digital world?
The hybrid model in schools so far has been a saviour. It took control of the vulnerable situation the education industry was in and filled the loopholes of remote learning.
To make this change sustainable, schools started improving, assessing, and scaling new learning models. Many schools keeping the well-being of students in mind shifted to the integrated school system that streamlined essential tasks such as administration, fee collection, attendance, new admission, etc. Integrated School Systems filled the gaps of homeschooling, such as Passive students, No guaranteed result, Scattered curriculum, Old-school learning, etc.
The pandemic has proved that traditional forms of education are redundant and are of no relevance, especially in the times like the one we are living in right now. Also, since the traditional teaching approaches can hardly fulfil modern educational requirements, school integrated platforms that offer hybrid learning as an option provide teacher training to deal with the issues arising from the online classes.
An integrated school system besides offering a world-class curriculum also makes sure that the teachers are well-trained to combat the challenges that come with online learning.
COVID-19 has augmented the transition of education from traditional models that focus on rote learning and memorisation to more digitised and learner-centred education modalities. 
How is LEAD School bridging the gap that digital learning has created?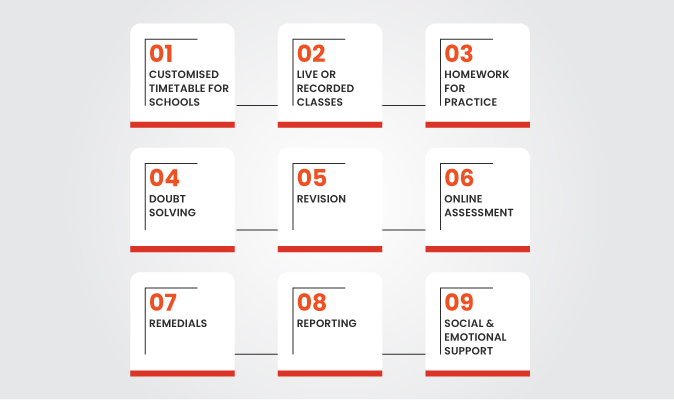 LEAD School's Comprehensive Curriculum; Integrated System based teaching; In-Time Performance Monitoring and Guaranteed Result has been a respite in distressing times. LEAD School enable continuity in teaching – online, offline, or hybrid – while ensuring the best teaching standards. With the help of Digital Learning Content, Physical Reader & Workbooks, Learning activities, E-books, Regular assessments & Practices quizzes, Personalised revisions, Home practice, live classes, LEAD School has revamped the concept of online learning.
LEAD's online school operates on a 9 principle checklist that helps a school become a pillar of change in the digital world. Some of the prime advantages of LEAD School are:
The fear of poor-quality online teaching and the hesitation on the part of teachers to use online portals is a thing of the past. Teachers are now more confident and can manoeuvre their way through the challenges of online learning.
LEAD is transforming schools by making children future-ready. To make yours a LEAD powered school: Partner with us today