5 Tips to Empower Teachers Through Teacher Training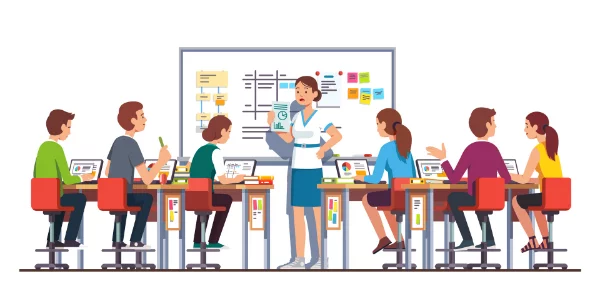 Subscribe to our newsletter
Teachers are the backbone of the education sector. They inculcate knowledge, values, and ethics in students' lives and prepare them for further education. Students will be prepared for future study only if their teachers are well trained and empowered fully.
So what is teacher training? Teacher training equips teachers with the right knowledge, behavior, and skills to execute their assigned tasks and manage students as a teacher.
Below mentioned are a few tips to empower teachers through teacher training:
Removal of Excess Workload:

Excess and manual workload of teachers should be eliminated. With teaching, teachers are overloaded with tasks such as preparation of lesson plans, test, and exam evaluations, conducting assemblies, and co-curricular activities. This leaves teachers struggling to find time and energy to focus on core teaching. Teachers need time for innovation and self-development. To ensure that the quality of education is not compromised, teachers have to constantly polish their skills, and this means that they need some time to focus on it.

Balancing Failure with Success:

Teachers should not be chastised for their failures alone. While pointing out their mistakes, management should also thank them for their successes. Like any other people, teachers appreciate praise from their superiors.

Creativity and Collaboration:

Teachers should be allowed to concentrate on implementing creative teaching methods, which would enhance the learning experience of students and increase student engagement. Teachers can include innovative ways of conducting tests and add up some co-curricular activities.

Efficient Teaching:

With the changing environment, teachers should change their teaching approaches to ensure efficient teaching. With teacher training, they will become aware and will be well-trained in new teaching approaches. It will reduce the teaching time without compromising the quality of education, thereby increasing the teachers' productivity. They will be able to teach more during the lectures. For this, teachers should be empowered with cutting-edge technology and tools.

Moving Beyond Basics:

Teachers should widen their vision of education. Education is not limited to textual knowledge. Teachers should be encouraged to learn new skills and attend workshops to sharpen their skills. They also need regular upskilling in order to deliver the best learning outcomes for their students. You can help them do so by conducting these training sessions or sponsoring external training.
Post pandemic, it is critical that teachers be empowered through teacher training. Schools and other educational institutions must conduct periodic teacher training to upgrade teachers' skills. Teachers should be well aware of modern teaching concepts and approaches. Along with teaching skills, teacher training will also foster the managerial skills required to manage the classroom and handle other administrative tasks. Only if teachers are empowered, can they empower students. Teachers who doubt their abilities and skills should be motivated. Every teacher has the right to get empowered and schools should provide appropriate training opportunities for them.
Teachers at LEAD Powered Schools have access to the required tools and resources they need to help students succeed. This includes a tab that offers 100 percent ready-made teaching materials, including worksheets and lesson plans. Now teachers can modernize their teaching methods to create more engaging educational experiences for students. We have put together a huge library of interactive video content, which also has quizzes and other exercises. Using the dedicated Teacher Tab along with smart TV in every classroom of a LEAD Powered School, engages the students in a more impactful way. Our team continuously works closely with teachers at LEAD Powered Schools, providing them with insights and strategies to grow and get better. By connecting to the Teacher Mobile App, educators get access to LEAD Academy, where they can take their teacher training forward. Find out more about LEAD Academy by visiting this page.