LEAD's online learning is as effective as physical classes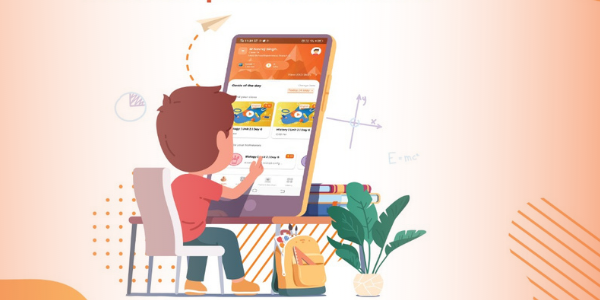 Subscribe to our newsletter
Education 2.0
When WHO declared Coronavirus a pandemic, over 1.2 billion children in 186 countries got affected by school closures —the largest disruption to the education sector in history. Suspension of face-to-face learning posed some severe concerns about consequences for students' learning. The distinctive rise of e-learning that followed the suspension became the new normal. With this sudden shift, stakeholders wondered if online learning will continue to persist post-pandemic, and if so, how can that be made reliable?
Is remote learning enough?
National efforts to utilise technology to make remote learning successful is being made, and though it saved the sector from plummeting, parents remained concerned about its efficacy. Crucial aspects that resided at the core of school education, such as parent-teacher interaction, remedial sessions, seamless assignments, and ensuring better attendance, remain amiss in a remote learning setup.
Parents have stayed worry-free in a traditional school model where children were taken care of well. From academic to extracurricular activities, a school has always been a one-stop destination for everything and provides a structured environment conducive to learning, but as students were forced to learn from home, that structured and well-defined approach took a hit. The absence of a timetable, camaraderie or collaborative culture made learning dull.
Additionally, remote learning changed the dynamics and burdened parents with the added responsibility of participating in their children's academic lives. Without a proper structure or framework, it became a challenge, especially for working-class parents. Amidst this chaos, a system that's reliable and supports every stakeholder alike is required.
How are LEAD-powered schools revolutionising learning in Indian schools? 
Ever since the education sector got disrupted, LEAD has been at the forefront preventing students' learning loss and offering them quality education across the country, including remote areas. Learning with LEAD Student and Parent app is as good as physical classes where Digital Learning Content, Physical Reader & Workbooks, Learning Activities, E-books, Regular Assessments, Assignments, Quizzes, Personalised Revisions, Home Practice, etc., keep students engaged and parents informed. Practice with friends increases engagement that boosts collaborative learning, and  Attendance and Progress Reports ensure that students are not falling behind their learning curve. With live classes, LEAD connects students with teachers in real-time and recorded classes help them go back to a concept whenever required.
At LEAD, students' attendance also remains high, which further leads to better results.  For example, a LEAD study shows that students with 80%+ attendance scored 40-45% higher on average than students who didn't attend classes as regularly. The study also highlights that students who scored 55% at the beginning of the year fetched 80% by its end, with LEAD. 
High teacher intervention also leads to better student performance which is possible in LEAD-enabled schools.
But how is LEAD ensuring maximum student attendance with high performance even during the ongoing times?
At LEAD:
  Lessons are imparted through world-class teachers and the app with detailed lesson plans and audio-visual resources.
  Every child becomes proficient in the English language using a world-renowned, level-based English curriculum.
  Conceptual clarity in Math and Science with the Concrete-Pictorial-Abstract approach to Math and the 'Learning by Doing' approach to Science is built.
  Every child is catered uniquely with customised remedial classes based on assessment.
  Sync between teachers, parents and the school for the unified goal of the student's academic excellence is ensured.
  Experiential learning in EVS encourages students to apply their knowledge in real-life scenarios.
Your blog post content here…
Teachers at LEAD powered schools prepare by reading the lesson plan, teach as per the plan, take the test for the concept taught and ally the result to implement remedial action before moving on to the next concept. This helps to bridge the students' learning gap in real-time.  
With LEAD, schools get empowered to provide learning as good as the physical classrooms, mostly even better
LEAD is transforming schools by making children future-ready. To make yours a LEAD powered school: Partner with us today