Coding for kids: The need of the hour
Subscribe to our newsletter
We live in an increasingly digitised world. There is a digital revolution underway and everything around us is becoming technology-enabled; be it a game on your phone or a movie on an OTT platform. Our schools too are a huge part of this digital revolution. Schools are slowly enabling online learning, installing smart TVs in classrooms, and providing students with more audio-visual learning experiences. All this has been possible thanks to the advent of technology.
Every day there are new career opportunities based on analytical thinking, problem-solving, and number crunching. Though we teach our children Science and Mathematics, is it truly enough to help them prepare for the future? Will they be capable of hustling and succeeding in a world that completely relies on technology? It is time to pause and reflect on our education system and curriculum.
LEAD has taken the first step towards transforming the way children learn in our schools. We have introduced a first-of-its-kind Coding and Computational Skills (CCS) Program to help students become future-ready. In this article, we will explore the need for such a program.
Need for Coding and Computational Skills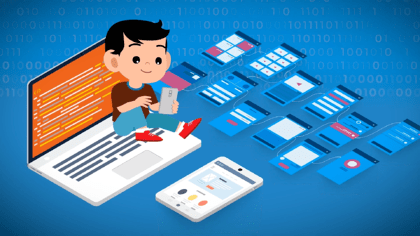 One of the prominent reforms announced by the NEP i.e. National Education Policy 2020 is the introduction of coding classes for young students. According to the policy, encouraging children to learn to code and exposing them to technology at a young age will take them a long way and prepare them for the future, in a better manner. It opens doors of innovation and creativity by pushing students to set achievable goals and transform the way they think about career paths.
LEAD introduced the CCS program after carefully analysing the NEP requirements and students' needs. The three primary reasons to launch the program are:
Future-ready: Coding is set to become a core life skill for the future. The importance that is given to literacy and numeracy today, coding will be given that kind of significance shortly.
Job Prerequisite: The majority of the jobs in the future will require some level of coding and computational skills. This will be the case across industries and domains, not just those directly affiliated with Computer Science. Students and professionals will have to constantly learn and upskill to be relevant.
Compete Globally: Most developed countries have already taken a significant leap in including coding as a critical skill for school children. India cannot fall behind and must introduce coding in school education now so that our students too can compete at a global level.
Coding has become a part of the curriculum in many international schools. Many expensive online courses are also available for affluent students. Hence, the CCS program has been carefully designed keeping in mind the partner schools' infrastructure, teacher knowledge, and technological availability in these regions.
Why does the Traditional Computer Curriculum need to change?
The way Computer Science has been taught in Indian schools has not changed in over a decade. Children today are a lot more exposed to gadgets and technology when compared to children of the 90s or early 2000s. Being taught the rudimentary aspects of this subject can get boring and irrelevant. It is time for the curriculum to get updated and revamped.
LEAD believes that there are three primary reasons to update the Computer Science curriculum:
Dated and low-quality content: The current curriculum is filled with dated applications and programming languages and focuses on hardware and familiarity with using the software. This low-quality and traditional content are not enough to prepare students for the future.
Theoretical knowledge without any output: Students 'know' about computers but can't create applications, websites, or games. At LEAD, we believe in application-based learning. Only when students can apply what they learn, they can become successful working professionals in the future.
Low teacher capability: Teachers trained in computer applications are not able to teach coding and computational skills as these are new and evolving streams. Hence, these teachers need to be upskilled and trained urgently to make computer science an enjoyable and engaging subject.

Join the Education Revolution
LEAD offers an integrated learning system to its partner schools to improve student learning outcomes and prepare them for the exam of life. We believe in empowering every stakeholder in a child's life to provide them with an ideal learning environment that helps them thrive. 
To know more about our Coding and Computational Skills Program, please download our CCS guide here: Download CCS Guide Now