School Marketing: 10 Tips to Increase Student Enrollment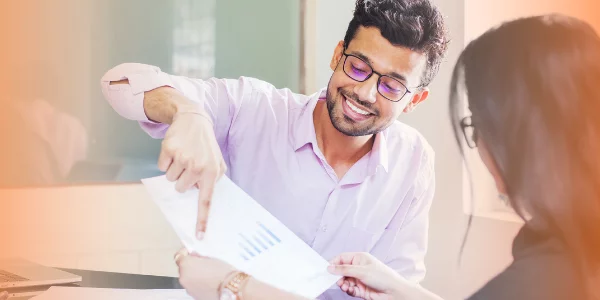 School Marketing: 10 Tips to Increase Student Enrollment
Last Updated On: 18/01/2023

"The brands that can connect with the client in a real way will win" – Gary Vaynerchuk
In this article

Build a strong online presence

Identify pain points of parents

Conduct lead generation activities
Build a strong online presence
1. Run paid social media ads
When it comes to education marketing trends, you can't discount social media ads.
In today's digital world, almost everyone has a mobile and a social media account. Your presence on social media enables you to stay in contact with the target audience.
Instead of focusing on all platforms at a time, research, analyze, identify one platform on which most of your audience spends time, and run ads on that platform. It will save your time and ad budget.
The biggest advantage of social media ads, unlike traditional marketing, is that your ad campaigns can be highly targeted. Almost every social media platform now offers a robust targeting option, right from Facebook and Instagram to LinkedIn and YouTube.
To increase your enrollment rate, you have to create well-structured ad copies and enticing designs for your ads to hook the audience's attention and drive the conversion.
2. Have your students do the talking
After a point, people don't care what you're saying about yourself. Instead, they want proof to trust you. So, let your students raise their voice for you.
Sharing success stories of your alumni in their own words can convince the applicants to settle on your school.
Your alumni represent your institution; when they have a good profile in society and share their positive experiences about you, it increases your credibility.
Let them tell prospective parents about your school culture, environment, atmosphere, staff, curriculum and more.
Personal recommendations from past students can be more potent in driving the student enrollment rate.
3. Be prompt in response
Most people are impatient. If you don't respond to their query on time, they will walk past you.
Imagine that a parent is filling up your enrollment form through your website. While filling, they have a doubt and contact you to clarify it, and if no one is on the help desk to help them, won't it frustrate them and make them walk away?
Of course, it would.
That's the reason why the response time and sorting their query in a short time matter a lot.
When you are not at your desk or have finished working hours, responding can be more difficult. In that case, you can use an educational CRM, an AI bot that reduces your hassles, answers parents with the right resources, and solves their queries instantly.
4. Post images of your school
Visual content is more enticing and appealing than text.
Sharing pictures of your school's infrastructure and classroom on your website or social media will help people see your school sitting at home. It will give them a view of your school's infrastructure, as well as the available facilities.
This is important. Parents want to know "where" their child would study, what kind of facility it is, and if the premise is good enough for a good learning experience.
To increase credibility, you can also share achievements, images of top-grade students, and teachers explaining their accomplishments.
Moreover, you can post pictures of the events happening at your school.
5. Embrace local SEO
Local SEO is a very important part of education marketing trends.
You have to optimize your website for local searches.
For example, let's say your school is in Bangalore. When people use keywords like "best schools in Bangalore" or "Best schools nearby", and if your school doesn't come up first on the search result page, you will miss out on those people to enroll their kids for admissions.
So, optimize your website pages with "nearby" keywords. Also, complete your Google my Business profile with all the updated information.
This will boost your school's visibility for local searches, attracting more parents in your city or town.
Never miss a story
Stay updated with the latest news and articles related to school education
SUBSCRIBE TO OUR NEWSLETTER
Identify pain points of parents
6. Establish the pain points of target parents
To increase your admission enrollment rate, you must first understand your target audience's pain points.
Here your target audience is parents and students. So, you have to put yourself in their shoes and think from their standpoint.
Think from all angles and perspectives to identify their pain points. It can be security, curriculum type, home-to-school distance, staff quality, and more.
Once you're done listing out their possible pain points, create content for ad campaigns or blogs that addresses them.
7. Create relevant content to appeal parents
Another best way to reach out to parents and increase enrollment is by creating relevant content.
Whenever people have a doubt, the next thing they do is pull out their mobile and Google it to find answers.
If you have created a keyword-optimized blog addressing the pain point and it ranks on the first page of the search engine, they may click on your URL and get to know about your school.
Generally, you will have a lot of topics to be covered. So, create blogs addressing issues and increase your top-of-the-funnel discovery metrics.
8. Show social proof
Give people a good reason to trust you.
Trust is a pivotal factor. Without it, people are hesitant to take the next step.
You can show your previous students, parents, and teachers testimonials. (Remember, 95% of the customers read reviews and testimonials before making a purchase decision.)
Similarly, suppose your school has been mentioned in any top articles or newspapers, you can show people that. It, too, can build them the confidence to enroll in your school.
Also, if your school has got any awards, you can use that too. Again, showing proof that boosts your school's credibility and trustworthiness will increase your student enrollment rate.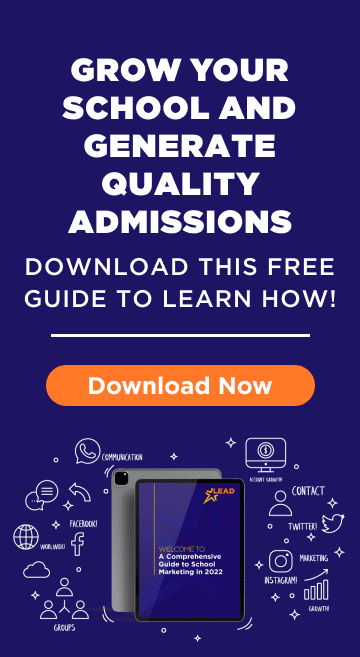 Admission Marketing Services | Grow your school's admissions the right way with LEAD
School Marketing: 5 Steps To Attract More Students
Conduct lead generation activities
9. Have different lead generation pages for individual target segments
You have multiple target segments, right from a 40-year old single mother to the CEO of a startup.
Not everyone can connect with your static landing page content. After all, each segment has its own needs, requirements, and considerations.
This is why it's best to have multiple landing pages that target individual segments.
The more landing pages you have for lead generation, the more flexibility you will have to personalize the content. And a higher level of personalization ensures greater conversion.
So, define your buyer personas and then create unique landing pages for them.
10. Personalize your lead nurturing campaign
Personalizing lead nurturing campaigns can accelerate your student enrollment rate.
Remember, after capturing a lead, you can't push them towards enrollment. Their interest in and engagement with your brand needs to be built and intensified. You need to give them more reasons to get them to enroll their child at your school.
This means you need a well-defined lead nurturing strategy. And that strategy ought to be personalized based on different data points you have.
For instance, your message to a parent who lives 10 KM away from your school would be much different than those who live nearby. Similarly, the messaging for a parent who's a CEO would be much different than a parent who's a doctor.
So, the emails you send as a part of your lead nurturing strategy should be tailored to the individual target segment. This applies even when you're calling the parents over the phone. Your pitch should be more relevant for them.
Personalization is one of the key trends in school marketing. And including it in your lead nurturing strategy can unlock you great results.

"The secret to getting results from your social networking is to act like a member, not a marketer." – Mari Smith
Conclusion
With educational marketing trends and tips above, you can fuel your student enrollment rate (and outsmart competitors).
Of course, planning and execution will take time and effort. But if done well and over a long period, the mentioned tips and trends in school marketing can propel your school to newer heights.
At LEAD, we help our partnering schools with end-to-end marketing solutions. We ensure their online presence is strong, reputation well-managed, and growth consistent. Your school can partner with LEAD as well and enjoy limitless benefits that come with it.
Never miss a story
Stay updated with the latest news and articles related to school education
SUBSCRIBE TO OUR NEWSLETTER
x
Give Your School The Lead Advantage