The Back-to-School Rush amid COVID-19: How Parents can Ensure Safe In-person Learning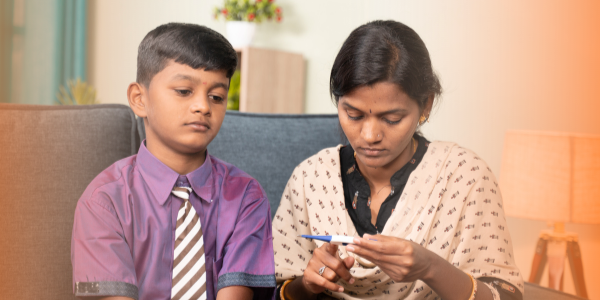 The last two years, amid the COVID-19 pandemic, have taught everybody the importance of in-person classes for children. Distant learning has disturbed existing education inequities and adversely affected the learning abilities of children of all ages.
Considering these challenges, governments across continents have decided to restart schools following a long hiatus. Besides, studies suggest relatively lower community transmissions in schools, provided the school administrations implement adequate prevention strategies.
But with many schools opening their gates, you must be worried about whether to let your kid out of your sight, even for a few hours. And that too when the Omicron variant continues to add to COVID-19 cases.
Of course, keeping your kids at home provides a bubble of protection to keep them from the wrath of COVID-19. However, you cannot deny that this at-home learning is severely impacting their psychological and social health.
So, as educational institutes reopen slowly and carefully, you must verify the effective implementation of the following safety measures in school.
Adequate Masking
When your kids and their teachers wear a mask consistently and correctly, they shield others as well as themselves. Proper masking of students and teachers/staff is important, particularly indoors and in crowded areas within the school campus, when maintaining physical distancing seems tricky. Wearing a face mask can stop the coronavirus from spreading to those at a higher risk of getting infected.
Apart from that, adequate masking rules apply to school buses as well. The school administration should daily check that the drivers and the students have put on face masks, irrespective of their vaccination status.
Further, the school should hand over masks to your kid (s) if they forget to bring them with them or you cannot afford them. Whatever be the case, the school cannot take any disciplinary action against your child.
For children with specific disabilities, such as cognitive issues or visual impairments, wearing masks and following physical distancing can be challenging. If your kid is among them, ask the school administration about possible changes in their prevention strategies. The teachers can at least have your kid wear masks during times when standing at least 6-feet apart is difficult – during pick-up and drop-off or while standing in the queue.
Screen Testing at Entrances
Screening testing helps identify infected people, including those with or without symptoms so that concerned authorities can take necessary measures to prevent further contagion. Make sure your kid's school has mandated screen testing of students, teachers, and other staff at the gates or entrance to the classrooms. That way, the school administration can instantly detect and isolate cases to curb risks due to in-person learning.
If the school resides in an area with high community transmission rates or low vaccination coverage, ensure that the authorities conduct screening at least once a week. Post-screening, they should rapidly provide you with the results – if possible, within 24 hours.
Besides, screen testing is also essential if your child has participated in sports or co-curricular activities. Check if the schools regularly test all the participants, athletes, coaches, and other associated people. These people come into close contact with others during these events. Hence, screening all the participants up to 24 hours before the events begin is highly necessary.
Physical Distancing within Campus
Given the significance of in-person classes, you should verify that the school is following proper physical distancing protocol within their premises. For instance, the teachers must check if your children, even jabbed, maintain at least a 3-feet distance within classrooms. Likewise, teachers/staff must stay at least 6 feet apart from each other as well as from students.
To meet these physical distancing norms, one student per bench is highly recommended. Also, the teachers must frequently remind your kids to not share their belongings with others. Besides, extra-curricular activities like sports or music are safest if organized outdoors with participants fanned out. If the sport, for instance, hockey and football, requires constant close contact, the school should call off such activities.
Limiting Potential Exposure
Despite the management following the safety measures in school for students with due diligence, your kid can still be at risk of exposure. To reduce that virus exposure, schools can start with conducting in-person classes on particular days, say, thrice a week.
In addition to that, teachers should allow only one student at a time to use the washroom. Restricting movement between classrooms, labs, and the library would further help inhibit unwanted exposure. Moreover, the management can even instruct students to not step out of the class during break or recess, if necessary. Furthermore, the school should avoid organizing morning assemblies to preserve safety at school.
These restrictions do seem a bit harsh and could be challenging for your kid to follow. But considering the welfare and safety of your child, you have to cooperate.
Presence of On-Premise Medical Facilities
Your kid's school should notify about new cases of COVID-19 or its other variants to the local or state health division immediately after getting reports about the same. Moreover, the school officials have to inform you about any diagnosed cases within the campus if your kid has closely contacted the infected person (s). The officials must try sharing the news with you as soon as possible (preferably within the same day).
Suppose your kid feels even the slightest discomfort, for instance, difficulty in breathing. The school campus must harbor a team of medical professionals at all times to look after your kid's issue. The availability of necessary arrangements, including quarantine booths in the medical room, a sufficient supply of essential medication, and skilled paramedics within the school premises, will help minimize your anxiety.
Another important thing you should point out is that the school does not reveal your kid's identity (if they have tested positive) to the parents of other students.
Timely Cleaning and Disinfection
Disinfecting using government-approved disinfectants staves off any remaining germs on the surfaces, further curbing any risk of virus contagion.
For effective cleaning and disinfection, your kid's school must create and execute a plan after discussing it with staff and teachers. They can later modify the usual procedures to ensure regular cleaning at least once a day or as frequently as required.
Here, the management needs to be pretty careful and accurate while carrying out these safety measures in school for students. The assigned staff must clean high-touch objects and surfaces – drinking fountains, sink handles, and door handles – within the school. The same goes for school transport vehicles as well. Further, if the staff find any soiled surface, they should immediately clean it.
While cleaning and disinfecting, the janitors must put on gloves and wash their hands after removing the gloves. If washing hands is not possible, they should use hand sanitizer having 60% or more alcohol.
Besides, your kid's school should deliver sanitization reports every week or ten days to you. This will help reduce your anxiety about your child's safety. The school can share the report through a virtual tour of the school or pictures of the clean campus daily shared with other parents.
Better Ventilation Systems
Leveling ventilation is another crucial safety rule in school classrooms that can slash the virus intensity in the air. Alongside other preventive measures, bringing fresh outside air into classrooms helps keep the coronavirus from concentrating inside.
School officials can achieve this by opening multiple windows and doors (considering any safety concerns) and using child-safe fans to increase the effectiveness.
Additionally, they should upgrade or modify the HVAC or air filtration systems to increase clean air delivery and mitigate potential contaminants within the school building.
Strict Rules for Visitors
The school where your child learns should revise its rules for visitors and family engagement activities. The primary focus would be limiting nonessential visits and activities involving independent organizations or groups, especially in locations where the COVID-19 community transmission is moderate to high.
However, direct service providers (DSP), including medical and nursing care, can have smooth access. That said, the school must ensure the DSPs comply with the visitor policies. In addition, for partially vaccinated DSPs serving over one area, the school officials must inquire if those locations have had COVID-19 patients.
To Send or Not?
Before answering this question, consider both sides of the coin. On one hand, there will be many problems if you do not send your kids back to their school. Screen time has risen. Obesity is surging in children, and above all, kids are developing social anxiety due to prolonged isolation.
On the other hand, children get more than education from offline classes. One-on-one physical interactions with teachers and healthy competition with fellow classmates contribute to kids' holistic development.
Going with the latter case is certainly a no-brainer, but the danger of new variants still itches you. Hence, you must ensure that the school authority implements the above prevention strategies inside and outside the classroom.
Sending your child back to their school in these uncertain and insecure times is undoubtedly a tough call – but it's important to decide.
At LEAD Powered Schools, we take utmost care to ensure that we prioritize children's safety above all else. Find a LEAD Powered School near youKnow More