How online education boosts Parent-teacher relationship?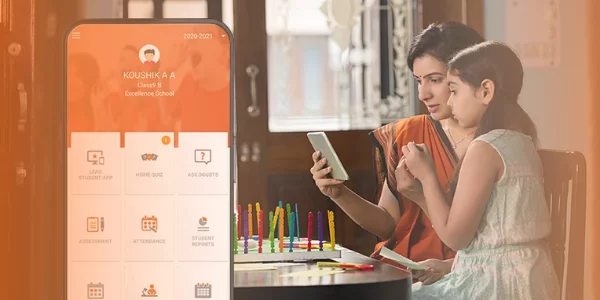 How parenting has evolved over the last couple of decades
I remember the time when my father used to drop me to school, mom picked me up and helped me in homework afterward. The decade before GEN Z was simpler where parents had ample time to give to their ward's study and if parents couldn't, the grandparents used to significantly contribute to it. But as the dynamics of Indian households changed and the trend of 'nuclear family' grew, parents (both) got busy. Despite their motivation to take part in the academic life of their children, they could hardly catch up. Throughout the circus act of parenting, balancing priorities and juggling between responsibilities made modern parenting obscure.
Parents these days are indeed working and seldom have time to participate in the school life of their children but there is only so much a teacher can accomplish during a single day. Though taking care of the child's academic life is an additional responsibility, and participating in their 'everyday homework life' an added pressure, it can help maintain continuity in the child's performance. A gentle nudge from parents acts as a stimulus in enhancing their child's academic performance.
But how is that possible? How can one possibly achieve an unhindered mode of learning amid the hectic parents' life? How can parents and teachers be on the same platform to enhance the learning experience of kids? 
Parent-teacher relationship before the lockdown!
Students who are seen doing exceptionally well in their academic lives are those whose parents and teachers work in coordination. The performance of the child or how he gets along at school is directly proportional to how a good parent-teacher relationship is. Positive connections between them not only boost a child's academic achievements but also help enhance his/her social competencies and emotional well-being.
Before the ongoing lockdown, achieving an effective parent-teacher relationship was not difficult. All parents had to do was to turn at their ward's school where parents…
Communicated and worked together with the teachers effectively.
Stayed updated about their ward's performance on a weekly/monthly basis.
Got nuanced feedback through face-to-face interaction
But as the learning module shifted online, achieving a seamless parent-teacher relationship got tougher.
How online learning enhances the parent-teacher relationship?
Despite the hectic lives of parents and the global shutdown of schools, online learning platforms have allowed parents and teachers to be on the same page.
As they both work in sync in the eLearning module, their relationship ought to get enhanced.
Via these online integrated platforms, parents and teachers can work in collaboration to achieve great results for the child. Blended learning, a part of eLearning, is one of the most important academic trends in the 21st century and is a perfect fusion between traditional education and modern methodology that uses technology.
Blended Learning uses technology not only to supplement but to alter and enhance the learning process. To deal with the mounting pressure on educators and parent's dearth of time, innovative teaching models took the education space by storm.
Online/offline integrated learning platforms meet the needs of new generations of students for a more efficient, interesting, personalised education and at the same time give a seamless platform to parents to stay connected with the teachers and contribute to their child's academic life post-school hours.
Understanding the need of new-age working parents, these integrated learning platforms are creating a stir in the education space. Not only does it make parents participate in the daily learning of their child but its user-friendly tools connect them with the school/teachers swiftly. Since parents are busy, they want a seamless platform where navigation doesn't take time. In such a scenario, a single interface software where everything is available with a click becomes ideal.

Online integrated learning platforms render a separate app to parents where not only can they just pay the fee online and manage other time-consuming tasks but can also keep a track of their pupil's performance. A school-parent app can keep parents more connected and engaged with the authorities and teachers. With easy access, parents become more encouraged to take part in their child's daily academic life such as events, homework, etc. These online platforms let parents access their kid's classwork, pictures, documents, and more.
For quick and easy access to information about students, admissions, homework, fees, periodic reports, transparency between the teachers and parents, and flexible settings options for parents to see any specific information, the parent portal app is the answer. This app acts as a bridge between parents and teachers/administration.
Online education has also given an option for real-time feedback to parents where a child's performance, behavior, and other aspects are shared in real-time. This way necessary modifications can be made by parents at home in their child's learning module.
Let's further look at the ways to enhance the parent-teacher relationship:
Parents should have fortnightly calls with teachers, preferably video calls since it helps connecting them better. 
Parents should regularly seek quizzes, worksheets, and activities from teachers which can be taken up by students for their overall performance enhancement.
Parents can keep a track of their child's progress through reports on the app which can further be followed up in their fortnightly call with the teacher.
How LEAD School is an impetus to the parent-teacher relationship?
LEAD School aims to revolutionise every child's learning experience. With LEAD School's Integrated System, schools can deliver uninterrupted quality learning, both online and in school, while using world-class teaching pedagogies to achieve a great outcome for every child. Also, LEAD School's tech solutions enable continuity in teaching – online, offline, or hybrid – while ensuring the best teaching standards and guaranteed results. This platform renders a high-quality, end-to-end solution for every stakeholder involved in a child's journey.
With the help of a dedicated app for parents, they can now be active participant in their child's success. LEAD Schools@Home has been able to replicate the classroom experience with schedules and attendance and quizzes.  LEAD School Student & Parent App not only helps students with engaging resources to study but keeps parents updated about their child's performance. This app also helps connect teachers and parents better.
LEAD School's progress tracker and open communication channels have facilitated student learning journey in this 21st-century educational landscape. With the help of LEAD School's integrated platform, parents can access their child's performance reports, have access to videos for further learning, have a plan for home practice, and can monitor the pictures from classwork. This will ensure continuity in learning. Parents can also play the role of their educators if they are well-versed and updated with their child's growth in each subject. They can easily know which subject needs more time and which is an easy sail for their child. The in-time monitoring not only helps teachers identify the problems but lets parents work on it too simultaneously.
So irrespective of the times we are living in, parents' involvement in their child's academic journey can continue.