Home
»
Blog
»
School Owner
»
Smart School Management System – Aligning Technology with Educational Goals
Smart School Management System – Aligning Technology with Educational Goals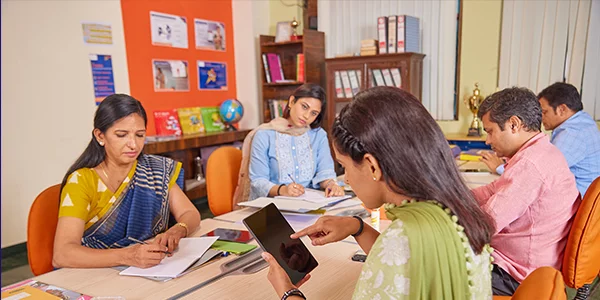 Smart School Management System – Aligning Technology with Educational Goals
Last Updated On: 14/04/2023

"Do not confine your children to your own learning, for they were born in another time." – Chinese Proverb.
How Does the Smart School Management Software Work?
It seems quite challenging to eliminate all the paperwork and manual processes from the onboarding admission process to the ongoing academic operations, including evaluating projects, assignments, monitoring attendance etc. These are, however, achieved efficiently without any hassles with the help of a smart school management system.
A smart school management software helps your school to run seamlessly. A sound online school management system offers maximum efficiency, and cost-savings, ensures student-teacher-parent bonds, paperless administration management, and more. School Management Software with an immersive technology solution enables a school to meet its day-to-day operations seamlessly.
In this article

Top 3 Features to Look for While Choosing a Smart School Management System for Your School

How is the LEAD Smart School Management System Transforming Schools?
Top 3 Features to Look for While Choosing a Smart School Management System for Your School
Security



In today's digitally evolving era, the amount of data to be handled and stored daily is growing exponentially. Schools are often tasked with collecting, maintaining and recording students' sensitive and personal details. Therefore, a sound

smart school management

software

should incorporate effective security breach defense lines to ensure data confidentiality.





Moreover, an

online school management system

's security strategies should incorporate inclusive user login authentication. In addition, it should include data encryption and a comprehensive & holistic disaster recovery plan.
Automatic report generation

Smart school management systems

should be able to effectively collect student assessment data, produce valuable insights, analyse data patterns and automatically produce detailed student performance reports. This information should also be handily accessible to students, teachers and parents at any given point.

Mobile-friendly

With the escalating popularity and necessity of remote learning, more & more students are using mobile devices to access school resources. In fact, 70% of overall web traffic today is from mobile devices. Therefore, a smart school management system should not be confined to a specific type of user device preference. User interfaces & data should be equally available to the school's administrative staff, teachers, and students regardless of the technology they use.
Never miss a story
Stay updated with the latest news and articles related to school education
SUBSCRIBE TO OUR NEWSLETTER
How is the LEAD Smart School Management System Transforming Schools?
To help schools manage their academics effectively, LEAD, India's leading school EdTech company, ensures that the students get a world-class curriculum to study from, teachers get access to better techniques to provide knowledge, parents get daily progress reports of their children, principals get timely analysis of each grade, and school owners get the choice of switching between online and offline mode of education.
Moreover, LEAD offers the best smart school management system to boost the growth of its partner schools. It offers various Tech-based solutions for the seamless functioning of schools.
LEAD – School Transformation Solutions



This solution helps the schools grow with LEAD's experts' help with academic and admission solutions that will transform the LEAD-powered schools.
LEAD Altus – Most Advanced School System

This invite-only school system by LEAD is available only to select schools across India. LEAD ALTUS offers unmatched learning experiences to students through advanced technologies.

Managed Services – End-to-end management of your school

LEAD experts manage its partner schools with complete school operations, ensuring the escalated growth that the school has always aspired to.

Moreover, LEAD's Global Standard Curriculum and well-researched pedagogy ensure visible growth in student learning outcomes. Students excel in English skills and are also exposed to new-age skills like Coding. With robust LEAD tech-based solutions, your school can become a center of excellent education.
Conclusion
Smart school management systems benefit the entire school, including teachers, students, parents and support staff. The software keeps track of student progress, course completion, online exams, classroom collaboration, student attendance, and school finances. With numerous aspects of school management to deal with, keeping track of everything and everyone is a time-consuming task.
With an effective smart school management software, your school can easily concentrate on teaching and other important school functions. To boost your school's efficiency, upgrade your school with LEAD – the best tech-based solution provider in India.
Article Summary
Article Summary
A user-friendly

smart school management system

helps connect parents, teachers, staff and management on a single platform.

An

online school management system

is a comprehensive cloud-based system developed on a rigid web architecture that aligns with the educational domain's customisable demands.

The software also helps the schools handle day-to-day tasks easily, thus letting the school focus on what's important, i.e. achieving better results.
The smart school management software helps schools to keep track of daily school activities.
Never miss a story
Stay updated with the latest news and articles related to school education
SUBSCRIBE TO OUR NEWSLETTER
x
Give Your School The Lead Advantage