Use of smart classroom brings quality learning amidst school closures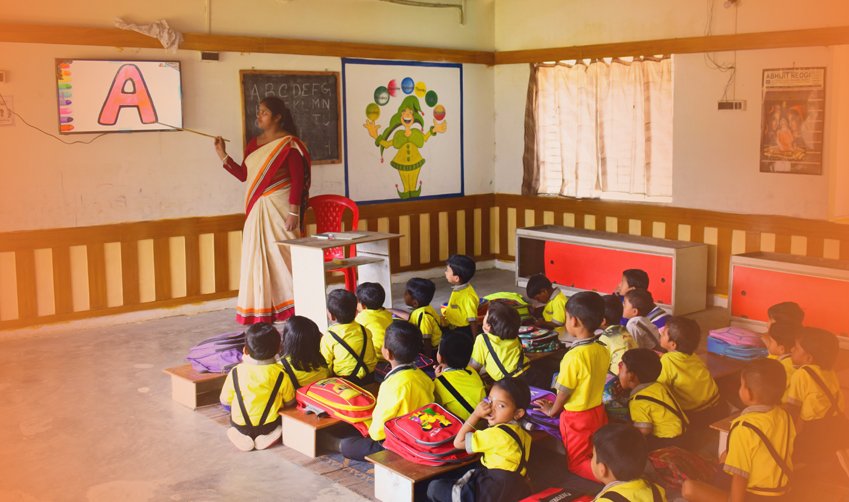 Subscribe to our newsletter
Education has always been considered a low experiment sector. That is why when the pandemic challenged the very innate characteristic of the school, it almost crumbled. However, this crisis has been a lesson for school authorities and decision making bodies that constant innovations are required to keep the sector resilient.
"The slow pace of change in academic institutions globally is lamentable, with centuries-old, lecture-based approaches to teaching, entrenched institutional biases, and outmoded classrooms," quotes World Economic Forum. Skills such as informed decision making, creative problem solving, and adaptability will be required for a future that remains highly unpredictable. 
Initially, when the schools got shut and learning halted, online education took control of the situation. However, a few months after, the unreliability of a model with no structure got exposed. Online learning was not enough to fill in the gap deepened by the crisis. While students were able to continue with their academic year, quality suffered. Besides, excellent results, extra-curricular activities, well-defined curriculum, etc., are a few other aspects that online learning did not guarantee.
Keep the doors of quality learning open
Whether in metropolitan or smaller cities, schools in India have been hit by the crisis alike. Since online learning was not able to mitigate the significant divide, smart classrooms quelled this concern. Technology-enabled classrooms that enhance teaching and learning with various attributes such as digital displays, tabs, whiteboards, and other audio/visual components make learning engaging and compelling, leading to students' better results. School closures have fundamentally altered the bedrock of the system and have prompted the stakeholders to reimagine education's purpose and the organisation of learning.
It is time for authorities to deploy better means to keep education stand for what it always has —reliability. The importance of a smart classroom remains incalculable — while ensuring quality, it also helps establish a better connection between students and teachers and teachers and parents. The use of smart classrooms also increases collaborative learning in the form of competitions, workshops etc. It also gives way to the blended learning model, which remains crucial amidst the uncertainty of the modern world. This model ensures no learning loss when schools will finally reopen — students can pick from exactly where they have left.
In time monitoring of students, quality learning, extra-curricular activities, and developing skills beyond the curriculum are a few other undisputable aspects of a smart classroom.
How is LEAD promoting smart learning across its schools? 
LEAD-powered schools empower every stakeholder and ensure guaranteed results for them. Every teacher at LEAD is equipped with a teacher tablet loaded with lesson plans, audio-visual resources, and training resources. Nucleus, LEAD's academic system, allows schools to function online, offline and in the hybrid model. The importance of a smart classroom like the one LEAD enables quality learning.

LEAD has made smart learning possible via:
World-class teachers and the app with detailed lesson plans and audio-visual resources.
World-renowned, level-based English curriculum.
Concrete-Pictorial-Abstract approach to Math and 'Learning by Doing' approach to Science is built.
Customised remedial classes based on assessment.
Better sync between teachers, parents, and the school for the unified goal of the child's academic excellence.
Experiential learning in EVS to apply knowledge outside classrooms too.
Besides the elements mentioned above, teachers at LEAD also use the Sandwich method, where whatever is said in English gets repeated in the local language for concept clarity. They also use drawings and different gestures to explain a concept. Unlike the traditional classroom, teachers at LEAD explain the concepts to students through activity or a video, followed by group practice in small groups followed by the individual practice where students answer questions on their own. This concentric circle design allows teachers that every child has understood the concept.
LEAD is transforming schools by making children future-ready. To make yours a LEAD Powered School: Partner with us today