12 School Interview Questions for Parents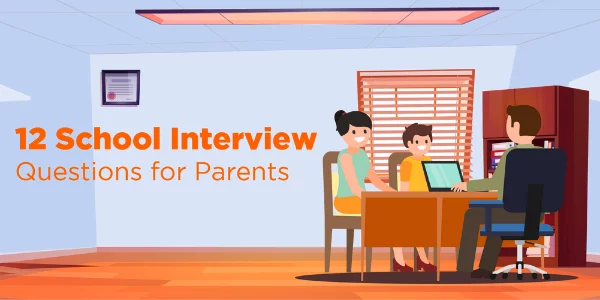 The nurseries are the passage for getting your little ones admitted to reputable schools. That said, school admissions can be a terrifying experience for your kid (s) – and for you as well. That is because, nowadays, even parents are quizzed by the school administration in detail.
"What type of questions will we be asked? How can we prepare for them?"
This anxiety is natural. Particularly if you or your kid has your heart set on a specific school, the school interview can be a one-shot deal.
If you are a parent who just got a school admission interview call for your child, these thoughts must be popping into your mind. Take it easy!
Of course, you are preparing but still need some more guidance before showing up for the parents' interview in school.
So, to make things simpler, check out this list of interview questions for child admission in school with their answers that many parents often face. As a bonus, this guide will also give you some useful hacks to help you prepare better and crack the school admission interview.
1. What are your educational backgrounds?
This question is the foundation of the rest of the interview as the school principal will frame their questions based on your response. Tell about your educational upbringing, only the highlights. Through your answer, the interviewer tries to understand how you plan to use your academic qualifications to nurture your kid's future.
2. Are you both working?  
Schools consider various factors, such as homework, timings, meetings, and transport, as starters. If you are working parents, you must clear up how you will coordinate with your kid's school timings.
For instance, explain to the interviewer in detail who among you will pick up or drop off your kid at the school, and how that person will plan to do so safely.
In addition, you need to put light on how you make time for your kid's education and routine school tasks.
3. How many people live with you at your home?
Are you a single parent? Do you live in a nuclear or joint family?
The school principal wants to know if you have somebody else at home to help your kid, for instance, finish their homework while you are at work. Or who might show up at parent-teacher meetings on your behalf? A big plus if you live in a joint family. Else, describe how you will take help from extended family and neighbors whenever necessary.
By this school interview question for parents, the interviewer will get an idea of the setting where your kid is being raised.
4. How would you describe your kid's behavior? Are they aggressive, arrogant, or stubborn?
Don't let this school interview question get you panicked. It is common for many children to develop aggressive behavior (E.g., biting or hitting others) for some time during their formative years. Start your answer by telling your kid's positive qualities, such as caring, friendly, well-mannered, and loving. Then, you can come to the point of whether your child is arrogant, aggressive, or stubborn.
Besides, your little one will be outside their comfort zone at the school for a couple of hours. Describe to the interviewer how your kid will deal with staying separated from you, and how they behave with strangers and other kids. The school will engage with them accordingly in a particular way.
5. Any specific reason for choosing this particular school?
Here, the interview panel wants to know the factors that have settled you for their school. Answering this question will help them understand your expectations for your kid from the school, and how they connect with the school's curriculum.
Talk about the school's unique attributes that gathered your attention, like its curriculum, market reputation, faculty, and proximity to your home.
A tip: Explain to the interviewer how admitting your kid to the school will benefit you and your kid.
Also, do not hesitate to talk about your other applications. The school principal truly understands that you must be trying every best opportunity for your little tot.
6. How do you keep your child disciplined?
Kids often make mistakes, and it is your responsibility to correct and discipline them. Hence, you tell the interviewers disciplinary measures you take when your kid misbehaves, such as no chocolate/ice-cream, no favorite food, or setting a bedtime curfew.
‍Based on your response to this question, the school principal can analyze and decide on the disciplinary measures to take if your child does something wrong.
7. Is your kid toilet-trained?
Be straightforward about this. The interviewer generally asks this question to check if your kid will need additional help in the washroom.
8. What kind of food does your kid like?
For schools offering mid-day meals (MDM) to their students, information about a kid's eating habits is crucial. Talk about your child's favorite dish, and most importantly, any specific item he is allergic to.
9. Does your kid have some severe health problems?
First of all, specify that your kid has been fully vaccinated. Then, tell all your kid's medical records honestly in your answer. This will help the school look after your kid properly in your absence.
10. What do you like your child to be in the future?
This question may be a tad surprising for you, as to how you can simply decide about your kid's career goal so early. Nevertheless, discuss the pre- or high-school plans with the school principal at least, and how you want to work alongside them to fulfill your child's ambitions.
11. How is it going on between you two?
Do not get embarrassed explaining if you both have frequent arguments on something. Just convince the interview panel that the environment will not impact your kid at all.
12. Anything else you would like us to know about your kid?
Here, you can dig deeper into your kid's character. Tell the teachers about your kid's likes and dislikes. If your kid has a passion or talent to do something, for instance, cricket, music, or drawing, let the interviewers know.
Tips to Rock School Admission Interview
While answering the school interview questions, you should:
1. First of All, Relax (At least try)
If the interview is giving you sweaty palms, try to take it differently. First, it is much more of a discussion than an interview anyway. Also, you will be assessing the interviewer's responses as much as they will be evaluating yours.
2. Be Honest
You might feel the urge to spice up some information or even lie in some of your answers. Better control that urge and answer the questions with complete honesty. Teachers want to know how they can best help your little one, so you must give them an accurate picture.
3. Be Straight to the Point
Giving extra (irrelevant) information can be cherry on top but doing that a lot can backfire. Be concise and avoid beating around the bush while answering the questions.
4. Avoid Delicate Issues
While responding to the interviewer, avoid debatable issues, like politics or religion, to prove any point.
Stay Prepared, Stay Confident
Every parent wants their little tot to study in one of the best schools. But given the intense competition and increasing number of applicants, you do not want to ruin the admission process with your silly mistakes during an interview with the school's principal.
First impressions matter, and hence, you need to make a striking first impression for your kid. So, go through the above guidelines and be well prepared. Give honest and careful responses to the interviewer's questions and secure your child's spot in your desired school.
12 lakh+ parents across India trust LEAD to provide excellent education to their children. Want to know how LEAD can transform the learning and growing experience for your child? Know More