How Are LEAD Powered Schools NEP 2020 Compliant?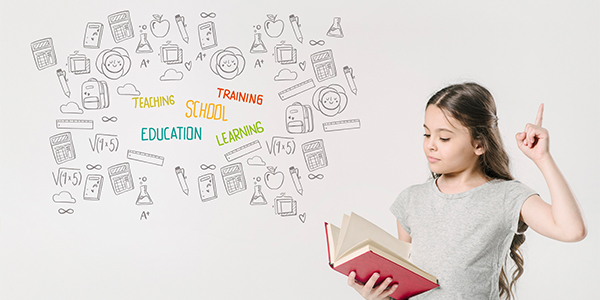 Give Your School The Lead Advantage
"Bold steps are required to create inclusive, resilient, quality education systems fit for the future," says António Guterres — UN Secretary-General. There is no doubt that the National Education Policy 2020 (NEP 2020 is a bold step toward making 21st-century education in India more flexible, integrated, experiential, learner-oriented, inquiry-driven, and enjoyable.
NEP 2020is the first education policy of the 21st century and replaces the 34-year-old National Policy on Education (NPE) that was formulated in 1986. It aims to transform elementary and higher education in India by instilling future-proof skills among 21st-century learners. The foundational pillars of NEP 2020 are:
Full equity and inclusion to ensure every student is able to thrive in the education system.
The highest-quality education to develop and maximise the country's rich talents and resources.
Universal access to education at all levels regardless of learners' social or economic background.
Accountability of all individuals to perform their roles with full commitment and integrity.
Affordable yet premium-quality education for all to promote India as a global study destination.
NEP 2020 Structure emphasises conceptual understanding and experiential learning rather than rote learning for exams. Therefore, it introduces a new "5+3+3+4" pedagogical model that replaces the old "10+2" education structure.
Unlike the 10+2 structure, which doesn't cover children aged between 3 to 6 years and recommends children enter Class 1 at the age of 6, the NEP 2020 Structure 5+3+3+4 includes a strong base of Early Childhood Care and Education (ECCE) from age 3. The details of the NEP 2020 Structure are as follows:
Foundational Stage (Age 3-8) – The foundational stage is further divided into two parts: Pre-school/Anganwadi for 0-3 year-olds and primary schooling for 3-8-year-old children. The studies should focus on flexible, multilevel, play/activity-based learning.
Preparatory Stage (Age 8-11) – Covering students from classes 3-5, this stage will help develop students' basic numeracy and literacy skills. In addition, learners will gradually become familiar with subjects like Art, Science, and Mathematics.
Middle Stage (Age 11-13) – With an experiential and interdisciplinary curriculum and pedagogical approach, this phase introduces more abstract concepts in Social Sciences, Humanities, Mathematics, Arts, and Sciences. Additionally, students will learn core academic and life skills.
Secondary Stage (Age 14-18) – Covering students from classes 9 to 12, this stage is further divided into two parts – classes 9-10 and 11- 12. The secondary stage follows a multi-disciplinary approach and allows students to choose from a broad spectrum of subjects.
Apart from the new "5+3+3+4" curricular structure, other NEP 2020highlights include:
Investment in digital infrastructure
Universalisation of education in India
The promotion of multilingualism and knowledge of India
Inclusion of essential subjects, skills, and capacities
Embracing EdTech to solve India's core education problems
A strong emphasis on teacher empowerment
The motive is to promote the overall learning, development, and well-being of 21st-century learners.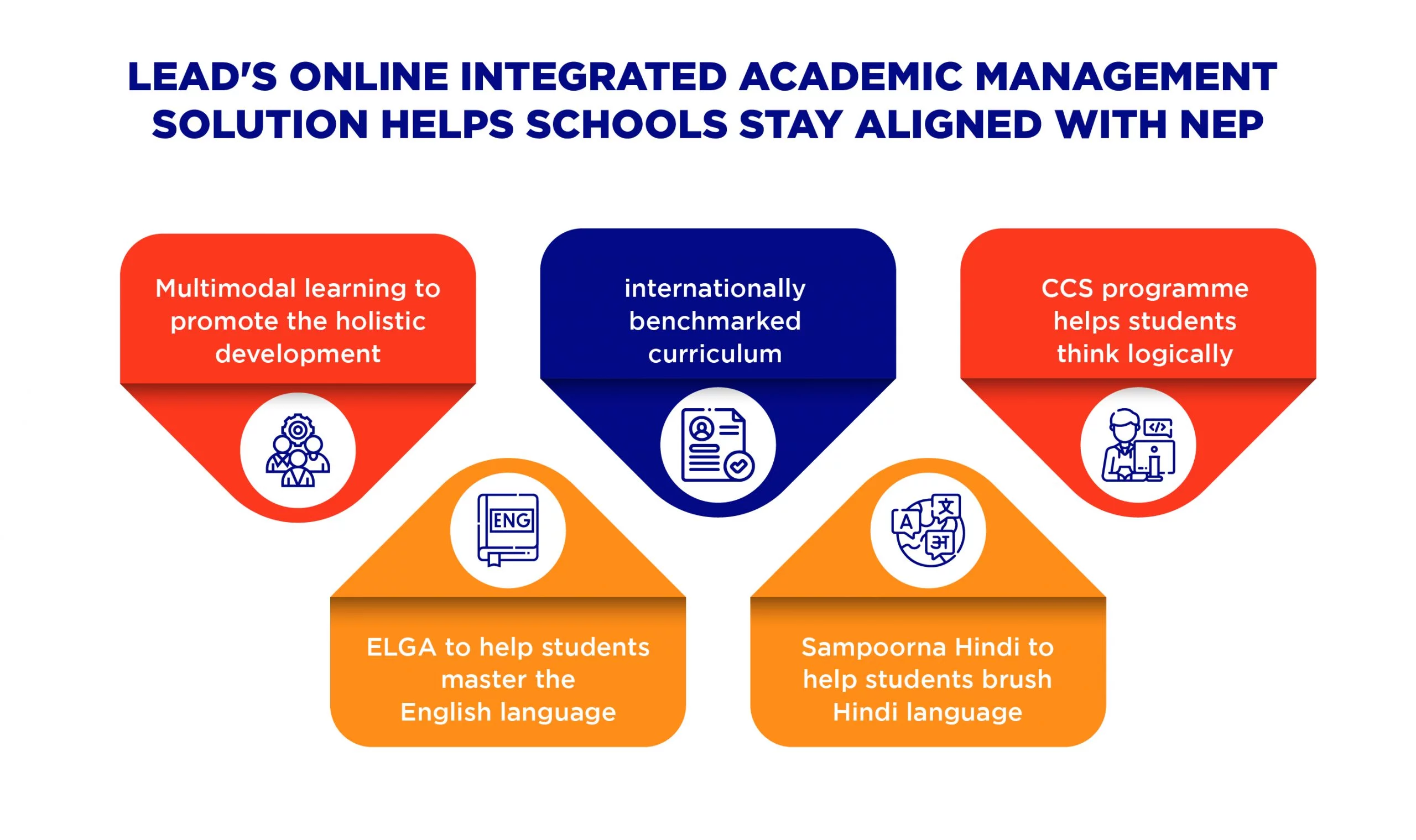 How is LEAD Helping Schools to Stay in Sync with NEP 2020
The NEP 2020 Structure rejuvenates the Indian education system by retiring the old ways of learning and introducing new ones. However, at the same time, it raises the bar for both parents and school management. Parents want a revised curriculum and pedagogy covering everything contemporary, while school management is looking for ways to implement the features and guidelines of NEP 2020 in the functioning of their schools. To combat this problem and support the government's vision of modern learning, LEAD's online integrated academic management solution strives to make India a global education hub with highly innovative programmes. These include but are not limited to:
Pre-primary Curriculum – LEAD's pre-primary school curriculum offers an integrated, theme-based learning approach that utilises multimodal learning to promote the holistic development of learners. The pre-school curriculum is benchmarked with NEL Singapore and compliant with the NCERT pre- primary curriculum prescribed by NEP 2020
International Standard Curriculum – The curriculum at LEAD-powered schools is deeply researched and internationally benchmarked with the education systems of countries such as Singapore, Canada, and the United States. With a future-forward learning approach, it helps students learn concepts 5x faster.
Coding and Computational Skills (CCS) – LEAD's CCS programme enables students to think logically, visualise computation, and use ultra- modern software to develop websites, apps and games. Students learn various programming languages from an early age.
English Language and General Awareness (ELGA) – LEAD-powered schools treat language as a skill, not a subject. LEAD's ELGA is a skill- based programme that helps students master the English language. It focuses on the five components of English: Whole Words, Grammar, Phonics, Listening and Reading Comprehension, and Writing and Speaking Expression.
Sampoorna Hindi – LEAD's Sampoorna Hindi programme is designed to drastically improve children's reading, writing, and speaking skills in the Hindi language. At the primary level, it is offered in three variants: Samarth, Sugam, and Saral. It has a thematic approach to books with engaging poems and stories.
Digital Classroom Software – With highly innovative digital classroom solutions, LEAD helps schools deliver students an interactive learning experience that aligns with modern technology. Our digital classroom solutions are equipped with future-forward learning methods, such as virtual labs, smart classrooms, digital repositories, simulations, etc.
LEAD Academy Certification Program – LEAD Academy offers training sessions, certification programs, and online workshops to help teachers grow and improve their teaching methods. For instance, LEAD's 3-year certification programme helps teachers and leaders become top performers.
Moreover, LEAD makes your school future-proof with:
Gamified Learning
Experiential Learning Model
Dedicated Student and Teacher App
Blended learning – Book + Digital
National-level events, championships, and assessments
With NEP 2020rolling out, your school really needs a holistic solution to stay compliant with the revised policy guidelines. With LEAD's next-gen online integrated academic management solution, it is now easier for schools to implement all the significant changes brought by the new policy.
So join hands with LEAD to provide world-class education to every child in India. Contact us at +91 86828 33333 or [email protected] to make your school compliant with NEP 2020 Click here to learn more about the new National Education Policy and how LEAD is in sync with it.