Home
»
Blog
»
School Owner
»
Thriving in the new digital age is what NEP Policy 2020 envisions. How can your school step up?
Thriving in the new digital age is what NEP Policy 2020 envisions. How can your school step up?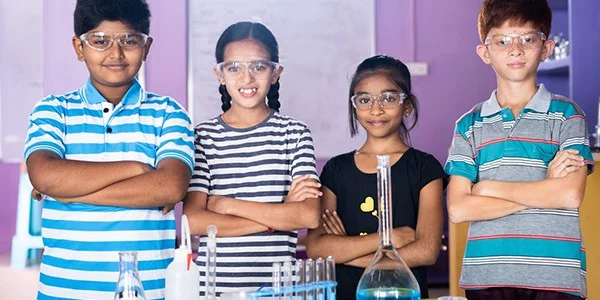 Thriving in the new digital age is what NEP Policy 2020 envisions. How can your school step up?
Last Updated On: 09/12/2022

NEP Policy 2020 is a holistic attempt where quality education reaches the most inaccessible corners of India.
The New National Education Policy 2020 is the first education policy of the 21st century, which replaces the previous national policy on education that was released in 1986 and revised in 1992 and 1998. Designed to meet the educational needs of 21st-century students, NEP Policy 2020 is based on five traditional foundational pillars, which are:
Access
Equity
Quality
Affordability
Accountability
In this article

Recommendation on digital infrastructure and tools

Content management and learning models

Assessment and Examinations

Training and Incentives for Teachers
The New National Education Policy 2020 encourages all schools and colleges to go digital and make their curriculum flexible, holistic, and multi- disciplinary. Given the emergence of digital technologies and realising the importance of leveraging technology for teaching and learning at all levels of education, NEP Policy 2020 recommends the following key initiatives:
Digital Infrastructure
The New National Education Policy 2020 acknowledges the need for creating an open, evolvable, and interoperable public digital infrastructure in the education sector. Multiple platforms and point solutions can use this infrastructure to improve India's device penetration.
Online Teaching Platforms and Tools
NEP Policy 2020 advocates the extension of existing eLearning platforms to provide teachers with a rich set of assistive tools to monitor their student's progress. Tools, such as learning management systems, are the need of the hour, as the COVID-19 pandemic has shown.
Virtual Labs
According to the New National Education Policy 2020, schools should leverage the existing eLearning platforms to create virtual labs so that all students can access practical, hands-on learning experiences. In addition, there is a dire need to provide students and teachers access to online learning through appropriate digital devices, such as tablets with preloaded content.
Content Creation, Digital Repository, and Dissemination
NEP Policy 2020 recommends schools create a digital repository of content that includes coursework and other play/activity-based learning material. Also, the learners should be able to rate the quality and effectiveness of the content. Schools can use student-appropriate tools like apps and games for fun-based learning.
Blended Models of Learning
The New National Education Policy 2020 clearly states that schools should not overlook the importance of face-to-face, in-person learning while promoting digital learning and education. Accordingly, different effective blended learning models should be offered for appropriate replication for different subjects.
Online Assessment and Examinations
NEP Policy 2020 recommends School Boards design and implement assessment frameworks that encompass the creation of competencies, rubrics, portfolios, standardised assessments, and assessment analytics. In addition, online evaluations and exams should focus on building 21st- century skills in students.
Training and Incentives for Teachers
According to the New National Education Policy 2020, school principals and teachers must undergo rigorous training to become top-notch online content creators. Additionally, the new policy emphasises the teacher's role in engaging students through online content.
Never miss a story
Stay updated with the latest news and articles related to school education
SUBSCRIBE TO OUR NEWSLETTER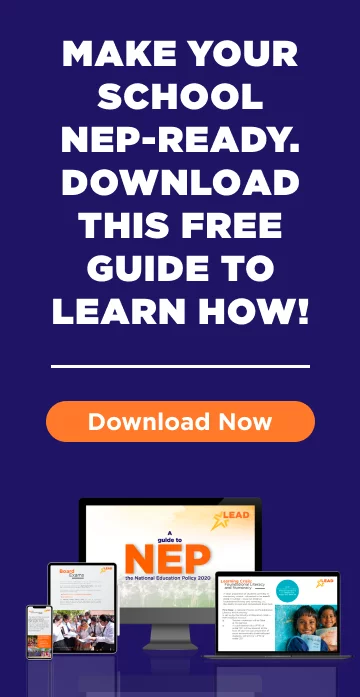 National Education Policy NEP 2020 Explained | Key Proposals For School Education
School Transformation, the LEAD way
How is LEAD Helping Schools to Go Digital in line with the NEP Policy 2020?
The New National Education Policy 2020 raised the bar for both school management and parents. While management is looking to implement the features of NEP Policy 2020 in their schools, parents want the inclusion of everything contemporary and understandable in the curriculum. To keep up with the dramatic changes that the new education policy brings to the education sector, school owners must choose the right integrated academic management solution perfectly aligned with the New National Education Policy 2020.
With LEAD School's online integrated management solution, schools can now deliver high-quality teaching and learning experiences, online, offline, or hybrid, while staying aligned with the grand vision of Digital India outlined in the NEP Policy 2020. LEAD's world-class tech solutions enable schools to embrace digital learning to facilitate the government's agenda of online education. Let's look at LEAD's innovative tech-based learning solutions that can help your school align with the New National Education Policy 2020:
Smart Classrooms – LEAD provides 100% Smart Classrooms through Smart TV with audio-video lessons and grade-wise activity kits to make learning fun and help students better understand concepts.
Super Teachers – LEAD-powered schools employ fully trained and certified teachers. Every teacher is given a tablet with readymade educational resources. Their personalised attention ensures your child's learning is always on track.
International Standard Curriculum – LEAD School provides 5 times better learning to students with a deeply researched international standard curriculum benchmarked with the US, Canada, and Singapore education systems.
Teacher Capability System – LEAD provides its teachers with all the resources and training required to upskill and deliver exceptional classroom learning experiences.
Student Development System – LEAD provides each student with international standard education with modern learning methods. For instance, the LEAD Masterclass helps students to learn essential life skills from renowned personalities and experts.
School Academic & Admissions Marketing Solutions – LEAD offers schools complete academic and admissions marketing solutions to enable their exponential growth and success.
LEAD Altus – LEAD Altus is an exclusive academic and school marketing solution for premier schools, aimed to provide students unmatched learning experiences through cutting-edge technologies such as Augmented Reality.
End-to-end Managed Services – LEAD's Managed Services offer expert school advisory and management for your school operations so you can be free and focus on other essential tasks.
Conclusion
LEAD's online integrated management solution is built on robust world- class technologies to provide an unmatched experience to teachers, students and parents. Even we have best-in-class apps for each stakeholder. So join hands with us to upgrade your school in line with NEP Policy 2020, and let's witness the rise of a better India together. Contact LEAD at +91 8682833333 or [email protected] to get a FREE NEP Consultation today!
Article Summary
-Need for creating an open and interoperable public digital infrastructure
-Extension of existing eLearning platforms to provide teachers with a rich set of assistive tools
-Leveraging of the existing eLearning platforms
-Digital repository of content with play/activity-based learning material
-Blended Models of Learning
-Assessment frameworks that lead to better learning outcomes
-Training and Incentives for Teachers
Never miss a story
Stay updated with the latest news and articles related to school education
SUBSCRIBE TO OUR NEWSLETTER
x
Give Your School The Lead Advantage