How is technology enabling parents to play a bigger role in their child's education?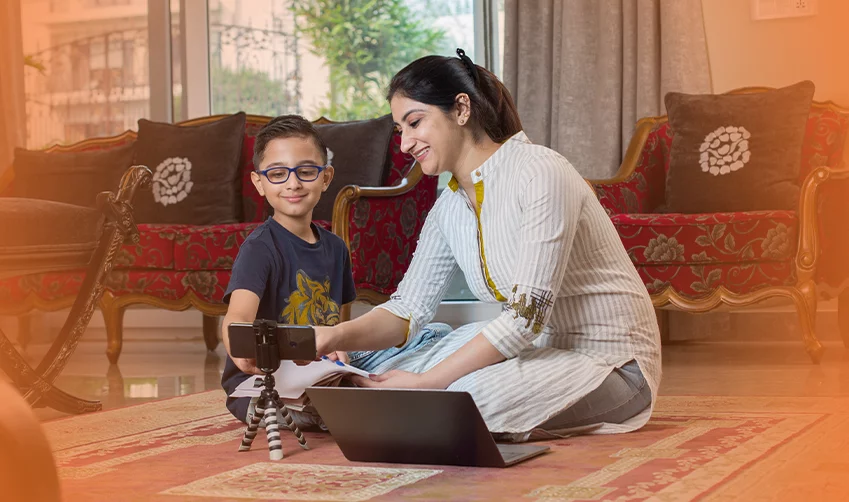 There was nothing wrong with traditional schooling. Till 2020, children had a routine, and teachers were the only purveyors of knowledge where parents paid little to no attention as everything was taken care of by the teachers. However, when the pandemic jolted the world, THIS CHANGED! Parents now had to participate in their child's learning curve more than ever, and they became an enabler too, just like teachers.
Teachers have formal training to manage a class and prompt students for good performance, but parents, unfortunately, do not have certification, and parenthood alone will not row their boat in the troubled waters. In an online learning set-up, parents have to give time to their kids, manage their timetable, make the atmosphere conducive to learning and make sure they learn to perform.  Online learning has given a strenuous routine to parents working from home where they take care of other responsibilities. As soon as the sector got disrupted, parents found the schools' sudden closure extremely disturbing and were concerned about their children's routine. As a result, a formal structure routine got interrupted that helped children understand the importance of time, scheduling, and assignments. All these things have to be nurtured by parents to shape their future.
Teaching parents to use technology also was quite taxing for children, especially in the smaller towns.  
While the duration of school closures remains uncertain, countries are concentrating efforts on empowering teachers and parents. Parent app for schools can help them navigate their child's academic curve without any hassle. This app is full of resources required for students to learn brilliantly, for example, quizzes, audio-video resources, etc. The curriculum is exciting and easy to comprehend at the same time. Parent app for schools also helps them keep track of their ward's performance. In case they lag, they can get remedial sessions from the teachers. This app also helps parents stay in touch with teachers constantly, unlike in a traditional model where the meeting has a fixed date and time.
What can be done?
Though online learning did save the sector from a downfall, it didn't bring guidelines for parents to combat the challenges that come with it. Haphazard curriculum, distracted students, little to no extracurricular activities etc., put much unnecessary pressure on parents. The loss that students have witnessed during the school closure is immense and may cause irreparable damage to children's educational outcomes. In this scenario, parents cannot wait for school to reopen. However, since that seems complicated, they need an academic model that can assist them in helping them with their kids' education. Parents app for schools is that. 
How is LEAD helping parents with easy learning at home
LEAD has been a facilitator of quality education in times of distress. It has reached the corners of the country to provide education that otherwise remains inaccessible. With LEAD, every stakeholder gets a dedicated app to make learning a smooth sail. 

Teaching parents to use technology will not be a hassle with LEAD. LEAD Student and Parent app establish a reliable virtual set-up at home where students remain engaged and parents informed. Remote learning seldom keeps parents updated about their ward's study—Attendance and Progress Reports at LEAD-powered schools help them keep track of their child's performance. Since ensuring attendance has been a problem for parents in an online learning model, LEAD-powered schools help parents with that too. According to a survey done by LEAD, the numbers say that students with 80%+ attendance scored 40-45% higher on average than students who did not attend classes as regularly. With LEAD, students fetched 80% by the year's end compared to 55% at its beginning.  
LEAD School @home facilitates Digital Learning Content, Physical Reader & Workbooks, Learning Activities, E-books, Regular Assessments, Assignments, Quizzes, Personalised Revisions, Home Practice, etc.,
Students at LEAD-powered schools remain engaged as teachers use a tablet that includes detailed lesson plans, audio-visual resources, soft copies of books, and activities. They explain the concepts through activity or a video, followed by group practice in small groups. Individual practice where students answer questions independently is also encouraged. This concentric circle design allows teachers to help students understand the concept better.