Advantages (and Disadvantages) of Student Management System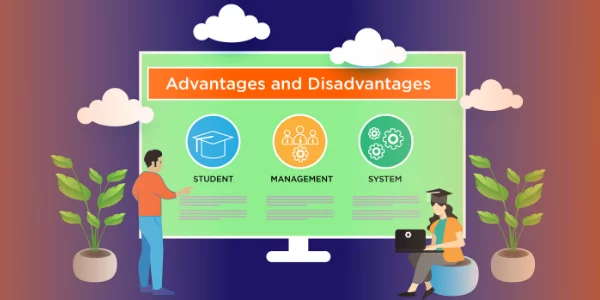 Subscribe to our newsletter
Can you pull up the marks scored by an 8th-grade student from your school in last year's final exams? Probably, you can, but it'll take an eternity to grab those details.
After all, scrolling through manual files takes time. And there's even a chance that the mark sheets have been misplaced or destroyed.
This is what happens when you don't have an effective Student Management System. The days are long gone when student data could be managed using spreadsheets.
These days, automated Student Management Systems have come into the picture. Such tools bring all the data to one place and ease the management process.
Do you want to know the advantages and disadvantages of the student management system? If you said yes, read along.
Below, we'll discuss the benefits of an effective Student Management System. And the benefits will be followed by some so-called disadvantages.
What is a Student Management System?
A student management system is a software/tool that helps manage everything related to students easily. An ideal Student Management will help you manage a range of data, including:
Admission
Fee Collection
Attendance
Library
Timetable
Examination
Performance
Basically, a student management system offers a 360-degree view of students. And this helps monitor, track and improve the educational performance and several other aspects of students.
Let's now focus on the advantages or benefits of the student management system.
Advantages of Student Management System
Better Management of Student Data
A student management system is also a student database management system. It helps you manage all the student-related data in a well-organized manner.
A Student Management System gives you a unique ID against every student. And using that ID, you can easily track the fee status, assignments, exam results, grades, parent info within seconds.
Improves Overall Teacher Productivity
Similar to the students, the teachers also become more productive with a student management system. It's because, with a system in place, teachers won't have to manually take attendance, manage timetables and assignments.
Everything can be loaded on the management software, which can be accessed by all. This way, teachers can focus more on academics and learning than administrative tasks.
Provide Deeper Insights to Parents
Parents find it quite hard to get all the info about their kids. Parent-Teacher meetings are the only times when they can talk to the teacher and ask for details.
But with a student management system in play, it all becomes easy. Parents can access their kid's data on their phones whenever they like. This way, parents can always stay updated about their kid's activities.
Easy Fee Management
No one likes to call the parents to ask for a fee, right? Well, with a student management system, you won't have to.
The parents can access their ward's fee details on their mobiles. You can even enable notifications for parents regarding fee payments.
This way, the parents won't ever miss fee payments. Also, you won't have to direct teachers to remind the parents of fee payment.
Save Cost
Cost-cutting is quite crucial for schools but is quite hard. One cannot decide on what's required and what's not.
However, you can cut some costs with a student management system. We're talking about the "paper costs."
If you have a software managing all the records, you won't have to purchase/maintain huge piles of paper based records. This way you can save some money.
Although it may not be a huge saving, "a penny saved is a penny earned."

What are the disadvantages of the student management system?
There aren't any disadvantages or limitations of a student management system as such. A better word for disadvantages would be "issues" faced by schools while using a student management system.
Fortunately, there aren't many. The most common issue schools/teachers/students/parents face while using a student management system is: a complex user interface. And that's a solvable issue.
We're humans and we need some time to get a hang of things. If the tool you're using is genuinely tough to use, you can go for a tool that's simple or get a training.
And that's it. There are benefits and benefits only of a student management system. You can remove the discrepancies, if any, by researching and finding an ideal student management system.
Wrapping Up
A student management system is an amazing way of professionally managing your school business. It includes several benefits for you, teachers, the students, and for their parents. Even small schools are aware of this fact and are using student management systems.
So, if you want a streamlined approach towards student management, go  for a student management system now.
LEAD Partner Schools get access to a powerful academic ERP solution that's packed with advanced features. From helping schools to improve teacher and student productivity to efficient management of data and more, it takes care of all your needs. There's a reason 3,000+ schools in India trust LEAD.