Salient Features of NEP 2020 – Key Highlights at a Glance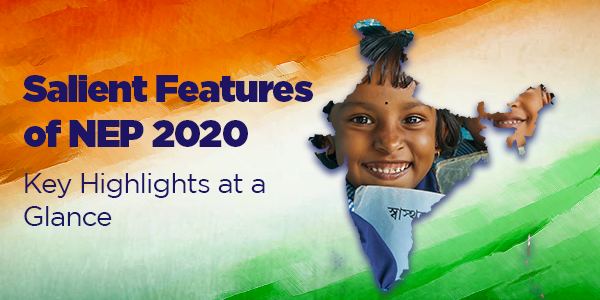 Salient Features of NEP 2020 – Key Highlights at a Glance
Last Updated On: 07/03/2023

"The purpose of education is to make better human beings with skill and expertise. Enlightened human beings can be made by teachers." – Dr APJ Abdul Kalam.
In this article

What is National Education Policy 2020?
Salient features of NEP 2020

How is LEAD implementing salient features of NEP 2020?
What is National Education Policy 2020?
The Union Cabinet of India approved the National Education Policy on July 29, 2020. This new education policy aims to pave the way for transformational improvements in India's school and higher education systems. The government of India introduced a new policy to globalise education from preschool to the secondary level.
NEP 2020 aims to replace the present 10+2 system with the latest 5+3+3+4 curricular structure corresponding to ages 3-8, 8-11, 11-14, and 14-18 years. The salient features of NEP 2020 are improving the education quality by giving equal importance to creativity and innovation and striving to transform India into a "vibrant knowledge society" over the next decade.
Never miss a story
Stay updated with the latest news and articles related to school education
SUBSCRIBE TO OUR NEWSLETTER
Salient features of NEP 2020
The salient features of NEP 2020 were formulated based on the foundational pillars of Access, Quality, Equity, Affordability and Accountability. The revised policy is aligned with the 2030 Agenda for Sustainable Development. It focuses on remoulding India into a global knowledge superpower by making school education more holistic, multidisciplinary, flexible, suited to 21st-century requirements and aimed at bringing out the individual capabilities of each student. Some of the salient features of NEP 2020 are:
Ensuring universal access at all levels of school education
National Education Policy 2020 focuses on ensuring universal access to school education at all levels. Some of the ways to achieve this are:
Infrastructure support

Tracking the progress of students and their learning levels

Facilitating different modes  of learning, including both formal and in-formal education modes

Introduction of counsellors and well-trained social workers into the schooling system.

Open and Distance Learning (ODL) programmes for classes 3, 5 and 8 through the National Institute of Open Schooling (NIOS) and State Open Schools.

Secondary education programmes equivalent to classes 10 and 12.

Vocational education courses/programmes from preschool to

Grade 12; promotion of adult literacy and life-enrichment programmes.
Attaining Foundational Literacy and Numeracy (FLN)
One of the important salient features of NEP 2020 is recognising Foundational Literacy and Numeracy as an urgent and essential prerequisite to learning. NEP 2020 calls for building the National Mission on Foundational Literacy and Numeracy by MHRD. In this mission, the states will prepare an implementation plan to achieve foundational literacy and numeracy in all primary school students until grade 3 by 2025.
Reforms in school curricula and pedagogy
The new school curricula and pedagogy aim for the holistic development of students by equipping them with vital 21st-century skills, reducing curricular content to improve essential learning and critical thinking and emphasising experiential learning. This will allow students to have increased flexibility and choice of subjects. There will be no hard separations between arts and sciences, between vocational and academic streams, and between curricular and extracurricular activities.
In addition, vocational education will be introduced during Grades 6-8, with internship opportunities offered under a practice-based curriculum designed by NCERT while framing a new National Curriculum Framework for School (NCFSE).
Focus on Early Childhood Care and Education (ECCE)
With the focus on Early Childhood Care and Education, the old 10+2 structure is replaced by a new 5+3+3+4 model to be in tune with the ages 3-8, 8-11, 11-14, and 14-18 years. This is one of the main salient features of NEP 2020, which will bring the formerly uncovered age group of three-six years under formal school curriculum guidelines. This is because the age group of 3-8 years has been recognised globally as a critical  time for the development of the mental abilities of a child.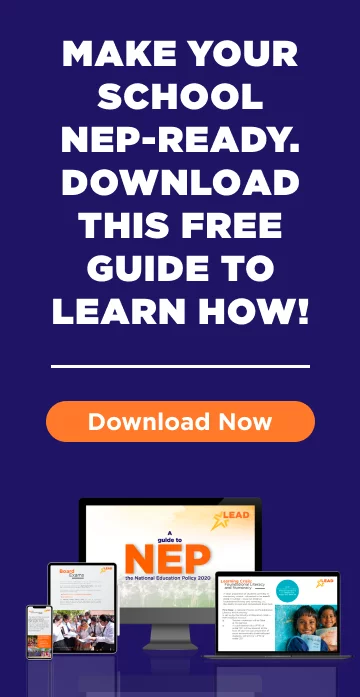 New Academic Structure and Early Childhood Care & Education
Holistic Learning and Curricular Integration
How is LEAD implementing salient features of NEP 2020?
With New Education Policy (NEP) guidelines, LEAD's revolutionary teaching methods and internationally benchmarked curriculum are playing a crucial role in enabling Indian schools to align  with the NEP education system.
Conceptual understanding
LEAD has introduced unique pedagogical approaches for different subjects to ensure students learn subjects as a skill and not gain just theoretical knowledge. LEAD's classroom activities, interactions and routines make learning holistic and experiential.
Proficiency in languages and communication skills
LEAD offers strong language learning from early pre-primary years with English Language and General Awareness (ELGA) and Sampoorna Hindi programs. While in class, LEAD embraces activity-based learning to ensure students can easily lay hold of abstract subjects like Maths.
Inclusion of essential subjects and skills
LEAD has  introduced subjects such as Coding & Computational Skills (CCS) in the school curriculum itself. Rather than simply consuming content using technology, LEAD enables students to become creators by using technology to build apps, websites and games and thus become future-ready.
Regular formative assessments
LEAD-partner schools conduct assessments that target learning outcomes and competencies. With remedial and doubt-solving sessions, teachers at LEAD-partner schools understand students' struggles and help them overcome their challenges.
Conclusion
The new education policy has retired the traditional ways of learning and rejuvenating the education sector. Since the government's outlook has changed towards the country's education system, school management and parents now realise the need to align their children's education with the new education system. To cope with the changes, the education sector needs a new-age integrated academic management solution like LEAD that perfectly aligns with the salient features of NEP 2020.
Article Summary
NEP 2020 focuses more on practical rather than theoretical learning.
The new education policy enables every student to get quality education irrespective of their  socio-economic background, gender or disability. 
NEP 2020 enables teachers to use a variety of learning techniques and experiments.
It gives students the freedom to choose any subject or stream without restrictions.
NEP 2020 emphasises the overall development of the education system.
Never miss a story
Stay updated with the latest news and articles related to school education
SUBSCRIBE TO OUR NEWSLETTER
x
Give Your School The Lead Advantage