How can parents stay worry-free during their child's academic year?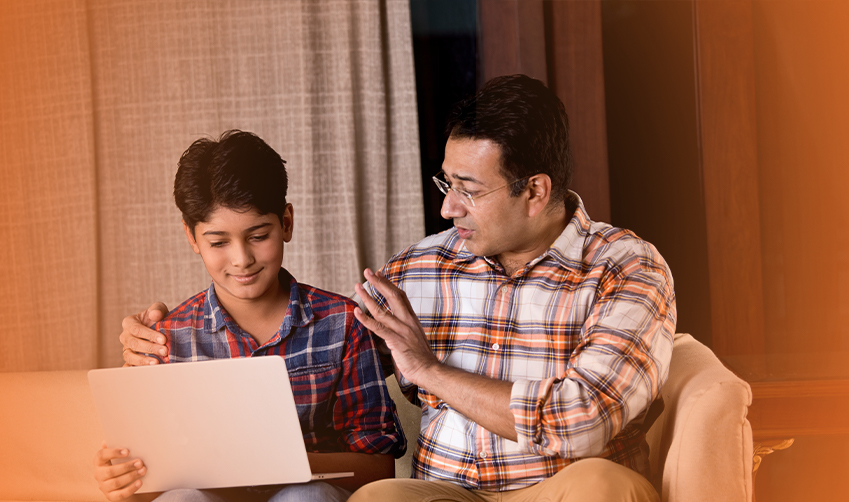 Disruptions in the education sector were always temporary, where mostly bad weather conditions or natural calamities were the reasons. A disruption that could last a year or more was never imagined until March 2020, when the pandemic upended lives, making the education sector screech to a halt. Post this, schools shifted online and though online learning saved the sector from devastation, it didn't help with quality learning or student engagement.
The intervention of parents in their child's academic life increased as learning from home needs guided assistance. 2020 was a harrowing year for parents as work obligations, household and care responsibilities pose constraints. UNESCO says that "Eighty per cent of parents/caregivers are not ready to manage home-based learning." But since school reopening is not yet planned, a more reliable structure that can help parents guide students' academic journey is required. Remote learning does not always pay enough attention to instructional pace or offer reliable instructional methods for effective learning.  Expanding remote learning opportunities is not the same as learning, i.e., developing valuable knowledge, skills, and values.
What needs to be done
Implementing a model that facilitates quality remote learning at scale is challenging but not impossible. Schools in large numbers are adopting integrated management solutions to make learning relevant and ensure results for each student. The education ministries globally have expressed their concern stemming from the disruption and damage in the long term for the children. This can be taken care of by the integrated academic system. Remote learning has never been this effective and meaningful. Students sitting at home can now make their learning fun as this system provides resources that are full of engaging content, for example, images, videos, quizzes, etc.
Parents stay updated about their child's performance and review their performance with a single click. Parent orientation for online classes is another robust way to help parents navigate their ward's learning curve. With seamless connection with the teachers, parents can stay informed, too. Schools can also conduct parent orientation for online classes to keep parents in sync with the demands of modern-day learning and educate them on how to assist their children better for remote learning.
A report By UNESCO states that "Remote learning is not likely to compensate fully for learning losses, and the burden for catching up falls disproportionately on the school reopening phase. Except for specific contexts and specific groups of learners — e.g. high-performing, motivated and affluent learners; high-performing schools; learners and schools with prior experience with remote teaching and learning; countries with established alternative delivery systems to school-based instruction,87 remote learning is not an effective substitute for regular classroom instruction."
Parents need to consider their options while preparing their kids for the next academic year. A brick and mortar model in the ongoing times seems a misfit. The future is exceptionally competitive and demands to equip students for a future that doesn't exist yet. Their future won't wait, and the pandemic will not be treated as an excuse for their learning gaps or gaps in their skills. Schools supporting futuristic learning and providing ample aid to teachers and parents to conduct learning from home will flourish.
How can LEAD help parents with quality learning for their kids?
An easy-to-use technology that makes quality learning from home possible is a dream in the ongoing times. With LEAD, every stakeholder gets a dedicated app to make learning effective. LEAD Student Parent app engages students via Digital Learning Content, Physical Reader & Workbooks, Learning Activities, E-books, Regular Assessments, Assignments, Quizzes, Personalised Revisions, Home Practice, etc. In addition, this app keeps parents updated about their ward's study through Attendance and Progress Reports. Finally, this Student Parent app helps students with resources they find engaging.

Making your child attend a class every day like 'good' old days also remains a challenge for many parents. Children lose interest since there's no structure in online learning. However, LEAD has a cure for this. Students at LEAD-powered schools remain engaged as teachers use a tablet that includes detailed lesson plans, audio-visual resources, soft copies of books, and activities. They explain the concepts through activity or a video, followed by group practice in small groups. Individual practice where students answer questions independently is also encouraged. This concentric circle design allows teachers to help students understand the concept better.
According to a survey done by LEAD, the numbers say that students with 80%+ attendance scored 40-45% higher on average than students who did not attend classes as regularly. With LEAD, students fetched 80% by the year's end compared to 55% at its beginning.